The Cleveland Metroparks first began monitoring for the spotted lanternfly in 2014 after it was discovered in Pennsylvania, and just a year ago, adult specimens were sighted in Ohio. 
Invasive pests are monitored and reported by the United States Department of Agriculture (USDA), in an easily accessible site for the public. 
The insects are unmistakable, eerie in appearance, with beautiful bright red coloring along the proximate edges of their posterior extended wings. When still, they are often difficult to spot due to their brown and black dapple coloring, which blends in well with their surroundings, as well as their relatively small size. 
AP Environmental Science teacher Lisa Bugenske explained that the spotted lanternfly has little direct impact on the environment and on us. Both the larvae and the adults consume vegetation in the form of trees and crops, but the real threat the lanternfly poses comes from its waste. 
When adult flies feed on fruit or crops, they excrete a syrupy substance as a waste product that drips down onto the plant below it. 
"The affected area can grow a kind of rot called sooty mold, which adds to the stress being put on the crop, and may attract additional pests such as gnats and flies," Bugenske said. 
"
When adult flies feed on fruit or crops, they excrete a syrupy substance as a waste product that drips down onto the plant below it. 
The spotted lanternfly's excrement poses a threat to humans due to their impact on farming and economics.
Bugenske believes that the response to the spotted lanternfly is being taken more seriously by experts than previously, with a number of programs quickly springing into place to deal with the invasion.
"They could potentially have some economic effects… so we might be on top of it a little more," Bugenske said.
Since spotted lanternflies have an impact on agricultural crops such as hops and fruit trees, they are more likely to provoke a response from humans.
"If it's a species that attacks a forest and you don't run into it personally, you don't have as much of an opinion on it." Bugenske said.
Additionally, the spotted lanternfly has a destructive impact on other species.
"As they invade an area and outcompete in it, they grow pretty quickly and can be a pest because of their relatively small size," she said.
Retired Beachwood science teacher Joe Burwell volunteers with the Cleveland Metroparks (CMP) Division of Natural Resources in their forest health and restoration unit. His team is responsible for monitoring a number of invasive species and issues in Ohio's forests, including the spotted lanternfly.
Before the spotted lanternfly though, came the tree-of-heaven, a host species for this pest, which is also an invasive species. Spotted lanternflies lay their eggs on this tree, and the larval nymphs use the tree of heaven as a food source.
"In 2021, we saw no spotted lanternfly, but did report locations of all the trees of heaven we encountered in that area," Burwell wrote in an email. The Ohio Dept. of Agriculture set traps that we checked periodically." 
The emergence of the tree of heaven in Ohio meant that Burwell and the Cleveland Metroparks had to anticipate the invasion of the spotted lanternfly.
"In 2022, we saw no larval (instar nymphs), but finally saw and caught a few adults on the tree of heaven that we monitored," Burwell wrote.
 "This year, 2023, the outbreak is fully underway," he added. "We have observed and caught many nymphs in May and June, and the adults have emerged as we moved from August to September."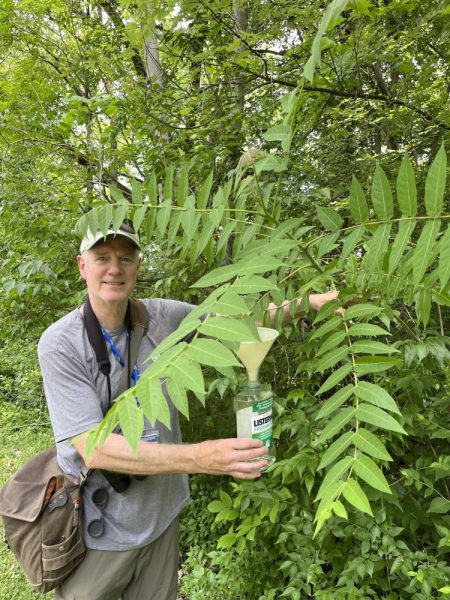 Cleveland Metroparks volunteers have been specially trained on how to respond to the situation and maintain control of the invasion by trying to eradicate the tree of heaven. 
 "Cleveland Metroparks Natural Resources employees will focus on tree of heaven, cutting, removing and then spot-treating with herbicides, so as to reduce this favored tree, and hopefully slow the spread of the spotted lanternfly," Burwell wrote. "As of right now, the 'plan' for spotted lanternfly is to smash or catch nymphs and adults…" 
As the pests begin laying eggs and increasing their numbers, the focus will shift to limiting their reproduction.
"Our next move is to watch for egg masses which must then be destroyed by scraping with whatever tool is handy," Burwell wrote. 
Although the spotted lanternfly continues to spread across Ohio, residents have to be proactive and do their part in limiting this invasion. 
Bugenske explained that residents can help by reporting sightings to the US Department of Agriculture or the specialized watch channels through the Ohio Department of Agriculture at [email protected]. 
Additionally, Burwell explained that residents can help by educating themselves.
"Every resident can become familiar with what tree of heaven looks like, and if it is on your private property, check it for spotted lanternfly, and then remove it, and treat the cut tree trunks and stems with recommended herbicide," Burwell said.