Charlotte Grossman Returns to BHS as School Nurse
Where did you go to high school?  
Believe it or not, I graduated in 2009 from BHS so yes, I'm an alum.
What did you do before coming to Beachwood? 
Before coming to Beachwood, I worked in assisted living and memory care units with people who had Alzheimer's and dementia. During this time, I also had two wonderful kids with my husband, Jonah; a son named Herman who is almost four years old, and a daughter named Lilly, who just turned two years old.
Why did you want to be a nurse, and how did you become interested in the medical field?
I've always wanted to be a nurse, ever since I was a little girl. I did my senior project at Menorah Park and shadowed a nurse and learned a lot. The main reason I wanted to become a nurse was because my grandparents were like my second set of parents. I saw them very often and formed a close relationship with them. When they got older, I took care of them. During that time I realized there was no better feeling than taking care of someone and helping them live the rest of their life comfortably and happy.
"
I realized there was no better feeling than taking care of someone and helping them live the rest of their life comfortably and happy.
— Nurse Charlotte Grossman
How has starting at a new school been different or what did you have to get used to being a nurse? 
Being a nurse at a school is much different than being a nurse at a nursing home. First big difference is that I'm working with high schoolers compared to the geriatric population (people in their 80's and 90's). Also, there is so much more paperwork involved with school nursing. In a nursing home there's more one-on-one care, and medication administration, as well as treatments.
What's the funniest thing that has happened to you so far at Beachwood? 
The funniest thing that's happened to me at Beachwood is seeing all the teachers who used to be my teachers when I went to school here. Shout-out to Mr. Davis, Mr. Luzar, Mr. Lader, Mrs. Crossman, Mr. Chase, who was assistant principal during that time, Mr. Hardis who was principal at that time, Mrs. Goldman, Mrs. Deviny, Mrs. Weisman and Mr. Alexander.
What would you like to tell students interested in the medical field? 
If you are interested in pursuing a career in the medical field and have a passion for caring for others, be sure to work hard and earn good grades, get as much experience as possible and volunteer. Please come to the clinic anytime if you are interested in a career like nursing, and I can answer any questions you may have.
Leave a Comment
About the Contributor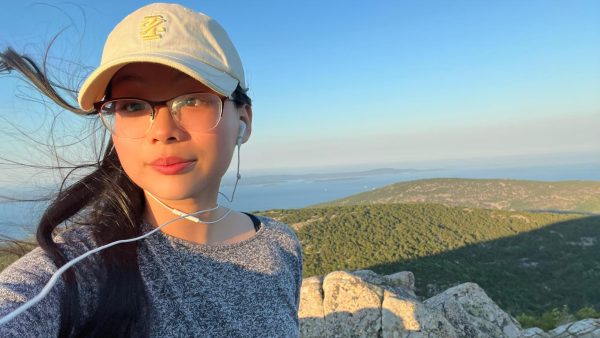 Lyndia Zheng, Layout Editor
Lyndia Zheng (she/her) started writing for the Beachcomber in the fall of 2022. She enjoys writing about political and social news happening within and...