The Heat is On
Climate Change is Happening Now
As residents of Northeast Ohio, it isn't often that we bear the brunt of global warming. In a region known for gray skies with an abundance of snow and ice in the winter, it's hard to see how drought and warming climates are impacting us.
Summer 2022, though, was different.
This July, The Plain Dealer published a headline that read, "Cleveland, will this be the hottest summer of your life, or the coolest summer of the rest of your life?"
Conversations about climate change need to shift from the future tense into the present. 
This is not something happening years from now. Climate scientists are reporting that emissions caused by human activity have already warmed the planet by an average of two degrees Fahrenheit, causing extreme, destructive weather events worldwide. 
REGIONAL
Dr. Harold Perkins, professor in the Geography Department at Ohio University, explained why the Great Lakes region is somewhat protected from the worst symptoms of climate change.
"It's hard to notice global warming's effects when you live in Ohio, because we are located next to Lake Erie, which acts like a sort of air conditioner," he said. "The same goes for cities like Buffalo or Milwaukee."
However, if matters continue at this pace, we might not be able to reap the benefits of this natural resource for much longer. According to the website of  The Nature Conservancy,  we are on the brink of an ecological vicious cycle, a domino effect of one environmental crisis after the other.
"Rising temperatures exacerbate algal blooms in Lake Erie, leading to bacteria-polluted drinking water in Toledo, Ohio, potentially causing a number of harmful health conditions for half a million residents," the website states.
Perkins explained that as the lake gets warmer, it will likely impact Cleveland's weather as well.
"Lake Erie is getting unusually warm, and if it stays this temperature late into fall, it could cause some problems in the wintertime," he said. "The cold air moving over this warm basin in Lake Erie could exacerbate the lake effect snow we get this year. And Cleveland doesn't have enough money to be able to effectively tackle  [increasingly] extreme snow."
While cities like Cleveland may face increased costs due to climate change, individual home owners may also be affected. 
In an article published by The Ohio State University's College of Arts and Sciences, state climatologist Bryan Mark explained what he has done to prepare his own home. 
"
Ohio's widespread summer drought severity is projected to increase by approximately 50 percent by 2050,
— States at Risk
"What does climate change mean for Ohio? Well, for me, it means putting bigger gutters on my house… I moved about four years ago, and the roof was in pretty good condition, but it was pretty clear to me within the first couple rainfalls that our gutters were inadequate," he wrote.
Seemingly minute adjustments made by homeowners, businesses and municipal governments are actually harbingers of something bigger.
States At Risk, a project aimed at raising awareness about exacerbating climate conditions all across the United States, projects Ohio as a state at severe risk of extreme heat and drought.
"Ohio's widespread summer drought severity is projected to increase by approximately 50 percent by 2050," researchers found. 
NATIONAL
Weather across the United States has been increasingly extreme, with record damage from high temperatures, drought, and tornadoes in the spring and summer this year, and increasingly violent hurricanes in the fall. 
Some of the worst impacts of climate change have been in California, the climate of which has historically been considered ideal. 
"I often say, I have California envy," Perkins said. "There's this Mediterranean climate in California, it has mountains and forests and beaches, so it's upsetting to see that it's bearing the brunt of the environmental crisis." 
"There isn't enough water to go around, I mean, the place is a tinderbox," he added.
The crisis that California faces has spurred its leaders to act more quickly to address the causes of climate change. 
"
There isn't enough water to go around, I mean, the place is a tinderbox.
— Dr. Harold Perkins
"If any state government is going to take the lead in combatting the issue of climate change, it will be California," Perkins added. "It is a national and global leader in making steps towards the climate crisis."
Meanwhile, the state faces immediate problems with its infrastructure.
"The energy grid in California is a mess," he said. "In fact, their utility, Pacific Gas & Electric (PG&E) , had transmission lines that would often spark because of the amount of strain placed on them, which has started a lot of the wildfires there."
PG&E paid a $55 million settlement earlier this year for the Dixie Fire in 2021 and the 2019 Kincaid fire. A PBS article detailed the damage caused by the Dixie Fire.
"The Dixie Fire burned nearly 1 million acres (3,900 square kilometers) in … destroyed more than 1,300 homes and other buildings," the article states. "The blaze was caused by a tree hitting electrical distribution lines west of a dam in the Sierra Nevada…"
Fire risk is made worse by extreme heat. California recorded the most unforgiving September heat wave in history, with temperatures reaching as high as 115 degrees. 
GLOBAL
Climate change is wreaking havoc all over the world. In particular, monsoon season has been extremely detrimental in Pakistan, which, at publication, is currently ⅓ underwater. In early September, floods in Pakistan were the worst in decades.
Dr. Perkins highlighted the disturbing nature of this particular calamity and the potential domino effect it could have.
"How many more Pakistans will there be? This is an issue that is happening currently, not 20 years from now," he said. "What will happen next year? Countries like Bangladesh are below sea level, and these are the countries that produce the least carbon footprint and are the least capable to recover from extreme weather events. Unfortunately, these are the countries that are most affected by it."
Ghulam Hamid is a Senior Civil Judge from the City of Bahrain, in Pakistan's Swat Valley, once a beautiful tourist destination now a town in ruins. He offered an intimate perspective into the humanitarian crisis in a text interview.
"
The flood hit us in the daytime with no warning, and we all fled to our relatives in the mountainous areas.
— Judge Ghulam Hamid of the City of Bahrain in Pakistan's Swat Valley
"The flood hit us in the daytime with no warning, and we all fled to our relatives in the mountainous areas," he wrote. "[The city's] hotels and shops worth 30.5 million [Pakistani Rupees] were destroyed. This was our sole source of income."
The repercussions of such a devastating calamity are far-reaching and long-enduring. However, Judge Hamid shares a common belief with the majority of Pakistan concerning what exactly is at fault.
https://drive.google.com/file/d/1x9SXrezmLKy9J4vSX_ShDUZHbhP6ffeO/view?usp=sharing
(Videos of flooding in City of Bahrain, Pakistan courtesy of Judge Ghulam Hamid)
"There is no doubt it can be termed as climate change, but the main reason behind it is bad administration and lack of care by the government," he wrote. "If such remains the situation, there is no doubt that it will hit us even more severely. We decided to ask the government for some help, just so we could build hotels at a distance from the river. But the government is doing nothing as all rehabilitation is hijacked by the army."
Hamid's story is devastating. But he is just one of 33 million people who have been affected by these catastrophic floods. As California is set ablaze, Pakistan drowns in its own rivers and even Cleveland is likely to see extreme weather events in the coming decades, it is hard to believe that a single individual can rectify anything. But you can help. 
AP Environmental Science teacher Lisa Bugenske offered advice for individuals wanting to help.
"First and foremost, get educated about it," she said.  "Then vote or join political campaigns or pressure politicians to support policy that addresses climate change and incentivizes renewable energy.
To help meet immediate needs, consider donating to these organizations:
Donate to flood relief efforts in Pakistan. 
Donate to wildlife recovery funds in California. And although Cleveland hasn't seen the worst of it yet, you can help by participating in nonprofits for climate change in your own backyard.
Leave a Comment
About the Contributor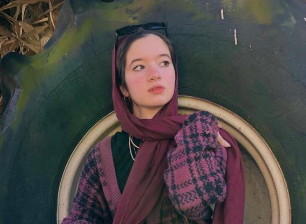 Samah Khan
Samah Khan (she/her) started writing in the fall of her sophomore year in 2020. She enjoys covering macroscopic world issues and their impacts on the Beachwood...