College Credit Plus Increasingly Popular, But Not Best Option For Everyone
College Credit Plus (CCP), a dual-enrollment program that has been available to Ohio middle and high school students since 2015, is attractive to students for its flexibility and for the opportunity it provides to get a jump on college credits, but it raises questions for educators regarding rigor, age-appropriateness and long-term impact on high schools. 
CCP allows students to move more rapidly towards their educational goals, and in most cases, the school district pays the student's tuition for the college class. 
Guidance counselor Liz Osicki explained how the program works. 
"[CCP offers a] chance for students to get high school and college credit at the same time by taking classes through one of our local colleges, allowing students to get a head start on some of their college classes," she said.
If the student goes on to attend a public college or university in Ohio, the school will be required to give transfer credit for most CCP courses. 
According to the Ohio Department of Higher Education, the program is intended to help prepare high school students for college and careers. 
"The purpose of this program is to enhance students' career readiness and postsecondary success, while providing a wide variety of options to college-ready students, at no or limited costs to students and families," the department's website states. 
"I've been in CCP since the beginning of the [2021-22] school year," said senior Alexia Roush, who took a CCP English class through Kent State in the fall and currently takes a psychology course. 
"As a student at the university, I get the same resources as every other college student. This includes an academic adviser and access to libraries and textbooks," she continued.
Universities have offered an increasing number of courses online in recent years, and CCP students have taken advantage of this option. 
According to Osicki, the majority of Beachwood's CCP students are currently taking their college courses online. 
"[My courses are fully online with] no set meeting time," Roush said. "[Assignments] have deadlines, but there aren't any lectures to attend."
"Instead, lectures or videos are posted online to be watched on your own time," she added. "Typically assignments will be due at the end of every week and will require you to post them on the class forum, then respond to others' posts. There is also usually a final project." 
The online format means that students can move through the course at their own pace.
"I don't find it to be overwhelming since I don't have to attend lectures, so I can get all the assignments done on my own time," Roush said.
"
In my experience, CCP courses are easier than AP courses. The assignments are easier and less frequent.
— Senior Alexia Roush
Advantages for Students
Since the school district usually pays for CCP classes, families can save money while students get ahead. 
In most cases, if the student is accepted into the college's CCP program and has the prerequisites for the class, the school district pays. However, there are exceptions.
"If [students] fail or drop after the deadline, they have to pay," Osicki said.
Some classes such as gym, one-on-one music lessons and religion classes are not included in the CCP program. 
Linda LoGalbo, who is Director of Curriculum and Instruction for Beachwood City Schools, explained that CCP allows students more flexibility in their schedules.
"For example, a student might take their health requirement in the summer, so it frees up room in their schedule to take something they want at Beachwood." LoGalbo said. 
Michelle Slattery teaches psychology  at North Central State College in Mansfield. 
"Most terms, I would estimate that about half of my students are CCP students," she wrote in an email. "Many of my classes are fully online courses, so those classes will often have a mix of CCP students, traditional college-aged students and college students who are returning to school after a break or wanting to transition to a new job." 
"It is not uncommon for me to have a class with students ranging in age from early teens through 50s," she added.
Slattery explained that CCP can also give students an opportunity to explore their chosen field before starting college. 
"[Students can use CCP courses to] start exploring different areas of study, which may direct a student towards a major," she wrote.
Many BHS students are choosing to take CCP classes because they find them less rigorous than Beachwood's curriculum.
"In my experience, CCP courses are easier than AP courses," Roush said. "The assignments are easier and less frequent."
"Both [of my CCP courses] required a lot of reading and writing," Roush said. "However, I found the writing prompts for the English course to be surprisingly simple, and I never have to write more than a few paragraphs."
"As for tests, I had two exams for my English course and I have weekly quizzes for psych," she added. "The English exams consisted of two specific prompts each, both of which ended up being a little over half a page of writing."
This is much easier than final exams for AP courses," Roush said. "Plus, there are no AP exams and the courses are only a semester long, so I definitely prefer CCP courses to AP courses." 
"
Students have to be really motivated, independent learners because there are not those checks and balances of support [we have] here at [BHS].
— Linda LoGalbo, Director of Curriculum and Instruction for Beachwood City Schools
Disadvantages for Students 
College Credit Plus seems like a win-win, but there are problems students can run into.
"We've had students fail CCP classes, we've had students who ended up having to withdraw from CCP classes," Osicki said. "If you fail a CCP class, it stays on your high school and your college transcript and then you have to pay back the tuition." 
The cost of repayment varies by school. 
"Tri-C charges $100 a credit hour and most courses are 3 credit hour courses," LoGalbo said. "If a student was taking Government at Tri-C and they withdrew or failed the course, they would be charged $300." 
Withdrawal or failure of a CCP class also impacts a student's GPA.
"The withdrawal shows up on both the high school and the college transcript," Osicki added. "We've had situations where, for example, in an online class, students didn't realize they needed to log in every week and complete assignments; they thought they could just do it all at once at the end and then they either failed or were withdrawn from those classes."
Many students benefit from the structure provided by traditional high school courses. 
"There are attendance requirements in place in high school, so there is probably less likelihood to miss the class," Slattery wrote.
Without that structure, students tend to forget that the structure and requirements of academic classes still apply.
CCP classes are different from high school in other ways. Professors don't email students for late work, or for making-up a test, or to send class notes. Students need initiative to be successful.
LoGalbo warns that colleges treat CCP students like any other college student, which means that they don't offer supports such as contacting parents of students who are not doing well in a class. This can be frustrating for parents.  
"Students have to be really motivated, independent learners because there are not those checks and balances of support [we have] here at [BHS]," LoGalbo said. 
The grading scale may also be different. 
"All students taking a class through North Central State College, CCP student or not, have their grades determined based upon North Central's grading scale," Slattery wrote. 
Additionally, college instructors may expect a higher level of thinking.
"My CCP students tell me that exam questions or writing assignments include more application work than they have previously encountered," Slattery wrote, although she also acknowledged that this issue may be unique to her class.
Audrey Wagstaff, Associate Professor of Communication at Wilmington College,  also worries that students who load up on CCP classes may lose out on some of the benefits of college.
"When you come in at 18 or 19, you're in college for two years…you're not getting the full college experience, that sort of pause–let's try on this independence thing–and the next thing you know, you're thrust into the job market," Wagstaff said.
Slattery finds that some students are simply not ready for college coursework.  
"[Sometimes the classes might be fully online, so students need to have good time management and independence to complete that type of coursework," she wrote. "[Some may make the mistake of] trying to take a larger course load than is realistic for their other academic needs, athletic schedule, work schedule, family life and social life." 
"I've had several students who've come into my courses at the age of first-year college students, but are coming in as juniors in terms of credit, and a lot of them feel underprepared," Wagstaff said. "In terms of time management, they are used to the high school schedule." 
Based on what she has seen in her classes, Wagstaff also worries that students who load up on CCP may not develop sufficient writing skills.
"A lot of the students still haven't had enough true college-level writing experience," she added.
"
The cost of the program automatically gets taken out of our state foundation, which is money we get from the state of Ohio for public education. Last year, it cost the district $64,735 [for tuition alone].
— Linda LoGalbo
Impact on Schools
Linda LoGalbo explained that since the school district pays for CCP classes, it has a growing impact on the budget. 
"The cost of the program automatically gets taken out of our state foundation, which is money we get from the state of Ohio for public education," LoGalbo said. "Last year, it cost the district $64,735 [for tuition alone]."
The district also needs to pay for textbooks, and college textbooks can be expensive. LoGalbo estimates that the district is spending $10-12,000 this year on textbooks for CCP courses.
It is difficult for the district to absorb these costs, since other expenses do not decrease when students take CCP classes.  
"We're a people business," LoGalbo said. "Most of our budget is [dedicated] to staff salaries." LaGalbo said.
"CCP can impact enrollment numbers for staffing," LoGalbo added. "If we have more kids taking classes at a university, then we might not run a class or two here [at Beachwood]." 
The growth of CCP is impacting existing high school academic programs around the state.
Amy Sorrell is an English teacher at Antwerp High School in northwestern Ohio. She has seen the number of students in her senior English classes significantly reduced. 
"My numbers have gone down a lot," she said. "This year, [I have] almost half of the seniors I had when I started [in Antwerp]." 
This trend goes beyond English classes.
"At least a third of our seniors are in some kind of CCP," Sorrell said. 
In Sorrell's view, students are not choosing CCP classes because they are challenging.
"Students are taking CCP classes because they are easier than high school English, and they [want] to get out of the senior research paper," she said. We have kids [who are] graduating high school without writing a traditional research paper," Sorrell said.
She added that CCP students at Antwerp seem to have a lot of spare time to socialize since they are not attending traditional classes. 
"We have students who take CCP who just sit around all day," she added.
Sorrell hopes to get certified to teach CCP herself and to keep more students taking in-person high school classes.
"Next year, we'll [be able] to offer CCP in the building," she said.
"They need to be actually college-level classes. Our local community colleges have seen this as the cash cow that it is because the public schools have to pay the tuition for these kids," she added.
"We need to make sure that these classes are quality classes and that kids are getting the requirements they need and the writing experience they need to prepare them for college." Sorrell said.
According to the Ohio Dept. of Higher Education, K-12 teachers are required to have a Master's degree in their discipline or a Master's plus 18 graduate credits in their discipline in order to teach CCP, although some colleges and universities may have additional requirements. 
At BHS, Math teacher Liuyi Liu, who teaches multivariable calculus, and engineering design teacher Chris Croftcheck are both considered adjunct professors at Cleveland State and are able to offer CCP classes at BHS. This allows students to get CCP credit while also maintaining the quality and the structure of a typical BHS class.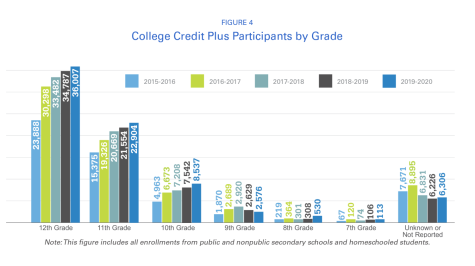 Growth of the Program
Osicki explained how the program has evolved in recent years. 
"It used to be called PSEO (Post Secondary Enrollment Options) but it was revamped seven or eight years ago to be called College Credit Plus," she said. "That's when they opened it up to seventh through twelfth graders and allowed for 30 credit hours a year."
The program was amended by House Bill 487 passed by the Ohio General Assembly in 2014. 
The CCP program statewide has increased dramatically since it began, with 54,053 in 2015-16 to 76,973 in 2019-20, according to the program's annual report. 
BHS participation in CCP has also increased from low numbers in the first few years.
This year, 73 students took CCP classes in the summer, 53 in the fall semester and 47 in the spring semester. 
"We are seeing increased interest for next year across all grades," Osicki wrote in an email.
Students are taking CCP courses most often in English, health, psychology, sociology, government and  economics, among other classes.  
The high school offers CCP credit in the building for multivariable calculus and honors design engineering I and II.
"In general, [the state is] trying to refine some things," Osicki added. "They did update their eligibility requirements this year. They are always looking at how they're weighted and whether they continue to require them to be weighted the same as AP." 
"In the last couple of years, they've added CCP probation and dismissal procedures for when students are underperforming," Osicki added. "I don't see it expanding; I see them refining some areas they didn't initially address when they put out the program." 
Leave a Comment
About the Contributors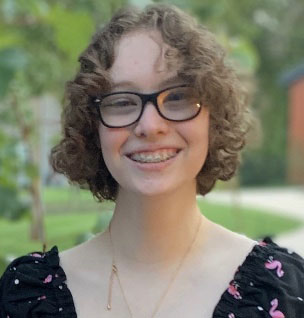 Carli Margolis, Arts & Life Editor


Carli Margolis (she/they) began writing for the Beachcomber in the fall of 2021. She covers all topics. In addition to writing for the Beachcomber,...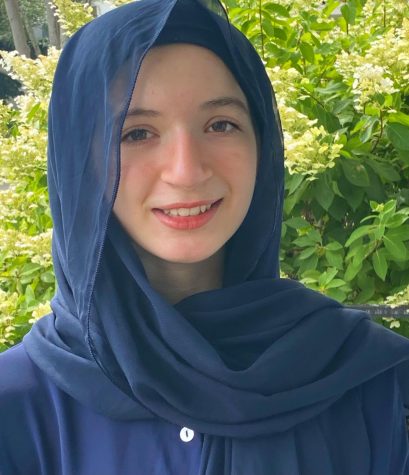 Anah Khan, Features Editor
Anah Khan (she/hers) started writing for the Beachcomber in 2021. She is interested in covering new organizations and programs in BHS and writing opinion...