What You Should Know About Deaf Culture
Deaf History Month was celebrated March 13 to April 15, a great time to learn more about deaf culture. 
Here are a few things that you may not have known.
Deaf (with a capital D) is used to describe those who embrace Deaf culture and primarily sign to communicate. Hearing impaired, on the other hand, is generally a negative phrase because: "It suggests that Deaf people are 'broke'" or 'inferior' because they do not hear." Furthermore, people who describes themselves as 'deafened' or 'hard of hearing' typically do not associate with deaf culture and prefer speaking over signing.
Sign language was introduced to the United States in the 1800s, but the progress was stalled after an 1880 convention of deaf educators in Milan, Italy. One of the leaders of the convention was Alexander Graham Bell, who argued for lip reading and against teaching sign language in schools. There were only two deaf delegates at the convention. Following the convention, many schools for the deaf banned sign language. The consequences of this decision included the closure of many schools for the deaf, many deaf people working in factories and illiteracy for many deaf Americans.
There has been a historical debate in deaf education between those who advocate teaching deaf children sign language (manualism) and those who argue that they should be taught to lip read and speak (oralism). Those who argue for manualism may claim that sign language was tailored to fit deaf people's needs; by contrast, expecting children to read lips forces them to conform to the dominant culture and may cause a child to fall behind in studies because most of their time is spent learning to read lips. 
"
In the late 1880s, many schools for the deaf banned sign language. The consequences of this decision included the closure of many schools for the deaf, many deaf people working in factories and illiteracy for many deaf Americans.
Gallaudet University was named after Thomas Hopkins Gallaudet, a hearing man who wanted to help deaf children communicate. Gallaudet and Laurent Clerk, a deaf instructor, founded a school for the deaf in Hartford, Connecticut. Later, Gallaudet's son Edward Gallaudet was approached by Amos Kendall, a Washington, D.C. businessman and former postmaster general. Gallaudet and Kendall together founded Gallaudet University in Washington, D.C. in 1857. The school was founded for deaf students only, but now accepts hearing students as well.  In 1864, President Lincoln granted the school permission to give graduating students college degrees. 
There is a universe of art and film that comes out of the deaf community. For example, Deaf West Theatre in Los Angeles is dedicated to providing a space where the deaf and hearing worlds come together in artistic collaboration. Kelly Clarkson collaborated with the theatre in April 2020, releasing a video of the song "I Dare You" in which people from all over the world signed the lyrics on screen. 
The first language depicted in film was in a silent film from 1902, when a young woman signed "the Star Spangled Banner" in front of the American flag.
The village of Chilmark on the island of Martha's Vineyard in Massachusetts was isolated for hundreds of years, and had an unusually large deaf population since many residents traced their lineage to Jonathan Lambert, an early resident who was deaf, and who passed hereditary deafness to his descendents. The residents developed their own regional sign language, and the majority of residents, both deaf and hearing, learned to sign. The unique sign language known as Martha's Vineyard Sign Language became part of the town's mainstream culture and lasted into the 20th century. In 2006, Martha's Vineyard Playhouse produced a play called "This Island Alone,"  honoring the island's unique deaf cultural history.
The deaf community has also produced many significant educators, artists, scholars and scientists.
King Jordan (1943-) grew up in a small town in Pennsylvania. He entered the Navy after high school, and then became deaf at age 21 due to injuries suffered in a car accident. He later graduated with a B.A. from Gallaudet University. Jordan later earned an M.A. and Ph. D. from the University of Tennessee. 
Jordan rose to the presidency of Gallaudet  in 1988 after the Deaf President Now protest that aimed to have the university hire a deaf person as president. He used that position as a platform for activism to change the public's outlook on deaf and disabled people. 
Jordan has been awarded the President's Citizen Medal and the James L. Fisher award from the Council of Advancement and Support of Education, among other honours. During the Bush and Clinton administrations, he served as Vice chair of the President's Committee on Employment of People with Disabilities, and for the Obama administration, he was on the Commission on Presidential Scholars.
"
King Jordan rose to the presidency of Gallaudet University in 1988 after the Deaf President Now protest that aimed to have the university hire a deaf person as president.
Clayton Valli (1951-2003) was a notable poet who was born deaf. He was the first person to earn a Ph.D. in linguistics and ASL poetry, which he earned from the Union Institute in Cincinnati, Ohio.  He contributed to the genre of ASL poetry and found parallels between spoken and signed poetry, specifically parallels between rhyme and meter. He also wrote ASL textbooks that are used in classes to this day.
 "ASL poetry has two hands you can use to express yourself and they can both be doing separate things, which can add a depth to the message that spoken poetry can't do when you only have one tongue to use," Valli said.
Ruth Benedict (1887-1948) had a tumultuous childhood. Her father died when she was young, her mother was consumed by grief, and Benedict became  withdrawn and shy after a late diagnosis of partial deafness. But despite all the setbacks she faced, Benedict became a renowned anthropologist whose works remain influential in her field.
Benedict was in her thirties in 1919 when she began studying anthropology at Columbia University with Franz Boas, a founder of the field.  She studied Native Americans and other cultures around the world. . 
One of her books sold two million copies in English and is readily available in over 10 languages. She also wrote poetry under the name Anne Singleton. Benedict taught at Columbia and became the university's Acting Executive Director of the Department of Anthropology. She is also honoured on a postage stamp from 1955.
"I have faith of a scientist that behavior, no matter how unfamiliar to us, is understandable if the problem is stated so that it can be answered by investigation and if then studied by technically suitable methods," Benedict wrote. "And I have the faith of a humanist in the adventures of mutual understanding of men."
Annie Jump Cannon (1863-1941) first learned about the constellations from her mother. She would go on to become a groundbreaking astronomer. Cannon's mother also encouraged her to study math and science. She graduated Wellesley college as valedictorian and then simultaneously taught Junior Physics, took graduate classes, and studied astronomy at Radcliffe College, which was essentially the women's section of Harvard which was then all male. 
Cannon also worked at the Harvard College Observatory, where she and a group of women known as the Pickering group classified stars. They were paid 50 cents an hour.
Before she even finished getting her Master's degree, Cannon published a catalogue of stars. Cannon is also credited with developing the system of discovering stars that is still used today. She was the first woman to be awarded an honorary degree from Oxford, fought for women's suffrage and catalogued 350,000 stars. She was also the first woman awarded the Henry Draper Medal of honour from the National Academy of Sciences.
"
Jade Bryan started #DeafTalent, a social media movement that seeks to put Deaf actors in Deaf roles.
With a BFA in film production, Jade Bryan (1965- ) founded two companies: DeafVision Filmworks and Jade Films and Entertainment. She has also been a producer and director for many documentaries. One of her feature films, "The Shatter Mind," won the award for Best Sound and Audience Award, including many others. But she doesn't stop at being an award-winning producer and director, she is also an activist fighting for representation in Hollywood. She started #DeafTalent, a social media movement that seeks to put Deaf actors in Deaf roles.
Leave a Comment
About the Contributor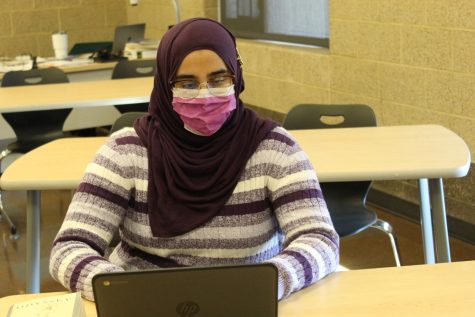 Hiba Ali, Editor-in-Chief
Hiba Z. Ali began writing for the Beachcomber in fall of 2019. She covers diversity in the school. In addition to writing for the Beachcomber, she also...