Problem Solver
Kelly Stillman, Beachwood's new police chief, brings decades of experience
After former Beachwood police chief Gary Haba stepped down from his position on July 17, 2020,  citizens of Beachwood wondered who would lead the department. However, Beachwood was able to find an experienced chief to fill Haba's shoes.
Kelly Stillman is a 63-year-old Rocky River native who served in the Coast Guard after high school from 1976 to 1980. He attributes his career  in policing to this experience.
"In my last year of the Coast Guard, I was sent to a police academy," he said. "I enjoyed it and decided to further my education and line of work into becoming a policeman."
Stillman served in two different police departments before his time in Rocky River. He started in Cleveland Heights for one year and transferred to the City of Cleveland for a few years, but cited job instability as the reason he returned to his hometown.
"I was laid off twice in Cleveland so I researched other police departments," he said. "Fortunately, I was called back to Rocky River in 1994."
"It was a great reward to return back to a community that had been so gracious to give me my education and a great foundation for success," he added.
After 26 years at Rocky River, Stillman was promoted to chief in Dec. of 2010.  During his time with the Rocky River Police Dept., he established a multitude of programs, including a citizen's police academy, neighborhood crime watch, and Coffee with a Cop meetings. 
"I am a firm believer that police must be engaged and stay engaged with the citizens we serve." Stillman told Cleveland.com
"
Aside from being chief of police, I'm an ordinary guy doing the best I can for this city."
— Chief Kelly Stillman
After 36 years at Rocky River, Stillman was ready for a new challenge.
"Under the pension program of the state of Ohio, I had to retire from Rocky River by the end of January 2021," he said. "As my retirement date was coming around the corner, I researched for open police chief positions, aiming to find a new city where I could provide my services."
When he came upon the opening in Beachwood, he was excited.
"Beachwood is known for a great police department, school district, citizens and I knew it would be a great fit for me," he said. "I love doing what I do, and I am extremely grateful to be a police chief for this city and be a helping hand to its citizens."
Stillman also explained the vetting process that he went through before he was hired. 
"After I applied, I went through a series of interviews with various personnel from Beachwood's city administration," he explained. "Through the state of Ohio, I had to go through a chief's assessment. Then the city took the top four candidates who scored the highest on that assessment and put us through a day-long assessment."
"This assessment ranks you on how you would react to different situations, your own personal qualities, and skills in effective leadership."
Out of the four candidates, Stillman ranked the highest on the assessment.
After spending decades in one community, it can be hard to transition and start over in a completely new place. However, Stillman felt as if he had the whole city of Beachwood behind him.
"They really rolled out the red carpet for me," he joked. "To this day, I'm still getting greetings and salutations from members of the community. It's extremely unique that people are being so gracious in welcoming me on board."
But there have been some cold rebuffs as well.
A voice recording of Stillman was sent by an encrypted mail service to Beachwood City Council members in an attempt to discredit his reputation. The recording included Stillman stating that he used to "thump" prisoners in his early days as a police officer in Cleveland. At the time the recording was sent, he was only nine days into his job as Beachwood police chief.
"Although it was disheartening, it didn't stop me," he said. "I've been in this job too long to be thrown off by techniques of bitter people. With the complete loyalty and support from Beachwood's administration, I've been able to move on from it and begin to settle into my position at Beachwood." 
Stillman already has plans for the Beachwood community, even tapping into the previous programs he implemented at Rocky River.
"Beachwood Police Department [BPD] has always been a department known for their professionalism and equipment," he said. 
"
From everything I know from dealing with Chief Stillman in the past, and everything that I have seen since Chief Stillman was sworn in, I am confident that the City of Beachwood is in very good hands."
— Officer C.J. Piro
Stillman hopes to adopt a new system for updating department policies.
"Policy is important, and to establish a robust manual of consistently updated policies, I plan on bringing in an organization called Lexipol," he added.
Lexipol, created in 2003 by two former law enforcement officers, is an organization that provides officers and police chiefs with up-to-date information and policy manuals in line with current law. It offers online training, grant services and policy management platforms to ensure safer communities to enable officers to keep pace with their responsibilities.
"The reason I chose Lexipol is because police work can change in a moment's notice." Stillman explained. "Lexipol updates our policies within days, which is exciting because we won't have to wait months or even years for new additions."
"I believe it speaks to what residents want: officers who work under the latest rules in regulations, which leads to accountable policing."
He also hired new staff.
"We've been able to hire four  new personnel right away, which is a challenge given the times, but it is exciting," he said.
Stillman also plans to bring his community engagement ideas to Beachwood, including the citizen's police academy.
"It will be a mini police academy that is heavily shortened but robust enough to where people selected will get a variety of situations to go through and learn how and why police officers do things in Beachwood," he said. "I believe it'll be a great opportunity to encourage community engagement."
Stillman plans to host a remote town hall meeting on Jan. 13 to give citizens an opportunity to learn about him and inquire about his plans for Beachwood.
Beachwood City Schools' Director of Security and Safety C.J. Piro had his first interaction with Stillman around 12 years ago as he was training to become a Motorcycle Officer. As he was having trouble doing maneuverability, Stillman stepped up for him and the fellow officers.
"He [Stillman] took the time to help everyone improve and definitely gave useful pointers that were needed for everyone to successfully complete the training class."
Since then, Stillman and Piro had multiple interactions as they worked together to escort presidential details, funerals and parades.
Beachwood Place is a big staple in the Beachwood community, driving traffic that brings a tax revenue of about 3.5 million dollars to our city and schools. Since this is more than half of the city's funding, Stillman is determined to efficiently protect the mall.
"The existence of the mall is extremely critical," he said "I meet with Brookfield, the mall property owners, and the Director of Security continuously to protect the mall… to ensure safety." 
We can't keep the criminal element from showing up, but we can be there to stop it," he said.
 Stillman recognizes the importance of protecting and celebrating Beachwood's diversity.
"To me, it doesn't matter what color, ethnicity, or walk of life we come from," he said. "We are all from God and we all need to come together as a community to assist each other in our time of need."
"
The existence of the mall is extremely critical. I meet with Brookfield, the mall property owners, and the Director of Security continuously to protect the mall… to ensure safety."
— Chief Kelly Stillman
Piro acknowledged Stillman's dedication to community and police relations.
"One of the projects that Chief Stillman and I have talked about and are hoping to set into place is a community cookout," Piro said.  "So many people have negative opinions of the police without really knowing them as the people that are here to protect the community and be relied upon.  We hope to involve the Police Department, the community, Beachwood Schools and local businesses in this event." 
Stillman also touched on the Blue Lives Matter Movement and the Black Lives Matter Movement respectively, accepting each at face value.
"At Beachwood High School, there was an incident of a cop wearing a Blue Lives Matter mask," Stillman said. "He was addressed by the school board and the school faculty and does not wear the mask anymore. Any officer is allowed his or her first Amendment rights, but during work hours, there are certain ways they need to express themselves in order to remain impartial."
"The Black Lives Matter Movement is fine," he continued. "It's a first Amendment right intended by the Constitution to be able to protest and retain freedom of speech." 
Stillman highlights his position as an officer and the importance of his job when social movements arise.
"Our job as policemen is neutrality," he said. "So as long as things are civil and peaceful, there is no problem. If property does end up being damaged, we need to maintain peace and make sure rights are preserved on both sides. I will always do my best to protect any lawful presentation." 
Stillman prides himself on being accessible at any moment and being socially engaged with citizens.
"My best attributes are my personnel, openness, and willingness to meet with anyone anytime," he said. "I answer all phone calls, emails, and letters. People call the police because they have a problem, and we as police officers have a duty to solve these problems personally and professionally."
"I truly love helping people and there's no greater joy to me than to solve someone's problems and them benefiting from it in the long run," he added. "That is what our police department and every department should provide."
Stillman had some final words for citizens who felt conflicted on whether or not to reach out to the city of Beachwood.
"I'm very approachable," he said. "Aside from being chief of police, I'm an ordinary guy doing the best I can for this city. I promise to be extremely dedicated and committed to all the work that I do. I want citizens to feel pride in their community and pride in my work. If anyone has an issue, I do not want anyone to hesitate to call. I am a working police chief trying to do right by my city and I want people to never be afraid of the people in power."
Piro also highlighted the qualities of Stillman as well and his potential contributions to our city.
"His ability to work with everyone, teach and mentor officers, and lead during complicated events makes me have the highest opinion of him both personally and professionally," he said. "…From everything I know from dealing with Chief Stillman in the past, and everything that I have seen since Chief Stillman was sworn in, I am confident that the City of Beachwood is in very good hands."
Kelly Stillman can be reached at 216-464-1234 or [email protected]
Leave a Comment
About the Contributor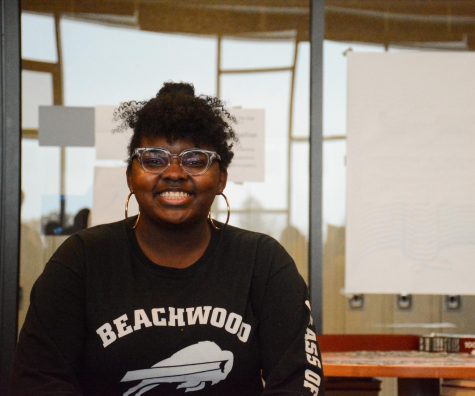 Carrington Peavy, Co-Editor-In-Chief
Carrington Peavy (she/her) began writing for the Beachcomber in 2017. She likes to cover in depth investigative stories. In addition to writing for the...