Support Staff Helps Students and Teachers Adjust
COVID-19 has been like the hurricane that took Dorothy to Oz, but instead, it took us to the land of hybrid learning. 
Just as the yellow brick road guided Dorothy and her friends on their journey, BHS students have faculty members who keep us moving in the right direction. This includes nurses, counselors, librarians and secretaries.
BHS was remote until Sept. 21 and is now open with a hybrid model. Teachers are teaching some students in person while others remain online. 
While teachers are performing a balancing act to meet the needs of both groups of students, non-teaching staff members have also seen dramatic changes in their jobs as they struggle to meet the needs of students and teachers while keeping everyone safe.
When the school suddenly went virtual in March, the job of school nurses became more difficult; since they could not see students in person, it meant they could not check students' vision, hearing and posture. 
Additionally, Nurse Kelly Debeljak explained that it became more difficult to meet the needs of students with special needs.
"We were not allowed to have any face-to-face contact with students or families who were being evaluated for special education plans," she wrote in an email. "Therefore, we had to rely on getting medical histories from parents via phone, email or Google Meet."
Now, Debeljak has gone back to administering the vision, hearing and posture tests for students who are in-person and checking up on them as well. She hopes to be able to do the same for students currently online when they return.
Additionally, in order to reduce the number of students in the halls, she has adjusted the way that she dispenses medication.
"I deliver all daily medications to each student rather than having them come to the clinic," she wrote.
The counseling office also had to adjust its approach to delivering services, including advising students, therapy, scheduling and graduation requirements. Since they could not interact with students live to discuss these matters, they also went online in the spring. They continued to meet students online even after some students returned to school in the fall.
"Our office has transitioned to a more virtual model," guidance office secretary Katie Cicero-Sega wrote in an email. "We've made all our forms into Google forms, created a Google Classroom and even made a virtual office with accessible links to additional information."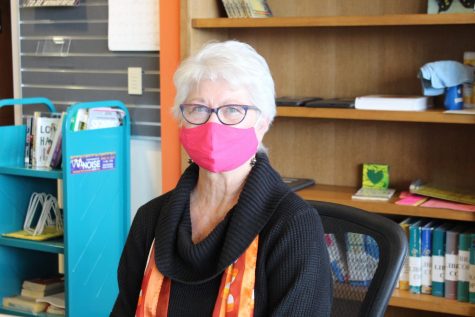 The library has also seen many changes. Librarian Angela Maxwell is now teaching special education at BMS and Hilltop. Library assistant Paige Dudley is now split between the middle and high school libraries since the middle school library aide retired. 
Additionally, Dudley helps with the technology problems teachers have when teaching kids online. There has also been an increase in ebook and audiobook check outs.
Before students returned in-person, Dudley missed seeing them in the library.
"There isn't anything sadder than an empty school building," Dudley wrote in an email. 
Now that students have returned, she only sees students who attend in the afternoon.
"I [do] not see students with last names A-L because I begin my day at the middle school," she wrote… "I have a very active email account. Students email their concerns with their Chromebooks or [when] they have changed classes and need to change textbooks."
The job of main office secretaries has also gotten more complicated. Attendance secretary Gabrielle Greer-Jones now has to account for students who are online or at school, morning or afternoon. In the spring there was no attendance at all because everyone was virtual and students were not required to attend classes every day. 
"I'm so used to knowing who's in the building, being in the school, doing attendance, being in the front, greeting people, and it just changed so fast," Greer-Jones said.
"[Now] we have to do [attendance] for the students who are in the building," she said. "They [also] have to do the daily checklist form… We want to make sure the form is completed for the safety of everyone." 
High school principal's secretary Lori Joyner also had to make adjustments.
"Strangely enough, after 31 years of doing my job, this year has been like doing a completely different job," Joyner wrote. "I think I'm working harder and faster than I ever have before." 
As for going back to school:
Nurse Debeljak supports in-person learning as long as safety precautions are in place.
"Ideally, I think in-person learning is the best option for most students," she wrote. "The health and safety of our students, staff and community is our priority…I feel the District has a great plan in place for returning to school. As long as the Cuyahoga County Board of Health feels that..[in-person learning is safe], I would agree."
Likewise, Counseling Office Secretary Cicero-Sega supports online learning, but acknowledges  the challenges that come with it. 
"I'm glad that families are being given the opportunity to choose what they are most comfortable with," she wrote. "We are all in uncharted territory here; I think everyone is doing the best they can with the information we have available." 
She also recognizes the responsibilities that arise with being back in-person.
"I think we have a responsibility to do what we can to keep each other safe by wearing masks and social distancing," she wrote.
Greer-Jones appreciates the plan that's in place because of its flexibility.
"I think we're really good, we have a plan that can adapt, because the system and the school schedule works the same for those online, and if anyone needs to go online at one point, we'd all be able to do that," she said.
"I [also] appreciate that our district is working with the different learning styles, because I just don't think that in-person could work for everyone, and virtual learning is [in place for] those who chose that, and we're also keeping those who're in person safe." 
"I think appropriate precautions have been made. As additional information comes in, adjustments are considered and taken," Joyner wrote about the plan.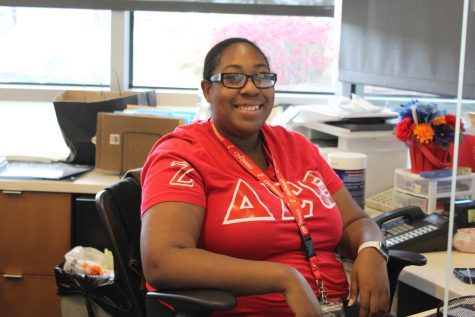 Several of these faculty members have advice for students:
"I will remind everyone to check out an ebook or audiobook," Dudley wrote. "Just go to the BHS website, explore BHS, click on the Library/Media tab, then click on the ebooks. Choose your school and enter your lunch code for students and your library card number if you are a staff member." 
"I think that, overall, as a high school community, we all are really doing a good job at keeping everyone engaged and keeping positive," Greer-Jones said.  
"I would just like to take a minute and recognize our amazing teachers," Cicero-Sega wrote.  "What they have been tasked with over these past few months is extraordinary, and they deserve the utmost respect and appreciation."
"How they have been able to pivot back and forth and adjust to constantly changing circumstances and demands literally overnight at times is super human," she added. "So anyone reading this.. make sure to thank a teacher today." 
The Beachcomber reached out to custodians but didn't get a response. They have been very busy doing additional cleaning to keep everyone safe.
BHS students might be in an unknown world, but like Dorothy, we're surrounded by many people who are willing to help us. Instead of munchkins, good witches, wizards, lions, scarecrows and tin men, we have a community of teachers, librarians, secretaries, counselors and so many more people who keep our school building running.
Leave a Comment
About the Contributor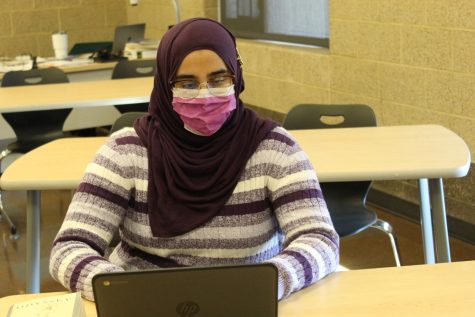 Hiba Ali, Editor-in-Chief
Hiba Z. Ali began writing for the Beachcomber in fall of 2019. She covers diversity in the school. In addition to writing for the Beachcomber, she also...