10 Hispanic Americans You Should Know
Hispanic Heritage month is celebrated in the United States from Sept. 15 to Oct. 15. The dates correspond to the independence celebrations of several Latin American countries.
Here are ten notable Hispanic Americans that you should be aware of:
Sylvia Mendez (1936-)
Mendez and her family were key figures in the fight for educational equality. They took legal action in Mendez v. Westminster, an early landmark case.
In 1944, the Mendez family tried to enroll their kids into the 17th Street School in Westminster, California. When they were denied enrollment because of their race, the children were enrolled instead in a "Mexican School" where speaking Spanish was prohibited, the boys were taught trades and the girls were taught housekeeping.
The family gathered support from four other families, and together, they sued the four districts in Orange County where their children were not allowed to attend school with white children.
They won the case after it traveled up to federal court in 1946, leading California Governor Earl Warren to declare school segregation unconstitutional in the state. However, they still faced difficulties. At school, children were bullied by white classmates
"'I was crying and crying, and told my mother, 'I don't want to go to the white school!' And she said, 'Sylvia, you were in court every day. Don't you know what we were fighting? We weren't fighting so you could go to that beautiful white school. We were fighting because you're equal to that white boy,'" Sylvia Mendez said in an interview with the L.A. Times.
This case was won nearly a decade before the 1954 case Brown v. the Board of Education, which declared school segregation unconstitutional. Earl Warren, who was governor of California during the Mendez case, later became the Chief Justice for the 1954 case. Furthermore, the man who argued the case in 1954, Thurgood Marshall, had written a brief about the Mendez v. Westminster case, and much of his argument echoed that used in the 1946 case.
Sylvia Mendez went on to become a nurse for 33 years, but, at the request of her dying mother, she started to become an activist in order to raise more awareness of this historic case. She also has made many educational programs and works to fight the inequality in the educational system that poverty causes. For her work, she was awarded the Presidential Medal of Freedom by Barack Obama in 2011, according to US Courts.gov. When she got it, she didn't think of it as an award for her, but for her parents who took a stand.
Mendez told the L.A. Times that her mother was proud of the accomplishment. She repeated what her mother told her:
"'It's history of the United States, history of California… She said, 'Sylvia, you have to go out and talk about it!'"
"
The Mendez case ended segregation in California nearly a decade before the 1954 case Brown v. the Board of Education, which declared school segregation unconstitutional nationwide.
     2. Ynés Mexia (1870-1938)
It all started when she moved to San Francisco when she was 51 after divorcing her second husband. She attended the University of California, Berkeley with the goal of becoming a social worker; however, when she was attending a course in flowering plants, botany piqued her interest.
Soon she was on an expedition to Mexico, where she decided to go solo and leave the team she had arrived with. In two years of travel, she collected 1500 specimens. It was the start of her career.
Later she traveled throughout South America, and also traveled a bit in the United States, but one of her most awe-inspiring trips was a 3000 mile canoe trip along the Amazon River. 
She wrote about those who told her not to attempt the journey. 
"A well-known collector and explorer stated very positively that 'it was impossible for a woman to travel alone in Latin America,'' she wrote.
But Mexia would not be deterred. 
"I decided that if I wanted to become better acquainted with the South American Continent, the best way would be to make my way right across it. Well, why not?"
She died of lung cancer in 1938, but not before collecting 145,000 specimens and discovering 500 new species (50 of those species were named after her, one such being Saurauia mexiae).
Ynés Mexia had a difficult life. Her parents divorced when she was young, she had a mental breakdown in her thirties and needed treatment, and she was later widowed and then divorced, so she packed up and moved to have a chance at a new life. And she got that chance. 
At the age of 51, she was much older than most when they enter a profession, but that didn't stop her. Neither did the fact that she was a female botanist in a time where such a thing was rare, she just followed her newly found passion and prospered.
According to the Canada Journal, she wrote, "We started on the long journey back… very tired, very hot, very dirty, but very happy."
"
Ynés Mexia collected 145,000 specimens and discovered 500 new species.
     3. Selena (1971-1995)
Selena Quintanilla-Pérez was a highly influential singer known as the Queen of Tejano music.
Tejano music has a rock and roll style and incorporates traditional Mexican music into its songs. Selena sang this music in a time when it was not widely known. It was her music that got more people warmed up to the idea of Tejano music, eventually accepting it and popularizing it with a wider audience.
She started as a singer of her family's band and was adored by crowds of people. She left school in 8th grade to pursue her singing career, but she earned her GED when she was 18 in 1989.
In 1984 (age 13), she started recording her music, but her first few albums didn't sell well. She traveled around in a van, learning new styles of music and playing for different and bigger crowds. She became increasingly popular, and, in 1988 at the Tejano Music awards, she was voted female artist of the year, a title she'd win every year for the rest of her life.
In 1991, she released a song with a new record company (EMI records), called 'Buenos Amigos,' and it was a hit. It also launched her career to new heights, and in 1994, she'd win an Emmy for best Mexican-American album for Selena Live.
In 1994, another album, Amor Prohibido, was the top album of the Tejano Music Awards and sold over a million copies (it sold more than any other Latin album that year).
At the height of her career, she died. On March 31, 1995, the president of her fan club shot her. It shocked many across the country, and her fans mourned her. 
Dreaming of You, an album released one year after her death, sold over a million copies. Jennifer Lopez starred in the biopic Selena about her life, which was released in 1997. Selena was also honored with a memorial concert. To this day, many still celebrate her life as a singer who represented them and their cultural identity, according to USA Today.
One of the reasons she's so beloved is because people can connect with her. Her blend Spanish and English lyrics reveal the two sides of her Mexican-American identity. She makes her audience feel understood, the way that she, too, understands the balancing act of belonging to two cultures. 
Quintanilla was too Mexican for many mainstream Americans and too American in Mexican media, according to Dallas News. But, even when faced with opposition, she had pride in who she was and remained unashamed, inspiring multitudes.
"
Tejano music has a rock and roll style and incorporates traditional Mexican music into its songs. Selena sang this music in a time when it was not widely known. It was her music that got more people warmed up to the idea of Tejano music, eventually accepting it and popularizing it with a wider audience.
    4-6. Cesar Chavez (1927-1993), Gilbert Padilla (1927-) and Dolores Huerta (1930-)
Cesar Chavez and Dolores Huerta were activists who worked to improve working conditions of farmworkers. Together, they founded the United Farmworkers of America, a union for agricultural laborers. 
Their work wasn't easy; they were told they couldn't achieve their goals. In fact, Huerta had a slogan of "Si, se puede" which means "Yes, we can," (her slogan inspired Obama's) that she used to respond to those who said things couldn't be done.
Chavez experienced the hard labor with harsh conditions he would one day fight against. As he grew older, he organized many strikes, boycotts and marches to fight, nonviolently, against these injustices that farmworkers were faced with every day.
Gilbert Padilla was also a farm worker from childhood. His family lived in California after they fled Zacatecas, Mexico due to the Mexican Revolution. He later went on to serve in the U.S. Army, where he helped rebuild Japan after the war, according to the Chicano Legacy.
Huerta was inspired by her father, a union activist and state legislator. Her parents divorced when she was young and mother moved them away from their father, but she still kept a relationship with him.
Growing up, she felt the sting of racism, especially at school, where she was even once accused of plagiarism because the teacher didn't think a Mexican could do it. 
She became a teacher. However, many of her students were farm laborers, and when she saw the effect that their living conditions had on them, she couldn't sit still. So, she stopped teaching and became an activist.
Chavez, Padilla and Huerta were involved with the Community Services Organization, and when they left the group because its work didn't include relief for farm laborers, they co founded the National Farmworkers Association, which would combine with the Agricultural Workers Association to become the United Farmworkers. 
They would go on to negotiate contracts and pass laws that would greatly improve conditions for farm workers. One such law was California's 1975 Agricultural Labor Relations Act that would allow farmers to bargain collectively.
"
Chavez, Padilla and Huerta went on to negotiate contracts and pass laws that would greatly improve conditions for farm workers. One such law was California's 1975 Agricultural Labor Relations Act that would allow farmers to bargain collectively.
Sonia Sotomayor (1954-)
Sonia Sotomayor is a U.S. Supreme Court Justice, nominated by Barack Obama in 2009, and is the first Hispanic and third female Justice on the Court.  
Sotomayor was raised by her mother, a nurse, and she lived with her brother and mother in a Public Housing project. Her father, a factory worker, died when she was 9. 
Sotomayor loved reading, especially Nancy Drew books, leading her to want to be a police detective. However, she was diagnosed with diabetes when she was eight and had to let go of that dream since her doctor said it would be hard to pursue such a career. When she discovered Perry Mason (a defense lawyer) on television, she was inspired to be a lawyer.
Her mother instilled the importance of an education, which led Sotomayor to work hard in school. She became valedictorian in her high school and earned a scholarship to Princeton. She went on to study at Yale Law School, and once she graduated, she became an assistant district attorney in Manhattan and later went into private practice, according to the Obama White House Archives.
At the age of 38, she was the youngest serving on the United States District Court for the Southern District of New York. George H.W. Bush appointed her in 1992 and she served until 1998, when Bill Clinton appointed her to the U.S. Court of Appeals for the Second Circuit. She was the first Latina to serve on the court.
One of the notable cases was centered around the MLB. Players had gone on strike in 1995 after the owners tried putting a cap on their salaries, according to the L.A. Times. Sotomayor had ruled in favor of the players as she focused on maintaining the value of collecting bargaining for labor unions. Since she ended a long baseball strike, she gained the respect of many of the sport's fans.
After she saved the season, commentators compared her to some of the sports greatest heroes, such as Joe DiMaggio, Willie Mays, Jackie Robinson and Ted Williams."
The Public Housing project Sotomayor grew up in was renamed to the Justice Sonia Sotomayor Houses and Community Center, according to CNN.
"
After Sotomayor's ruling saved the 1995 baseball season, she was revered by fans and compared to heroes of the sport.
Ralph Lazo (1924-1992)
In World War II, over 110,000 Japanese Americans were forced to live in internment camps out of suspicion caused by the war. Americans of Japanese descent or those with a Japanese spouse were forced into the camps. Not Germans, not Italians and certainly not Mexicans.
But despite that, unmarried, Mexican-Irish-American Ralph Lazo, a high school student, willingly went to an internment camp.
He was the only person who was not Japanese or had a Japanese spouse who volunteered to live in an internment camp.
In 1942, he willingly left his home, a source of safety and comfort, and went to the camp with his neighbors. He did not do this because he sided with Japan in the war; he did this because he thought of the internment camps as discriminatory and couldn't leave his friends alone in the camps. 
He wasn't stopped because he was brown and officials assumed him to be Japanese. So, off he went to the Manzanar War Relocation Center.
When he left, he simply told his father he was going to camp with his Japanese friends. His father didn't know the whole story, but when he found out, he accepted the decision.
Lazo grew up in a diverse neighborhood with Korean, Japanese, Jewish and African Americans. He had close friends who were Japanese. His mother had died and his father worked as a painter and railroad worker as he supported Lazo and his sister. While his father was away for work, he spent time at the houses of his Japanese neighbors.
He knew discrimination, from the treatment of his parents who were Mexican Americans. At the time when he was born, minorities were born in segregated hospitals. He had seen how Native Americans were treated. And now, he saw how his friends were treated as criminals because their parents were Japanese.
Two years later, Lazo was drafted to fight in the war and fought in the Pacific Theater. He'd fight for two years, and he was awarded Bronze Star for bravery.
He continued his work by fighting for reparations for those put in internment camps. He also became a teacher, a counselor, a mentor to disabled students, and he encouraged many Latinos to go to college and vote.
A 33-minute movie was made in his honor, and he was also awarded a certificate for his actions by the Los Angeles Unified School District. 
"'Please write about the injustice of the evacuation,' he told reporters who wanted to write about him. 'This is the real issue."
"
Ralph Lazo willingly left his home and moved to the Manzanar internment camp during WWII. He couldn't leave his friends alone.
Juan Felipe Herrera (1948-)
Juan Felipe Herrera was the U.S.'s first Latino poet laureate. A poet laureate is basically the representative for poetry of the nation who works to raise appreciation for poetry.
Herrera, of Mexican descent, was born to farm workers. He and his family moved around, living in trailers and tents. He went to the University of California, Los Angeles (UCLA), where he first grew active in the Chicano movement and later attended Stanford.
He not only wrote poems but taught it to students of all ages, from elementary to college. He wrote many poems, many centered around his life and also wrote a children's book that became a musical (The Upside Down Boy).
He teaches California State University and also serves on the Board of Chancellors of the Academy of American Poets, according to the Poetry Foundation.
According to the Blue Flower Arts, Herrera uses writing as well as performing arts as a platform to raise awareness for at risk youth, immigrants and indigenous peoples.
 He has also created the i-Promise Joanna Project named after an elementary school student who was bullied and killed in a fight. The project is an anti-bullying project where the bullied send poems about their experiences and actions to prevent bullying are taken. 
"
Soldiers came by the newspaper of El Progreso to shut it down, and Idár stood in between them and the office, preventing them from closing it.
Jovita Idár (1885-1946)
Jovita Idár grew up in Laredo, Texas with journalist parents who were outspoken and wrote about social justice issues, especially concerning the treatment of Mexican Texans. 
Idár planned on becoming a teacher but couldn't fulfill that goal due to her frustration over the poor treatment of her students. Instead, she went on to become a journalist, nurse and an activist.
She started the Liga Femenil Mexicanista (the League of Mexican Women) and was its president. The goal of this group was to educate impoverished children, encourage the teaching of English and Spanish in schools, and fight for curriculum to include Mexican history so that Mexican Americans could gain a fuller appreciation of their culture.
In an organization similar to the Red Cross, La Cruz Blanca (the White Cross), Idár served as a nurse for the army as she crossed the border into Mexico in 1913 during the Mexican Revolution.
When she returned, she wrote daring articles about many controversial issues. One example is when she criticized the military troops who were present along the Texas border during the Mexican Revolution. 
Soldiers came by the newspaper of El Progreso to shut it down, and she stood in between them and the office, preventing them from closing it. While she stopped them then, they later came by when she wasn't there and succeeded in shutting it down by destroying the printing presses.
After marrying, she moved to San Antonio. There, she was the precinct judge for the Democratic Club she co-founded with her husband. She also made a free kindergarten, was an editor for a newspaper and worked at a hospital as an interpreter and taught infant care.
She was celebrated with a historic marker in Laredo.
Leave a Comment
About the Contributor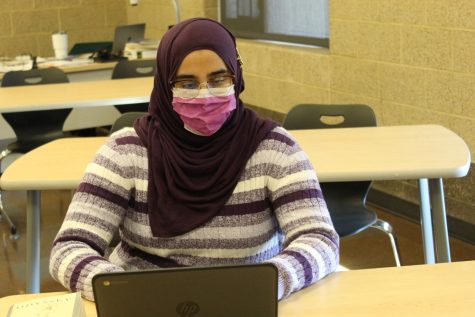 Hiba Ali, Editor-in-Chief
Hiba Z. Ali began writing for the Beachcomber in fall of 2019. She covers diversity in the school. In addition to writing for the Beachcomber, she also...