TEACH Program Trains Future Educators
The TEACH (Teacher Education and Children's Health) Excel TECC program offers students the opportunity to learn about childhood education and to gain experience to prepare them for a career working with children. 
The program is open to students from BHS and the nine other schools participating in the Excel TECC consortium.
TEACH co-teacher Patti Krupinski explained that the program used to be called the Early Childhood Excel TECC program.
"We changed the program name…because there were students who wanted to be a middle school teacher or a high school teacher one day, and may not necessarily work with younger children," she said. "They actually get experience working with the age group that they're interested in working with in the future." 
The TEACH program is not restricted to students who want to go into teaching.
"We also have students who may not want to go into education, but they want to go into social work or they want to go into psychology," Krupinski added. "We give students roughly 500 contact hours working with kids before even entering college."
Junior Abby Friedman joined the program in August.
"I personally joined the program because I love children," she wrote in an email. "My mom is a teacher, so I have always been helping her with setting up activities and worksheets, so I got a head start on understanding just what it is to be a teacher."
"
The children see me as another adult in the room, but part of my relationship with the students is pure friendship."
— Junior Abby Friedman
Junior Hannah Appel joined the program to help her decide what kind of teaching she would like to pursue in the future. 
"I have always known that I wanted to study education and be a teacher, but I didn't know what kind of teacher…" she wrote in an email. "I heard that this program would give me the opportunity to try different things that would help me narrow down what I like to do."
Students who join the program receive class instruction and intern at one of the other schools in their district. Beachwood students intern at either Fairmount, Bryden, Hilltop or BMS.
"It's kind of set up like…a college course," Krupinski said. "So they only come to see us for class two days a week once we have that initial time with them, and then they're out in the field in their internships the other three mornings." 
Krupinski explained that the program curriculum includes theories of education and child development, nutrition, safety, child guidance and behavior and special needs.
"During these lessons, we often have hands-on activities to help us understand the topic from a child's perspective," Friedman added. "For example, when we were learning about storytelling, pairs of students took a picture book and made a felt story using the book. Another activity we did was playing board games to understand their educational value."
During their internships, students help teachers and work with children in the classroom.
"[The students] shadow a teacher, and a lot of times our students pick their favorite…teachers whose classes they have had in the past…" Krupinski said. 
"
Sometimes I work with kids in small groups, sometimes I grade papers, print and copy papers, [and] sometimes I teach the kids."
— Junior Hannah Appel
This semester, Friedman is working with kindergarten teacher Debra Rubenstein at Bryden Elementary School.
Her main job consists of helping Rubenstein during class.
"The children see me as another adult in the room, but part of my relationship with the students is pure friendship. Sometimes I will teach a small group of students or help a student one-on-one, but other times I am observing the class to get a feel for the dynamic of teaching," Friedman wrote.
Appel's internship takes place at Hilltop Elementary.
"I am basically a student teacher and I help my classroom teacher with whatever she needs," Appel wrote. "Sometimes I work with kids in small groups, sometimes I grade papers, print and copy papers, [and] sometimes I teach the kids." 
Students balance their school days with half a day of academic classes and half a day of the TEACH program.
Friedman explained that the program helps prepare her for the future.
"Each program counts for a different set of college credits, but the TEACH program will help cut the number of classes I need to take during my college experience," she wrote.
The TEACH program has given Friedman a better understanding of what a teacher actually does in a classroom.
"There are so many things that teachers do behind the scenes that students don't normally have the opportunity to see. By being immersed in the classroom as a 'student-teacher' position, I am able to see the other things that the teacher does in preparation for the class," Friedman wrote.
One of the activities in the program is creating bulletin boards to display around the school. 
"Mr. Alexander hired our class to do all the bulletin boards, and so we're going to be changing them in January for him," Krupinski said.
Last year, the bulletin boards were done for charity. Teachers donated money that was given to the Domestic Violence and Child Advocacy Center.
"This year we're just doing [the bulletin boards] more…to help out teachers," Krupinski said.
Friedman recommends TEACH because it gives students the chance to explore careers in teaching.
"The teachers for this program are amazing at what they do. Mrs. Krupinski and Mrs. Ball have the program down to a science," she wrote.
According to Friedman, TEACH helps students realize if a career as a teacher is right for them.
"By being in this program, you either have knowledge for the career you are going to have in the future, or you know that what you thought you wanted is not actually the case. It will save time and frustration down the road," she wrote.
"I personally was not sure about this program at first because I am the type of person who knows what classes she needs to take and credits to have before I graduate and I like to have everything organized…" Appel wrote. "[But] I always have known that I want to be a teacher and even if you aren't sure it's a great opportunity to try new career options…"
Krupinski added that the program is a good opportunity for students to experience what it is like to work with children while also earning college credit.
"…[I]t's the experience that they're getting is real and relevant to what they want to do in their future, so that's one thing," she said. "The other thing is our course is tied to college credit, so they leave the course with eight college credits already in hand to take to any public Ohio university…" 
Krupinski enjoys working with the other teachers and districts that are involved in TEACH.
"I get to see so many different learning environments… [and] what we're learning in practice, so I get to see best practices happening every day," she said. "I get to see amazing teachers from ten different school districts trying new methods and philosophies."
"Education is always changing, and I get to see that change in so many different districts," she added.
Leave a Comment
About the Contributor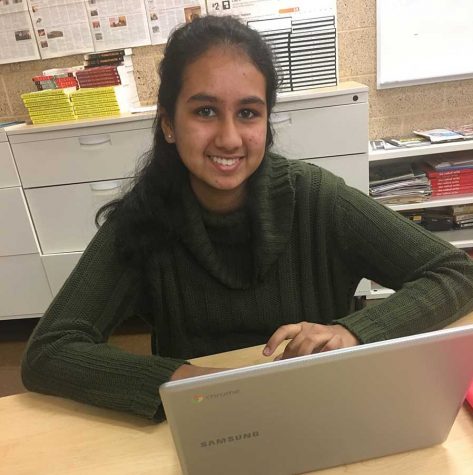 Prerna Mukherjee, Managing Editor
Prerna Mukherjee has been writing for The Beachcomber since the fall of 2016. She covers a variety of school and community events. In her free time, Prerna...