Coyote Decoys Reduce Goose Nuisance
The school district has placed fake coyotes on the high school and middle school grounds to ward off geese.
The plastic decoys have no set location.
"We've noticed [in mid-April] that the geese started to get used to them in the spots where they were, so we relocated them," said Brian Koss, the Supervisor of Facilities and Grounds. "It works for a little bit and we relocate them again and again."
Assistant Principal Ryan Patti and Koss agree that the coyotes are helping deter the geese.
"A couple of staff members have sent pictures of geese keeping their distance [from the fake coyotes]," Patti said. "I think it's made a difference because there are no geese nesting in a couple of areas of the school that they usually do."
"They nest pretty consistently every year, almost in the exact same spots," he added.
Koss says the coyotes have made a difference for the custodians.
"Last year the custodians would have to go out once a day to clean up the sidewalks," he said.
While the geese aren't dangerous, they are a nuisance.
"When they're protecting their nest they're aggressive," Patti said. "I've been charged a few times by geese."
"
Last year the custodians would have to go out once a day to clean up the sidewalks.
— Supervisor of Facilities and Grounds Brian Koss
Many teachers recount incidents of being chased by geese.
"Dangerous is a very broad term," Koss said. "They're not going to come at you and bite you unless you instigate it. Their droppings can be dangerous I imagine… Droppings are never sanitary."
Koss bought the decoys from Amazon for $30 per Coyote after seeing a news report about them. There are currently three coyotes in areas around the school.
One reviewer of the item on Amazon felt the fake coyotes were not effective.
"Bought this decoy to keep ducks off of my dock. Ducks loved it!" he wrote.
He proceeded to post a picture of about five ducks sitting comfortably next to the coyote.
Some students have questioned whether or not the coyote is convincing enough, or even looks like a coyote at all.
"The coyotes don't even look like coyotes. They're scary from a distance but up close, they're so obviously fake," sophomore Sabrina Fadel said.
"There is a honey badger out there intimidating the geese," senior Matthew Hardy quipped.
Some students had alternative ideas for dealing with the geese.
"They should buy real coyotes," sophomore Achintya Kaw said.
Leave a Comment
About the Contributor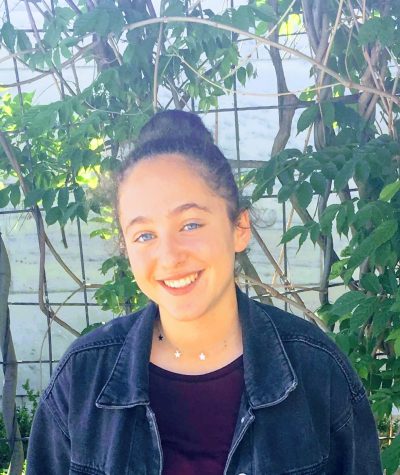 Tal Rothberg, News Editor
Tal Rothberg (she/her) began writing for the Beachcomber in the fall of 2018. Tal enjoys covering local stories and school events. In her free time, Tal...