Feel the Music
The Beachwood orchestra has won a remarkable number of awards this year
Thirty students were honored at the Ohio Musical Education Association (OMEA) solo and ensemble contest held on Jan. 27 at Mayfield High School. Twenty-eight students earned a rating of superior and two earned excellent ratings.
Orchestra director Lisa Goldman is extremely proud of her students.
"They are nothing short of enthusiastic and spirited," Goldman said. "Their participation is incredible. We are proud of everybody that puts in the extra work to participate above and beyond what happens in the class."
One student, freshman Emma Joo, was selected to perform in the Ohio Honors All State Orchestra. Goldman was named teacher of the year by the OMEA as well.
OMEA provides the orchestra with a list of music that the students then have to prepare, all based on level of difficulty, categorized as A, B and C.
Freshman Sanjana Murthy won an award in the OMEA competition for her string quartet performance.
"
You have to put your emotions into your playing so the audience feels something from your music… if you don't put your emotions into your playing, it'll sound dull and plain.
— Freshman Emma Joo
"It felt great because we worked so hard putting the piece together," Murthy said.
Another orchestra student who won an OMEA award for her double bass duet was sophomore Abby Adams.
"Me and my partner Matthew practiced nearly every day for about three months during class and at home," Adams said. "I was really happy about it because this was my first year doing OMEA, and I wasn't entirely sure that we were going to get as good of a score as we did."
Freshman Sabrina Fadel, who plays the violin, also won an award for her violin duet.
"There were times when I was so lacking in confidence and dead-set on the idea that I was going to fail…" Fadel said. "Extreme nerves have always been by my side, so I wasn't sure how it was going to turn out, so when I found out [about my award], I was over the moon."
Goldman has been an orchestra director for 37 years, 20 of them at BHS.
"There is no one, I repeat, no one that can do her job better than she does," Fadel said. "Her accomplishments are crazy admirable and as a teacher, I feel that she is extremely credible and certainly knows exactly what's up."
"Mrs. Goldman knows her stuff and is a fun person," Murthy said, agreeing with Fadel.
This year, the BHS orchestra includes 101 students, many of whom are high-performing students with strong involvement in other clubs and leadership activities.
Goldman enjoys taking them out in the community and into the world.
"We are going on a performance tour in Venice and Florence Italy in 2020," Goldman said.
Freshman Emma Joo performed at the 2018 All-State Orchestra Welcome. Joo performed on February 9th, 2018 in Columbus, Ohio. Joo played four songs; Prelude to Der Meistersinger, Symphony No. 4 mvt III IV, Komm Susser Tod, and finally The Star Spangled Banner.
Goldman wasn't at all surprised that Joo earned this distinction.
"She's a wonderful player," Goldman said.
Joo has been playing violin since she was about 4 ½ years old. She has worked hard to get to this point.
"I felt proud of myself," she said.
However, she was surprised that she made it.
Her sister, senior Jackie Joo, as well as senior Kelly Chang have also performed with
the Ohio All State Honors Orchestra in previous years.
Emma Joo plans to audition again next year.
"You can only perform when you're in high school," Joo shared. She hopes she'll get in next year but "maybe I'll have a bad day on audition day," Joo said.
Joo then explained the process of qualifying for the Ohio All State Honors Orchestra.
"Ohio is split into different sections by region," Joo said, "you have to get into the
Northeast Region (NERO) orchestra, and if you're in the first six seats for violin, you get to go to All State."
To apply for a seating audition in the Northeast Region Orchestra, musicians must send in a video of themselves playing a solo piece of their choice.
When she made it to the performance, Joo was thrilled.
"I feel like there's no real word to describe [the performance]" Joo explained. "You're nervous but your adrenaline is like… oh my God…"
Joo feels that the process was good preparation for her.
"It gave me experience with a full orchestra and a band together," Joo said, "which is good experience."
In the coming years, Joo would like to get into the Cleveland Orchestra Youth Orchestra (COYO).
Joo's practice schedule changes from season to season.
"In the months of December and May I practice almost three hours a day because those are the months where I have auditions and recitals and concerts," Joo said.
In the other months, she practices for an hour and a half to two hours daily.
In the long run, she would like to have a career in a music-related field.
"I actually think I might go into music, but not like music performing… maybe music therapy or something," Joo said.
She also has advice for other musicians.
"If you really want tone to come out of your instrument, you have to put your emotions into it," she said. "You have to put your emotions into your playing so the audience feels something from your music… if you don't put your emotions into your playing, it'll sound dull and plain."
Joo also advises other musicians not to get discouraged.
"Just keep playing; even if you're terrible at it; if you really like it, just keep playing," she said.
Leave a Comment
About the Contributor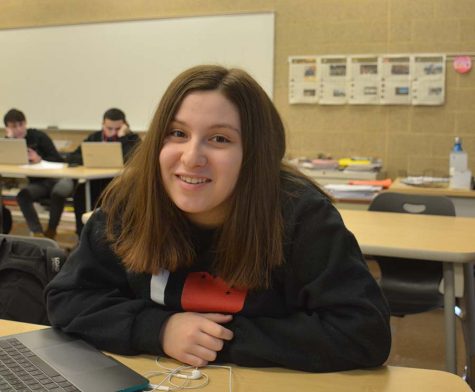 Amelia Port, Staff Writer
Amelia Port began writing for the Beachcomber in fall of 2017. She enjoys covering important events in the school. In her free time, she enjoys swimming,...