Throwing Stones
Library / media assistant Paige Dudley finds fun and friendship on the curling ice
While she may appear to be a reserved librarian, Paige Dudley has a secret life playing a 500-year-old Scottish winter sport.
"I curl once a week," Dudley said.
Former BHS social studies teacher Karissa Piper, who introduced Dudley to the sport, has taken a break from curling for the year, but says she's been curling on and off for eight years.
Dudley has been curling for seven.
"I tried it and it was just something I liked, and I was good at it," Dudley said.
Curling has gotten a lot more attention in recent months as the U.S. men's team surprised many in February, winning the first-ever U.S. gold medal in curling.
While it's a sport that doesn't get much recognition, curling involves complex rules and sophisticated strategy.
Curling is most commonly played by two teams of four players. The object is to end up with more stones closer to the center than your opponent after all 16 stones have been thrown. Whoever accomplishes this wins the end; there are eight ends in each game.
Players take turns throwing stones and sweeping in front of the moving stones with a curling broom to reduce friction on the ice.
"
It makes the Cleveland winters more fun."
— Library / Media Assistant Paige Dudley
Players wear special curling shoes to help gain momentum while sliding out of the hack while delivering the stone.
The stones, made of solid granite, weigh between 35 and 42 lbs.
"Although it's fun, it's harder than it looks," Dudley said.
"Curling is like chess on ice, because there is a lot of strategy," she added.
Piper made a different analogy.
"It's like yoga on ice," she said. "It's having complete control and mastery over your body."
There are two local clubs that offer opportunities to curl: the Shaker skating club and the Mayfield Country Club.
They also say that the number of players on the ice at once depends on how many teams there are, and how many sheets of ice are on the playing field.
"At our curling house, we have three dedicated sheets of ice," Dudley said. "There are four people to a team, so there will be 24 people at a time."
"Playing with three people on a team is possible, but it adds an undue burden on the team," Piper added.
Dudley's love for the game is what drives her to continue playing weekly.
"The best part of curling is the activity and the people I curl with," Dudley said. "It makes the Cleveland winters more fun."
Piper has been on a number of championship curling teams, but she simply loves being out there and helping her team to victory in whatever way she can.
"My favorite physical aspect of the game is pushing out of the hack,"  Piper said. "I also love the camaraderie and social aspect of the game."
"Without the social aspect, I might stop curling," Piper said.
Piper is hopeful that she'll be able to get back on the ice for the 2018-2019 curling season.
Leave a Comment
About the Contributor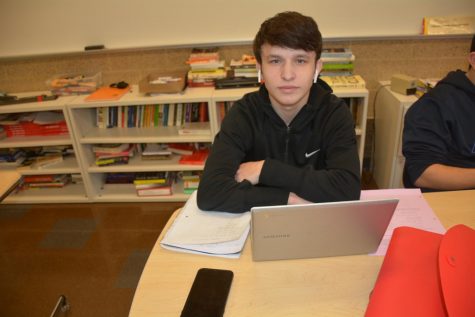 Sam Thomas, Staff Writer
Sam Thomas has been a writer for the Beachcomber since fall of 2017. He enjoys covering sports teams and players at BHS because sports is his main hobby...