Pre-Med Club Explores Wide Range of Career Options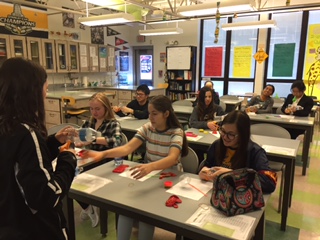 Advertisement
Hang on for a minute...we're trying to find some more stories you might like.
Dimmed lights hung above the 707 classroom. A little light filtered through the windows, but that was the only natural light. Artificial light was cast from a projector and onto the screen at the front of the room.
Junior Julia Woomer had prepared a presentation on alternative medicine.
Ten pre-med club members attended the Feb. 13 meeting, listening attentively, as they had come to learn and plan for their futures in the medical field.
"The goal of the club is to expose students to different fields in medicine," sophomore Zyad Shehadeh said.
The pre-med club was founded in 2011. It is advised by science teacher Kim Peoples and led by senior Abby Brewer and junior Julia Woomer with Shehadeh and freshman Arielle Keselman.
Shehadeh hopes to pursue a career in anatomy and biology, and that was his motive to join the club.
During the course of the presentation, students learned about alternative medicine careers, primarily acupuncture and therapeutic fields.
"
Sometimes we watch virtual surgeries, and we toggle between different activities at meetings."
— Freshman Zyad Shehadeh
"The goal was to present alternative careers in medicine," Woomer said. "The club doesn't want to focus just on mainstream medicine; we wanted to go in-depth with non-traditional medical fields."
Woomer discussed each field, including job duties and salaries. These may have been lesser-known fields in medicine, but from the students' reactions to the presentation, it seemed as if many would like to pursue some sort of medical career.
Presentation-oriented meetings are not the only types of meetings the pre-med club holds.
"Sometimes we bring in guest speakers to talk about medical jobs and to get a better understanding," Shehadeh said. "Sometimes we watch virtual surgeries, and we toggle between different activities at meetings."
On March 6, Brewer led a lung lab in which they watched a video of a lung surgery and students models of lungs using balloons and plastic bottles.
"We were demonstrating Boyle's Law to show how and why a healthy lung inflates and deflates during respiration," sophomore Anna Ward said.
Boyle's Law defines the inverse relationship between pressure and the volume of a gas.
To join pre-med club, see science teacher Kim Peoples or one of the student leaders.