Author Marcus Sedgwick Describes Life on the Border
On Thursday, April 27, author Marcus Sedgwick spoke in the BHS auditorium.
Principal Reed briefly discussed his love of reading as a child before introducing junior Abbey Brewer, library club President, who gave a brief introduction to Sedgwick and welcomed him to the stage.
Sedgwick has published over thirty books of Young Adult fiction, many of which have experienced considerable success.
Sedgwick's book Floodland won the Brandford Boase Award in 2001, and Midwinter Blood won the 2014 Michael L. Printz Award.
"In many of [Sedgwick's] books, he does something unique with time," Brewer said. "For example, in Midwinter Blood, there were separate stories, but the main characters kept finding each other in different time periods."
In another book, Sedgwick imagined time as a spiral.
"His books have a dark tone, but they aren't scary," Brewer said. "He tells a lot of stories that don't seem to connect, but in the end you realize that they do connect."
Sedgwick began his presentation with an overview of what he would be talking about: his new book, his writing process and his experiences as a writer. Then he asked for a show of hands from audience members who were interested in writing as a career, and for another show of hands from those who found it not at all worthwhile. He was trying to get a sense of what kind of audience he was speaking to.
Sedgwick then used the auditorium's display screens to give a virtual tour of his writing office at home in the French Alps. He said the room was small and explained that if he were to extend both arms, he could touch either side of the room.
He talked about his life: he was born in England, got married and had three children, and once they had grown up and moved out of the house he and his wife moved to France.
For Sedgwick, one of the best things about being a writer is that you can do your job virtually anywhere.
He also likes being his own boss.
"If I don't want to work, who's gonna make me?" he asked.
Sedgwick also mentioned how he used to have what was deemed a 'proper job,' and his commute to work was two hours, but since he became a writer that commute has changed to just a few seconds because he only has to climb the staircase leading up to his office.
While he appreciates the freedom of the writing life, Sedgwick acknowledged that making a living is difficult, and it is important to get your book published in other countries in order to achieve success.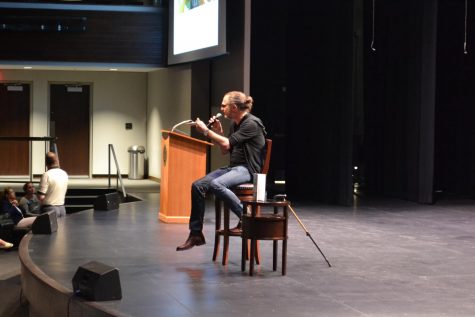 One student asked about the books on the shelves of his office.
"These are books used to research my own books and copies of my books in all the languages they have been translated into," he said.
Marcus Sedgwick then began discussing his new book, Saint Death, and the inspiration behind it. While driving along the French border, he would see long lines of African migrants.
In Calais, France, there is an area called 'The Jungle,' a large camp of migrants hoping to get into England. In response to this influx of migrants, the French government has begun building fences around the ferry terminal and along the motorway to keep them out.
Sedgwick related what is occurring in France to what is happening at the Mexican border, and used the events as inspiration for Saint Death.
To see the fence that marks the border between Mexico and Texas, Sedgwick planned a trip to Juarez, Mexico, one of the most dangerous cities in the world.
Sedgwick explained how he found guides for his trip.
"I did what you all hopefully know you shouldn't," he said. "I contacted two guys randomly on the internet, because when you're old and stupid like me you can do whatever you want."
"It kind of shows how dedicated he is to his books that he went to that dangerous area in order to experience it for himself and get the facts right in order to write [Saint Death]," Brewer said.
Sedgwick then showed pictures from his trip to Mexico, beginning with the fence that stands along the border.
"There were big black trucks near the end of this fence, and I was told they were border police, and they were there to make sure we didn't do anything stupid … like try to illegally cross the border," Sedgwick said.
He later spotted a building that he recognized from the Internet.  The right wing propaganda web site Infowars had identified it as the site of an ISIS terrorist cell.
"We got there, and do you know what it was? It was a children's play place," Sedgwick said. "Which is an example of how when you're researching things you always have to fact check."
After wrapping-up the assembly with a few questions from the audience, Sedgwick was available in the library for book signing.
"He was super-friendly … [and] very nice," Brewer said. "As a famous author, you would expect him to not give you the time of day, but he was just like a regular person. He was so approachable."
Leave a Comment