Destination Imagination Offers Creative and Fun Competitions
At the Ohio Destination Imagination (DI) tournament on April 16, two BHS teams placed sixth and seventh out of 17 teams in the improvisational challenge.
Flaming Marshmallowzzzz, the team that placed sixth, is comprised of juniors Molly Rosen, Amanda Wasserman, Julia Warner and Andrew Feldman. Four Girls and Seven Years is a team of sophomores Olivia Adelman, Gabriela Rodriguez, Abby Brewer and Lily Steiger.
Neither team qualified for the global competition this year. Nonetheless, representatives of each team said they are proud of their accomplishments.
"We hoped to do a little bit better, but this is our first year doing the improv challenge," Rodriguez said, "I think this is the year we had the most competitors who made it to the state competition."
At the regional tournament, which took place at BHS on March 12, the teams placed first and second out of five improv teams.
DI teams compete in six types of challenges: technical, scientific, structural, fine arts, improvisational and project outreach. According to the DI website, teams participating in the improvisational challenge must create a skit on the day of the competition. The competitors must react and adapt to the elements presented to them.
Each DI competition consists of two components: the central challenge, which has more weight in the placement and the instant challenge. The latter is a surprise in format, so it's always more difficult for teams to prepare for.
"
We make each other laugh all the time, and we're always on the same brainwave; so, if I start a joke in a scene, I know one of my team members will pick it up and understand it and play off of it."
— Junior Molly Rosen
For the central challenge this year, competitors were to imagine themselves in an assigned setting, such as a research station in Antarctica, a shipping container in the Panama Canal or King Tut's tomb. The teams researched 12 locations, which were selected from a list provided by DI. On the day of the competition, one of those confined spaces was randomly selected for the skit.
Teams prepare as much of the script as they can during practices, but much of the dialogue has to be improvised to comply with the assigned constraints.
"My team had a plot planned out for each of [the confined spaces] which we'd try to work into the skit, no matter what they gave us," Rodriguez said.
Teams are also required to make a prop out of a newspaper during a three-minute planning time before the performance. For each confined setting, competitors design a unique prop and practice throughout the year to be able to form it in the given time. There is also a newsflash element introduced at the time of the competition, which is a headline that introduces a new plot into the skit. Examples include "It's raining cats and dogs" or "It's snowing sugar."
Three members of each team start the skit and introduce the exposition. The judges provide the fourth team member with information about a "mysterious stranger." This is a person, animal or object they must portray in a creative way. When the other members indicate they are ready, the fourth member enters as the mysterious stranger.
Feldman believes his team's central challenge score was particularly high compared to others'.
"I thought that went phenomenally," Feldman said. "It was really funny. We had really good teamwork, and, in general, I think the audience really liked it, so, I was really proud of that."
"
Performance has always been our strength, and task is where we've fallen behind a bit."
— Sophomore Gabriela Rodriguez
Overall, Feldman was satisfied with the team's performance, but he expressed regret over the instant challenge.
"I think [it is the reason] why we placed sixth," he said. "We were underprepared for it, so, we got flustered and nervous. I don't think we met our full potential in that performance."
"Performance-based" is an umbrella term for challenges involve acting, plot and characters in a skit. In "task-based" challenges, members construct something according to DI's requirements. The improv central challenge is performance-based, but the instant challenge can be either type or a combination of both.
Rodriguez said task-based instant challenges are her team's weakness.
"Performance has always been our strength, and task is where we've fallen behind a bit," she said.
Rosen, Wasserman, Warner and Feldman joined forces last year. Each member has a different level of experience.
"Last year, we were kind of a conglomeration of old teams. Three of the four members currently on my team, including myself, have been on other teams before, and we were kind of the only people left who still wanted to participate," Rosen said. "So, we found each other, and we told [Feldman] about what DI was, and he joined us."
Three of the members of Four Girls and Seven Years have been on the team for eight years, while the fourth member has been on the team for seven years. However, membership has fluctuated over time.
"We lost two members," Steiger said. "Last year, we had two boys on our team, and now [it's] all girls, so, there's a little bit of a different dynamic."
This is the junior team's second year doing improv, while the sophomore team just switched this year after seven years of the fine arts challenge.
"This year, we chose to do [the improv challenge] again because we had a good time the year before," Feldman said. "It didn't require that much of a time commitment. It was the most fun, and we were good at it."
The sophomore team had to adjust to the improv challenge because it requires a lot of on-the-spot performance. The fine arts challenge is scripted entirely before the competition and only needs to be performed.
"It was a lot more stressful for improv because we didn't know exactly what combination [of elements] we were going to get, whereas, for fine arts, we memorized exactly what we were going to say," Steiger said.
The team chose to make the shift between fine arts and improv this year, despite the difficulties in adjusting.
"We were looking at the fine arts challenge for this year, and it looked a lot harder than usual," Steiger said. "With all our busy schedules we decided to pick improv, and we also liked the improv challenge this year."
The fine arts challenge requires the team to build a set and make props beforehand, while the improv challenge does not, which contributed to their decision.
Four Girls and Seven Years began practicing late last summer, while Flaming Marshmallowzzzz started in the late fall. They each met once a week to research confined spaces, run through challenges, and talk with one another.
"It's competitive and something we're trying to win, but it's also a really good way to meet up once a week and unwind," Rosen said.
The team of juniors is coached by Tara Warner, and the coaches for the team of sophomores are Maria Anzola and Laura Adelman. Shelly Lewis, a former Hilltop Elementary teacher, is the longtime coordinator of the Beachwood program.
The members of each team said that they are good friends outside of the competition, so, they have a good dynamic, which is necessary for improv.
"We make each other laugh all the time, and we're always on the same brainwave; so, if I start a joke in a scene, I know that one of my team members will pick it up and understand it and play off of it," Rosen said.
"[My favorite thing about DI is] joking around for an hour and a half every Thursday and just having a great time," Feldman said. "That's really the reason I do it: Because it's fun, not because I have that much of a drive to succeed in it."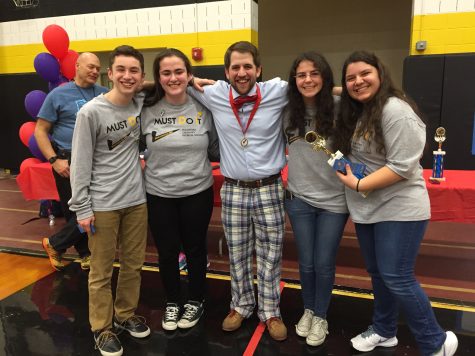 The teams do not have formal leaders.
"Since we're all older and more experienced with the program, we work best when we all participate together," Rosen said. "Often, if there's one topic that one person feels more confident about, they'll naturally step up and lead a conversation."
The teams said they are satisfied with their increased recognition by the school in the form of a send-off assembly in mid-April.
"The going away party was unexpected, and very nice," Feldman said. "I appreciate that."
Aside from the assembly, participants would like to see more awareness about the competitions, which anyone can attend.
The sophomore competitors intend to continue participating in DI next year. However, the junior team isn't certain. Regardless, Feldman said he feels the program would be good for other students in the school.
"I would encourage it to people who would want to do it," Feldman said. "I think it's a very specific subset of people who would like DI … and we don't talk about it to a lot of people here.
Rosen said she loves the experience that is inherent in participating in DI competitions.
"When you go to competitions, … you're in a room filled with other people who you know are passionate about the same things you are, and are looking to have fun and be creative," she said. "It really lifts you up and makes you think and challenge yourself."
Leave a Comment
About the Contributor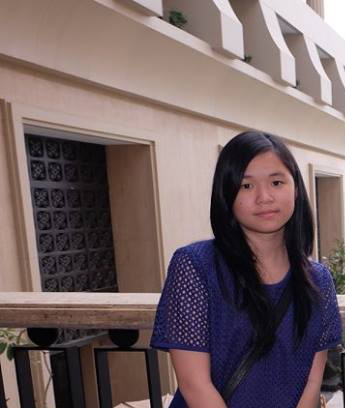 Clarissa Djohari, Staff Writer
Senior Clarissa Djohari is currently the News Editor and a Layout Editor for The Beachcomber.  She is most interested in reporting the students' perspective...