Diversity Increases in School District
In recent years, Beachwood's population of  students from immigrant families has increased, along with the number of countries these students represent.
According to census data from 2000, Beachwood's population was then 87% white, 9% black or African American, 3% Asian and 1% mixed.
2010 census data shows a dramatic increase in minority populations. About 77% of Beachwood residents were Caucasian. 14% were of African or African American descent and 7% were of an Asian descent. 2% were Hispanic or Latino, while 1% were multi-racial.
School district enrollment numbers also reflect greater diversity. The percentages of white and black students have been decreasing since 2010, while the multi-racial, Asian and Hispanic populations have been increasing.
At the beginning of the 2014-2015 school year,  57% of Beachwood's students were white, 20% were black, 16% were Asian, 4% were of mixed race and 3% were Hispanic, according to Lauren Broderick, Director of Pupil Services for Beachwood City Schools.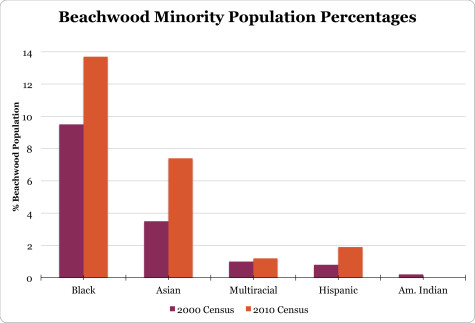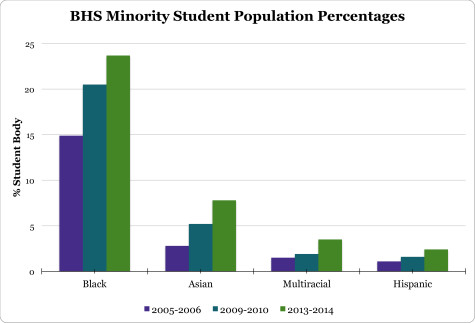 Charts by Susan Eiben
More Students Requiring English as a Second Language Instruction
The number of students in the school district who are in need of ESL (English as a Second Language) services has also increased, especially in the lower grades.
This year there are 20 students receiving ESL services in kindergarten, more than the number of students receiving ESL services in grades 1-12 combined and twice the number of students who needed these programs six years ago.
"The number of students receiving ESL services has increased slightly each year for the past 16 years," wrote Laura Rampe, Beachwood's ESL director, in an email. "This year, the first language spoken most by the ESL students is Chinese. Other common languages are Japanese, Korean and Arabic."
The average foreign student requires two years of ESL services. With the 24 students currently receiving ESL at Bryden, approximately 50% will stay in ESL for another year. After two years, most students are able to effectively communicate with others in their social environment with native or proficient speakers. However, the average time before a student can become proficient in English on an academic level can take up to five or seven years. Most students at Beachwood are able to achieve this level of proficiency sooner than the expected time period.
"The rate of improvement in English can depend on factors such how much English students have had before entering school in the U.S., whether or not English is spoken in the home and outside of school, extra-curricular activities, personality traits, and the level of motivation within each student," Rampe wrote.
Rampe also explained that each year, ESL students are required to take the Ohio Test of English Language Acquisition, more commonly known as OTELA. This test, taken in January and February each year, measures the proficiency of each student in the areas of listening, speaking, reading and writing. When students score at the level four for two years or at level five, they are exited from the program and no longer are listed as Limited English Proficiency (LEP) students.
"District wide, 65 students qualify as being Limited English Proficient, which is a big difference from previous years," Rampe wrote. "Currently, eight students at BHS are considered to be Limited English Proficient."
According to Rampe, the goal of the ESL program has been to help students become proficient in English so they are able to participate fully in social and academic activities. As competence with English grows, ESL students become more confident and successful when involved in these activities and interactions with other students.
Shanhuai (Daniel) Ma came to Beachwood towards the end of seventh grade.
"I was considered to be part of the program for three years, but I only had to have an ESL class for two years," he said.
In order to improve an ESL student's competence in English, the program provides a multitude of activities that cover all four aspects of the OTELA, although such activities vary depending on grade and age.
"When I was in the class, we read all kinds of articles and we [answered questions] on them," Ma explained. Ma entered the ESL program in seventh grade and stayed in the program for three years, though only took classes for two."I think it helped me."
"Being in the program made me a better reader. The program offered help with what we were reading in school and help with other reading comprehending skills. Every day, we would read something and answer questions to make sure we were understanding what we were reading. Sometimes, we would do vocab and quizzes"
"The Beachwood City Schools have become more diverse in the past 15 years. Students are fortunate to have the opportunity to attend school with students from several other countries. This international flavor enriches the environment and can be beneficial for all students," Rampe concluded.
In the United States:
Meanwhile, President Obama's recent move to offer legal status to millions of undocumented citizens has caused wide controversy and will potentially impact millions.
During his speech on Nov. 20th, President Obama outlined his plan to offer legal status to millions of illegal immigrants and prevent up to five million immigrants from being deported. In his address to Congress, Obama hailed the move as leading to a "more fair and more just" system.
Similarly in 1990, President George H. W. Bush by executive action prevented deportations for about 1.5 million illegal immigrants. According to the Tampa Bay Times, that number represented about 40 percent of the total undocumented population in 1990, and 20% of the illegal immigrant population in 2014. Obama's move would protect anywhere from 3 to 5 million, as estimated by the New York Times. Since there are approximately 11.4 million illegal immigrants in the United States currently, the impact of Obama's move is on the same scale as Bush's.
However, many people fear that this immigration move is part of President Obama's overstepping his power.
According to Representative Bob Goodlatte, chairman of the House of Judiciary Committee, the immigration movement is blatant disregard of constitutional limits on the president's power.
"Throughout the past five years, President Obama has routinely failed to enforce laws that he disagrees with," Goodlatte wrote in an opinion piece for Fox News. "For example, President Obama has refused to enforce those parts of our nation's immigration laws that are not to his political liking and has waived portions of our welfare laws."
"U.S. employers need the highly-advanced skill sets of foreign born professionals (mostly because relatively few U.S. students pursue degrees or careers in the hard sciences)," said Brian Halliday, a Beachwood's immigration attorney, in an email before Obama announced his immigration plan. "As I write this, President Obama is preparing to present to the nation, his executive-level fixes to the immigration problem, but what I would really like to see is a complete fix to the employment-based side of the law."
According to Student Activities Director Craig Alexander, students from immigrant families have also contributed a great deal to our school.
"I think that we've had many students that have been first generation American students or immigrant students," Alexander said. "They have been very active in student council, in athletics, in drama, and in other fields. Native students of Beachwood are very welcoming, and it adds a great appreciation of culture to the environment."
According to the Migration Policy Institute, immigrants accounted for more than 16% (25.7 million) of the 157.6 million workers in the civilian labor force in 2012. Between 1970 and 2012, the percentage of foreign-born workers in the civilian labor force tripled, from 5% to 16%. Over the same period, the foreign-born share of the total population grew from almost 5% to nearly 13%.
Another statistic released by the Migration Policy Institute stated that of the 23.7 million employed foreign-born workers ages 16 and older in 2014, 30% worked in management, professional, and related occupations; 25% in service occupations; 17% in sales and office occupations; 16% in production, transportation, and material moving occupations; and 13% in natural resources, construction, and maintenance occupations.
"So, when you hear of politicians complaining of jobs going overseas, remind them that if they fixed our immigration law so that it welcomed, rather than rejected, highly talented foreign born professionals, those companies would be here hiring U.S. workers for their enterprises," Halliday concluded.
Here are Words From BHS Students From Immigrant Families:
Angela Wang — China
1. I lived in China for three years, so I don't remember a lot. My parents have lived there for their whole life. I visit my family there sometimes.
2. Well, something I found really surprising was that people parked their cars on the sidewalk, and there are a lot more motorcycles and bicycles. I think in some cities they even have a lane especially for bicycles and electric bicycles. When I moved to Ohio, I was also really surprised with seeing snow for the first time.
3. The main difference I noticed is the food. Even though China has a lot of western restaurants, they all have their own Chinese touch to it, like reverse Americanized Chinese food. The religion is also very different. Lots of people follow Buddhism and Taoism, and they go to temple quite often and celebrate different holidays.
4. I think my parents were offered a job in the United States. My mother's a doctor and my father's a research assistant.
5. Yeah, I do think Beachwood is very diverse.
Adam Pearl–Kenya
1. I lived in Kenya for fifteen years.
2. America compared to Africa Is really different in a lot of ways. Here, you go to a zoo to see the animals, and in Kenya, you go on safari and see the animals in their natural habitats. I guess it's not really surprising because my family and I have visited the USA every summer, so I was winged into the customs and ways of life here.
3. To me, the main cultural difference is that in Kenya, most middle class citizens have a maid which we call a house boy/girl, a driver, a gardener, and a night guard whereas in America, the upper class are the ones with those luxuries.
4. My father was born and raised here in Cleveland; he also went to Beachwood High School.
5. Yes, I think Beachwood is diverse.
Daniel Stanescu–Romania
1. I've never lived in Romania, but I've visited there. My parents lived there until they were in their 20s.
2. Beachwood is very different. In Romania, they are just starting to build highways. We once drove on one of them, but it lead to a dirt road. It's not as modernized, and there aren't a lot less organization. The government doesn't do as much.
3. The main difference is that in Romania, the main religion people follow is Greek Orthodox. Their Easter and Christmas actually falls on different dates over the summer, I think. Besides that, I think things in Romania are a bit more communal. Here, aunts and uncles and grandparents live in different houses, but in Romania, every family member lives in the same place.
4. My parents lived there until they were in their 20s.
5. Yeah, I think Beachwood is very diverse. We have people from all over the place—Europe, Africa, the number of people from Asia is really increasing. I look at the lower classes at Bryden and I see lots of diversity.
Sung-Jun Cho–Republic of Korea
1. I've lived in South Korea until I was eleven. I moved here during seventh grade.
2. The biggest thing I noticed was that the schools were less strict. In Korea, there's a lot more homework and a lot more expected out of each student. It's pleasantly surprising but a really big shock. It was good to get the stress off of my shoulders though. In Korea, there are a lot more students per class and in a school building, but here, there aren't a lot of kids in one class.
3. I wasn't used to everyone having a car at first because in Korea, most people get to school or work by bus or train or bike, and even though not a lot of people use cars, the streets are always crowded.
4. My mother and father were offered jobs at Cleveland Clinic.
5. There are lots of people from lots of countries, so I think Beachwood is pretty diverse. In Korea, there aren't a lot of foreign-born students, unless you're at an international school.
Gabriela Rodriguez–Venezuela
1. My parents have lived in Venezuela for 14 years. I've visited a really long time ago, but I've lived here for most of my life. My cousin recently moved to Beachwood from Venezuela just last year.
2. In Venezuela, it's mostly an urban city. It is really peaceful and nice. Beachwood is a bit different and more suburban but still pleasantly surprising.
3. We are more diverse. From what I remember in Venezuela, you don't see a lot of people from other countries.
4. I've been here all my life except when I visited Venezuela as a child, but it has a good education system and city. My parents moved here for more opportunities.
5. Yes, I do think we're very diverse.
Christopher DuPlessis — South Africa
1. I've lived in South Africa for all my life.
2. Beachwood is very different compared to my previous school. Here, we work on computers and at my old school, we do all our work by hand.
3. There are a lot more Jews in Beachwood whereas in South Africa there are a wide range of different religions.
4. My dad is working at Cleveland Clinic doing research, which is why I'm here.
5. The main difference is that I notice is that there are a lot more sports and clubs available.
Leave a Comment
About the Contributor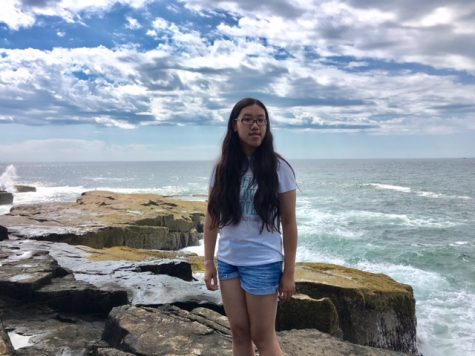 JInle Zhu, News & Layout Editor
Jinle Zhu has been writing for The Beachcomber since her freshman year (2014). She has been the features editor and layout editor. She likes Photoshop...