Art Club Lends Hand With Memory Project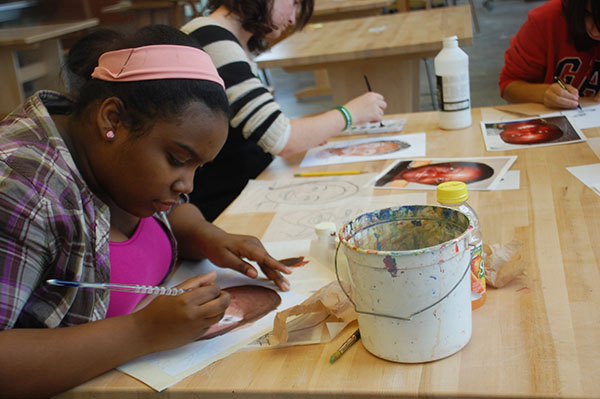 Advertisement
Hang on for a minute...we're trying to find some more stories you might like.
Art club will be busy this year. In addition to unleashing the artist within, members are participating in the Memory Project, painting portraits of Rwandan children.
"[Art club] is an opportunity for people who are interested in art… to make art," said art teacher Heather Grano.
The club is currently working on the Memory Project. "We are making portrait paintings of children from Rwanda," explained Grano, who advises the after-school club.
For the Memory Project, art students receive a photo of a child and the art students create a portrait of the child. The paintings will be given to these disadvantaged children.
Many students who are in Grano's art class are in art club, but that's not always the case.
Sophomore Monica Colmenares was not able to fit art into her schedule.
"I wanted to take the art class, but because of all [my] AP and honors classes…  I didn't have enough room … in my schedule to … take the class, said Colmenares. "And the art club is a nice alternative."
While other kids have just joined this year, some kids have been in the art club since freshman year.
Sophomore Nili Steinberg has been in the art club for two years, since she was a freshman. "I choose the art club because I love art, I'd like to pursue a degree in art," she said.
This year, art club plans to make a trip down to the Cleveland Art Museum.
The art club is able to expand their horizons in their new art studio. It has huge windows that fill the room with light.
"The light is amazing, and that's a very important element when you are designing a studio for an artist," said Grano.