Channel 22 Informs Community, Educates Students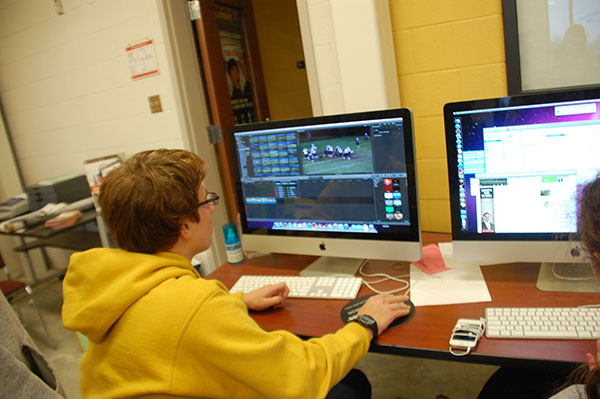 Advertisement
Hang on for a minute...we're trying to find some more stories you might like.
Changing names, adding a channel and moving into a brand new location is big news for Channel 22.
A new TV studio is on the way for the beginning of the next school year. To go along with the new room, Channel 22 will have a new name and an added channel.
"We are going to be changing our name to BTV, Bison TV, the name the students came up with," explained Kevin Houchins, TV production teacher. "We are not only going to be Channel 22 we will be channel 99 on AT&T U-verse."
Houchins described the purpose the station, which he operates with his students: "Channel 22 is a public educational government channel that is run through Time Warner Cable, [so that the public] can see all the district's events…[and] important announcements."
Advanced TV production students are able to participate in Channel 22 club.
"I'm looking to go into film when I am older," said Channel 22 club president David Corty, who is a junior. "Since we don't have a film class at the high school, I felt that TV production would probably be the next best thing."
Students graduating from college hoping to have a career in film need a versatile background in all aspects of film.
"You need to do some editing, you need to do some writing, you need to do a variety of different things to be versatile enough [for any opportunity that arises]," said Houchins.
"One other thing that I tell kids…media is communication. What job do you have that you don't talk to somebody? If you take my class … one of the benefits of it is that it will broaden you and help you grow," Houchins said.