Culinary Arts Students Win Over Taste Buds and State Judges Too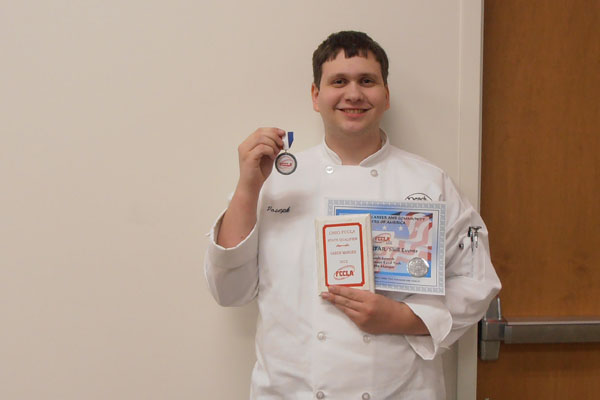 Advertisement
Hang on for a minute...we're trying to find some more stories you might like.
The Beachwood Bistro is a restaurant run entirely by culinary arts students.  In addition to serving tasty and affordable food, this year's class has been very successful in competition.
At the state competition in late April, senior Joe Serowik, a culinary student from Richmond Heights, won second in the state at the FCCLA Culinary Garde Manger (Cold Food Display) competition.
Serowik won a gold medal at regionals. Other students who placed at regionals included senior Jasmine Lane from Orange, who won a silver medal for pastry arts, and junior Ryan dela Vega from Brush, who also won a silver in pastry arts. The junior culinary team also won a gold medal.
In January,  junior culinary team members participated in the Prostart competition at Tri-C and won fifth place in the state. The team included Marizja Smedley and Aliyah Montgomery from Brush, Ashaunte Hoey from Orange and Christian Huff from Solon.
Because the Bistro is part of the EXCEL TECC consortium, students come from Brush, West Geauga, Mayfield, Richmond Heights, Aurora, Solon, Chagrin Falls and Orange as well as Beachwood.
Junior culinary team students  competed at the FCCLA competition with salad, dessert, entree, starch and side entries.
"We lost by one point and got second place," said junior Peaches Promploy, an EXCEL TECC student from Brush.
Promploy said that the criteria that determines the winning entries, in addition to the quality of the food, is cleanliness in preparing the food.
Head Chef Kortez Wilson said that students prepared for these events by practicing their skills in the restaurant, and they succeeded by working as a team.
Wilson explained the standards for judging winning entries: "Culinary competitors are critiqued in the categories of; ServSafe standards, (sanitation), teamwork, quality of product, professional appearance, knife skills, safety, presentation, taste and consistency."
He also explained that this is not the first time that Bistro students have won. In fact, students from the Bistro have placed every time they have entered competition.
BHS Junior Austin Nicolo participated in a separate FCCLA culinary competition, and the winning dishes were blueberry BBQ chicken, bread pudding and creme brule.
Nicolo said he practiced twice a week about four hours each day to prepare for the competitions.
He said, "We were given 75 minutes to make food and work with other people in the competitions."
Sadly, at culinary competitions, students do not get to taste the other students' food.
In addition to competitions, the culinary arts program holds other special events, including special meals for graduating seniors and the grand buffet, a gourmet feast that shows off what the students can do, which will be held on May 17.
The grand buffet is a favorite of BHS staff and community members.
"This is a special and wonderful meal," said Chef Wilson.
Wilson's goal is that Bistro students will be prepared to attend culinary school.
Wilson explained how the class works: "In the beginning of the year, before [school starts] we have ServSafe training before they open the restaurant," he said. "Students have classes on Mondays an Tuesdays, and that's why we are closed on these two days and open from Wednesday to Friday."
"ServSafe training is the industry standard safe food preparation standards mandated by the board of health," Wilson explained. "With ServSafe certification our students acquire the knowledge to properly prepare, service and store food properly."
Students in the culinary arts class cycle through stations of the restaurant, so they gain experience in everything they need to know – from the back to the front of the house.
"We are our own restaurant," Wilson said.
Promploy, the Brush student, explained that on Mondays they usually have a team meeting to discuss what happened the week before. On Tuesdays they prepare food, set the tables and get everything ready.
Interpreter Patte Bettis-Eddie eats from the bistro every day that is open.
Bettis-Eddie said, "I like to order Richmond Asiago Tomato Chicken. The reason is, I love chicken and the side dish that goes with it. I also get Ms. Patte's salad, with everything I like because I am the one who created it."
Bettis-Eddie said the service in the bistro is excellent. Even if the students make mistakes, they fix the problems and learn from them.
"The prices are excellent, the food quantity is excellent, the Chef and his assistants are personable, the atmosphere is very nice and the students are very well prepared and they will be very prepared in the field of culinary arts," said Bettis-Eddie.
Eating at the Bistro restaurant was a good experience for this reporter. I tried Solon's Turkey Monte Cristo Sandwich, which was of very high quality. The student who served me was very kind and committed.
I highly recommend the Bistro food to anyone who can go.