Is it Time for Schools to Invest in Electric Buses?
Biden's Build Back Better bill would have made it possible
Roughly seven million people die annually due to air pollution, according to data from the World Health Organization. Most air pollution comes from greenhouse gas emissions, and according to the EPA, carbon dioxide emissions from human activity constitute roughly 80% of that. 
In the past decade, electric vehicles have become a widely-adopted method of reducing our carbon footprint. 
Thanks to companies like Nio and Tesla, high quality and increasingly cheap electric vehicles (EVs) finally seem like a viable option for consumers. Big companies like Baidu, HP, IKEA and Unilever have started taking EVs seriously, pledging to integrate them into fleets by 2030, according to Gina Coplon-Newfield at environmental advocacy organization The Sierra Club. 
Just last year, Greencars.com, a website dedicated to EV related news, reported that roughly 6.4 million electric vehicles were sold worldwide. 
Since EVs have demonstrated profitability, two of the big three American car companies, General Motors and Ford, have made commitments to increase production of electric cars. 
School buses are a logical next step, since there are almost half a million school buses in the United States, and 95% of them use high-polluting diesel fuel. According to thecityfix.com, schools in 33 states have made moves towards using electric buses as of the beginning of this school year. 
Given these facts, it seems like many school districts would invest in electric buses, and environmentally-focused districts like Beachwood would seem even more likely to jump on board. But that's not happening.
As of Aug. 2021, the World Resources Institute found that fewer than 1% of school buses were electric. So why have electric school buses been so slow to catch on?
Though electric vehicles solve a multitude of problems, the high cost of initial investment and questions of vehicle quality reduce the incentive for schools to switch to EV busing. 
"
There are almost half a million school buses in the United States, and 95% of them use high-polluting diesel fuel.
Why electric busing?
Carbon kills, and a large share of the carbon-dioxide pollution problem can be traced back to buses and trucks. According to Bloomberg magazine, heavy duty vehicles like buses and trucks make up only 5% of vehicles on American roads, but are responsible for 29% of transportation emissions. Switching to EV busing would allow even small cities like Beachwood to help make a dent in reducing overall carbon emissions.  
According to the official NASA website, carbon dioxide levels, which are measured in parts per million (ppm), have risen from a typical range of 180-280 ppm in the years preceding 1950 to roughly 417 ppm today. 
Even overlooking massive environmental consequences, such as an excess greenhouse effect and the consequent rising of sea levels detailed by NASA, the human cost of global warming is immense. 
According to a study published in the Environmental International Journal, physiological changes occur at carbon dioxide exposures as low as 500 ppm, with obvious negative effects on things like decision-making and problem solving occurring at levels of roughly 1000 ppm. 
Given that the EPA identifies 1000 ppm as the typical upper limit for carbon dioxide in occupied American classrooms, it is likely that students experience poorer air quality when in school than when outside.
A Stanford study noted that diesel, the fuel most buses currently use, emits roughly 25 – 400 times more air pollutants per kilometer traveled. Beyond just statistics, though, the carbon emissions in question have real impacts on real lives. It is common knowledge that large quantities of carbon-dioxide can impact brain performance, but the implications behind this are much more devastating than one might expect.
"
Biden's Build Back Better bill, which died in the Senate in Dec. after West Virginia Democrat Joe Manchin said he would not support it, included $5 billion towards funding for electric school buses and other low emission alternatives.
Jason Esteves at The Atlantic Voice explained the impact of diesel fumes on children.  
"Exposure to pollutants in schools, including from diesel buses, has been linked to lower test scores and school attendance rates," Esteves wrote.
The link between exposure to pollutants in school and school attendance seems to imply that exposure to carbon pollutants not only negatively impacts student health, but also motivation to learn. A switch to EV busing can reduce that problem, potentially improving academic performance.
It's not just academic studies that support EV busing. Politicians across the globe have taken it upon themselves to switch to EV busing, many of them citing climate change as a key factor in their decision.
 According to the New York Times and Electrek, California and London have both taken it upon themselves to pursue EV busing, with California requiring all new buses to be Electric by 2029. Just this year, the London Mayor Sadiq Khan was quoted by Electrek as he announced his plans at the Zero Emission Bus Summit.
"Today, as part of our work to tackle both the harmful emissions we breathe and the climate emergency, I am proud to announce that London will no longer procure new diesel or hybrid buses and will only procure zero-emission buses," he said.
Even Arizona, a historically right-leaning state home to divisive debates on climate change, is primed to take political action.
According to an editorial by Steve Gallardo published in the Arizona Capitol Times, just as Arizona Senators Mark Kelley and Kyrsten Sinema considered Biden's Build Back Better bill that included $5 billion towards funding for electric school buses and other low emission alternatives, an Arizona poll established just how excited Arizona voters were for the contents of the bill. 
"An overwhelming majority (65%) of Arizona voters — across all major demographic groups — believe that transitioning the national school bus fleet to be zero-emission would have a positive impact on the health of America's school children," Gallardo wrote.
"
We would need to install charging stations. We would need to get our mechanics trained on how to service the vehicles.
— Asst. Superintendent Dr. Ken Veon
Moderate Democratic Senators Sinema and Joe Manchin of West Virginia negotiated to reduce the size of Build Back Better and ultimately killed the bill by not supporting it.
In short, the main reasons to go electric are as follows: reducing climate change, improving air quality and improving outcomes for children exposed to excessive carbon pollution. 
Why haven't we done it yet?
The issue boils down to two key factors: money and performance.
While fuel costs for electric buses are cheaper than that of diesel buses, with websites like govtech.com citing a 19 cent per mile price for electric buses as compared to an 82 cent per mile price for diesel buses, they have a significantly higher upfront price. 
According to Beachwood School District's Treasurer and CFO Michele Mills, the upfront price for electric buses would be  at least 3.75 times  higher than what the district has paid in the past. 
"We've looked at purchasing electric buses, but they are over $300,000 a piece. A regular bus costs $80 to 90,000," Mills said. 
Beyond the simple upfront costs, however, is the immense cost of  the infrastructure needed to maintain these buses.
Asst. Superintendent Dr. Ken Veon wrote in an email that the new and unique expenses  for the district would be unpredictable and probably prohibitive.
"We would need to install charging stations," he wrote. "…We would need to get our mechanics trained on how to service the vehicles." 
"There would be no more services such as oil changes, radiator repairs, etc., but what are the services we would need to complete on a routine basis?" he asked.  "Would it be software updates on a regular basis? We would still have brakes that would need replacing, but how would those be different than traditional brakes?"
"
While electric buses could help mitigate the climate crisis, there is still plenty of work to be done in making them cheap and practical for schools all over the country.
All in all, the initial and maintenance expenses that would come along with an electric bus seem to vastly outweigh the benefit of cheaper fuel, which only constitutes about 5% of the Beachwood Transportation Fund, according to Veon and a transportation budget spreadsheet provided by Mills.
In order to afford electric buses, Beachwood would have to pursue grants for funding in order to reduce the cost of initial investment. 
Veon also has questions about  bus performance.
"How do they stand up to Ohio weather?  Would the cold affect the batteries?  Would the salt cause damage to electrical components that isn't an issue with a traditional bus?" he  wrote. "There isn't a lot of data about how buses will stand up to Ohio weather/conditions."
As it turns out, there is a strong chance that Northeast Ohio's winters could negatively impact electric bus performance. According to Mark Kane, a writer for insideevs.com, a temperature of 22-32 degrees fahrenheit can result in a 37.8% decrease in the range of an electric bus, severely limiting its ability to travel even with full charge. That temperature range is usually the upper limit of what Beachwood experiences during its winter months. 
In order for electric busing to become a practical reality in Beachwood and other Northeast Ohio school districts, technological advances towards affordability and efficiency need to be made, and research as to what might impede performance in cold weather must become a top priority. 
While electric buses could help mitigate the climate crisis, there is still plenty of work to be done in making them cheap and practical for schools all over the country.
Leave a Comment
About the Contributor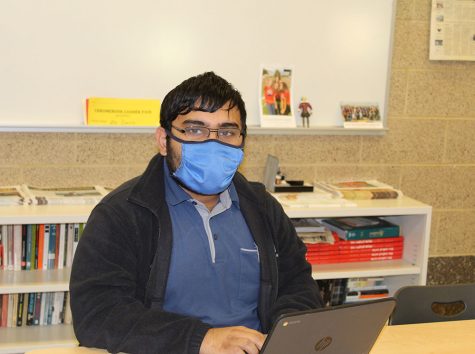 Sanket Makkar, Staff Writer
Sanket Makkar began writing for the Beachcomber in the fall of 2021. He is interested in covering Bollywood cinema and emerging technologies with a potentially...