Legalizing Marijuana Will Benefit the U.S.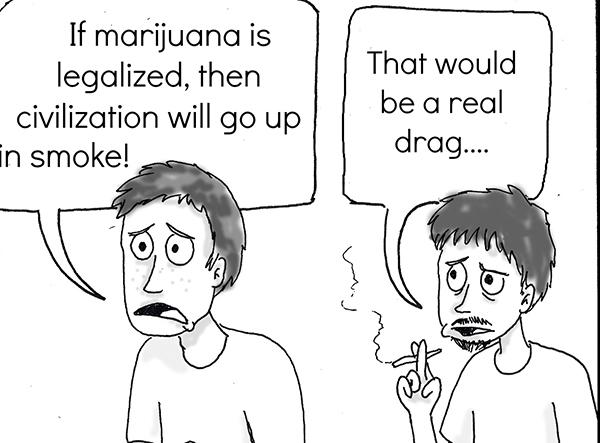 Advertisement
Hang on for a minute...we're trying to find some more stories you might like.
I'm just going to come right out and say it: marijuana should be legalized for recreational use. Now, before you write me off as crazy, take three minutes out of your life to read what I have to say.
So let's look at what would happen if weed were legalized for recreational use: A new industry would develop that could be taxed both federally and at the state level. Millions of new jobs would appear as farms would be cultivated across the country and factories built to handle the packaging.
The drug would become a much more regulated substance – that's right — it is out of control currently – as the government would be able to inspect exactly where it is coming from and where it is going.
The cartels that currently export massive amounts of marijuana to the U.S. would be fresh out of luck, greatly reducing tension across the Mexican/ U.S. border, and alleviating the violence in Mexico itself.
The U.S. would be able to gain a huge trade advantage, allowing exports to increase in the future. Considering the fact that most countries have yet to legalize it, the production would be forced (for the most part) to stay local to the U.S., and, once legalized globally, the U.S. would already have an enormous leg up on the competition. Crime rates would drop significantly as needless arrests for marijuana production, ownership, and trafficking would no longer be criminal offenses, and police could return to stopping actual crime. So if none of those things strike you as appealing, I don't even know what to tell you.
Now, let's consider some of the possible negatives of recreational legalization. First, there is the fear that everybody will just get high all the time and stop working as hard. If you honestly believe that, allow me to ask you something: How many people do you know of legal age that come to work drunk all the time? I see.
Just because weed is legalized, the workforce of America will not go up in a wonderful purple-clouded blaze. Alcohol has yet to destroy our economy and, on a completely different subject, lung, throat and gum cancer are already caused by legal tobacco products. So don't even start with me about how it's not good for you.
According to the University of California Center for Medicinal Cannabis Research, marijuana is an effective treatment for patients with neuropathy and a number of other illnesses such as diabetic peripheral neuropathy and multiple sclerosis.
If you have a concern with legalizing pot, ask yourself if that concern could also apply to alcohol, which is perfectly legal already. Don't deprive the country of a great opportunity for progress.