BHS Students Square off on Marijuana Legalization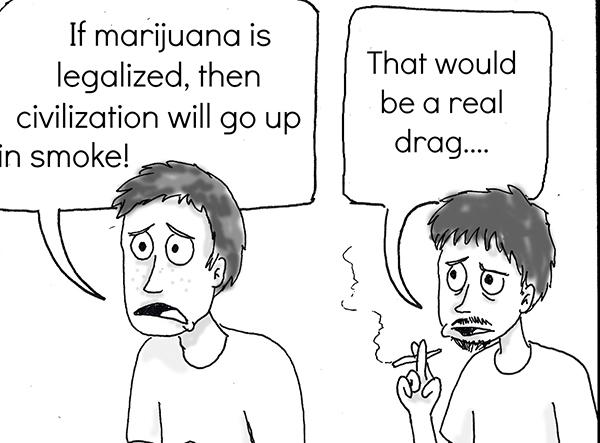 Advertisement
Hang on for a minute...we're trying to find some more stories you might like.
On Election Day 2012, voters in Colorado and Washington state voted to legalize recreational marijuana use. Recently, lawmakers in Rhode Island, Indiana,Vermont, Illinois, Montana, and Pennsylvania have made moves towards legalization, according to CBS News. Minnesota, Colarado and Washington's laws currently conflict with federal law, which classifies marijuana as an illegal substance. According to a 2011 Social Advocates for Youth (SAY) survey of four local high schools including Beachwood, 22.7% of students reported to use Marijuana currently, and 37.1% reported that they had used it some time in their lives. In light of the current controversy and the high rate of use among teenagers, the Beachcomber poses the question to the BHS student body: Are you in favor of marijuana legalization?
Read what BHS students and staff think, and link to the editorials below.
Click here to read Jake Lowenkamp's editorial in favor of legalization.
Click here to read Alex Machtay's argument against legalization.
"Crime rates are definitely about to go down with this. Because if it's legal, the cartels lose business. When someone's robbing
a bank, you never hear that they were on Marijuana." -freshman Caroline Stern
"The medical use of Marijuana I do support. My biggest concern with Marijuana is that regular marijuana use affects  memory and learning, motivation, motor coordination and  distorts perception."  -Social Advocates for Youth (SAY) Counselor Ronna Posta
"We're holding marijuana users to a higher standard than tobacco users, and if we're going to make one illegal we should make them both illegal."                   -Freshman SriVidya Uppalapati
"I'm for it. It makes people happy." – freshman Justin Edwards
"It causes depression, money issues, and it affects your futur e if you're a young adult."  – senior Jordan Rose
"I think that marijuana is a drug and it should not be abused. However it should be legalized for medical purposes. I don't condone using marijuana but I'm not going to be mad at the States for doing it because its no worse than tobacco or alcohol. " – sophomore Maya Gaines-Smith