Leadership Conference Develops Skills, Friendships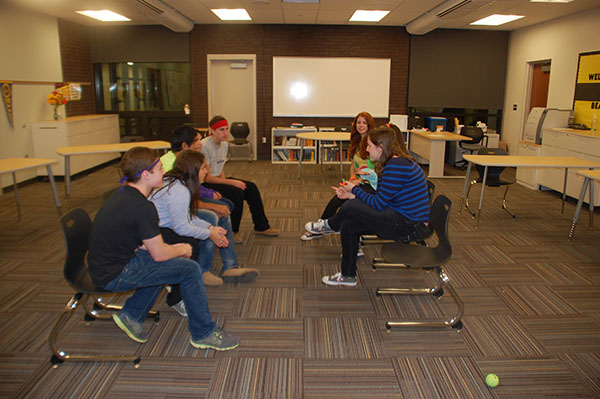 Advertisement
Hang on for a minute...we're trying to find some more stories you might like.
On the weekend of Nov. 9, 80 students attended this year's leadership conference. Many were affected in a positive way: we learned important life lessons, formed new relationships, conquered our biggest fears and so much more. It is hard to find words to describe how amazing this experience was for those of us who attended.
The air was filled with excitement as students entered the cafeteria after school on Friday. Student Activities Coordinator Craig Alexander along with students on the leadership planning committee led a few activities to break the ice and get the weekend started. Next, students were put into groups of about 10 called "families." These people spent the rest of the weekend together, forming closer friendships. Family groups went to classrooms and talked about many things: our most embarrassing moments to our biggest fears, to our favorite foods and movies.
On Saturday, students went to a camp called Asbury where we participated in team building activities. We used teamwork while on the low ropes and supported each other while on the high ropes. There were a few people who were afraid of heights and were uneasy about going on the high ropes, but because of the endless support from their peers, they ended up climbing the approximately 50 foot pole, walking across the equally high tightrope and going across a zipline–bringing a strong sense of  accomplishment. The camaraderie we experienced at this conference created a strong feeling of safety.
On Sunday, a speaker named Kevin Ozar came to the conference and led us in many activities and later talked about important issues in today's society. He helped change the way many of us felt about things in order to make BHS a better place. Afterwards, we participated in something called "town hall," where we met in small groups to talk about deeper issues and solutions.
The weekend unfortunately had to come to a close – such a bittersweet ending. Alexander ended the conference by asking every student to approach three other students and tell them how they were individually affected by the others being at the conference. Through this affirmation, we made others feel good and were given the kindness right back by our peers.  After the conference came to a close, no one wanted to leave. Instead of rushing off to the parking lot, students lingered around, crying, hugging and reflecting on each others' newly formed relationships.
Freshman Benji Roter reflected on the weekend in a Facebook post: "For the people who did not join the BHS leadership conference this year, I would highly urge you to join next year, because you develop new social and friendship skills that might actually have an impact on your life … you have the power to change BHS (and the rest of Beachwood) into a positive social environment."
"We're lucky that so many people that care about others are able to get together and make our school a better place," posted sophomore Nomi Poprish on her Twitter account.
Junior Haley Bogomolny reflected on the conference on her twitter account as well: "This weekend was one of the best weekends of my life, thanks to everyone at the leadership conference!"
Click here to view bcomber coverage from last year's leadership conference.