White & Gold: Great Talent, Poorly Attended
White & Gold is so much more than a talent show. 
This year's show, held on April 18, featured live musical performances and a showcase of other student projects such as charity and artwork. 
However, there was also something very strange about the show…There was almost nobody there.
It's too bad, because it included some great performances.
The night opened with a band called Rachel K and the Four, which was composed of both teachers and students including social studies teacher John Perse on harmonica, English teacher Todd Butler on guitar, choir teacher Darlene Haight on keyboard, senior Arianna Rose on drums and sophomore Rachel Kantarovich singing.
They played "Angel from Montgomery" by John Prine and "Can't Find My Way Home" by Steve Winwood. 
Some of the teachers in the band have been performing in White & Gold for a long time.
"Mr. Perse and I have been participating in White and Gold for 20 years," Butler said. "There was a little hiatus I think when we took a year or two off."
Butler also explained why he has enjoyed participating in the show for so long.
"Mr. Perse and I like engaging with the students outside of the classroom, and this is a way to build rapport with students," he said. "We were never called the teacher band; we would always just make up our  own name; the rule used to be that we had to have more students than teachers." 
The show also included some other impressive musical acts, including junior Alexander Johnson who sang a Japanese song. I had no idea what he was saying, but it was very fun to see him go out and do his thing.
Senior Catherine Mayer sang an original song called "Day by Day."
"I was nervous but excited because I had never sung in front of an audience before," Mayer said.
Dr. Babette Reid Harrell and junior Miyani Mercer performed "Please Help the People," by Birdy. Dr. Harell played the piano perfectly and Mercer hit all the right notes.
Junior Ja' Niya Rahman and sophomore Rachel Kantarovich ended the show with a bang as Kantarovich sang "Betty" by Taylor Swift and Rahman sang "She Used to be Mine" by Sara Barielles.
There were also small but relaxing bits of animation by sophomore Chengyu Li in between the acts, even one of Totoro.
Outside of the auditorium were a group of showcases displaying student talents and projects. 
The highlight for me was learning about senior Dayla Berezovsky's project donating pajamas to children in hospitals.
"
Overall, I thought it was a really nice show to start rebuilding towards full school participation. I have high hopes for next year.
— Director Amy Schulte
Director Amy Schulte is proud of the talent on display this year.
"There are some beautifully talented singers," she said. "We had Dalya who showcased all of her pajamas. Some of the artwork was amazing. Overall, I thought it was a really nice show to start rebuilding towards full school participation. I have high hopes for next year." 
Sadly, in spite of all the impressive talent on display, the show was not well attended. All I saw were the parents of the people performing,  Principal Paul Chase and a small number of students.
One reason for the poor attendance may have been that the event was scheduled on Tuesday. 
"I felt like it was not the best [night]  to have it," Mayer said. "Some people are busy on Tuesdays, and maybe it should have been promoted more, that could have helped."
"We used to sell out two nights: a Friday and a Saturday, the place was packed," Butler said. "The show was just fun." 
"In the last four or five years the attendance has dwindled," he added. "This year we talked about whether it is  something that we want to continue doing if there  is no energy from the student base. It's not the same show it used to be."
Schulte believes we are still dealing with the impact of the pandemic. 
"I think Covid [had an impact]," she said.  "Most freshmen have never even experienced White and Gold before, so they may have not been aware." 
Schulte made an appeal to students to participate in next year's show.
"I would love to see more students come out to support each other, especially some of the new singers," she said. "If anyone has any suggestions or want to participate,  Mr. Helm and I are taking suggestions."
Leave a Comment
About the Contributor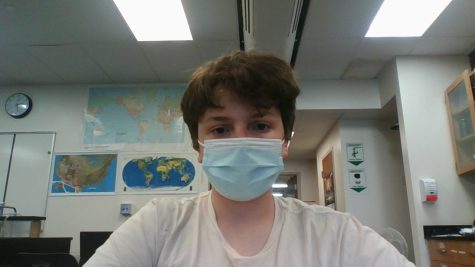 Elijah Kriwinsky, Staff Writer


Elijah Kriwinsky started working for The Beachcomber in Fall 2021. He is interested in writing great articles on any topic he needs to. When not writing...