An Evening With the Hits of the '80s and '90s
Choir director Darlene Haight explained that video production teacher Marc Chalice gave her the idea for this year's '80s-themed cabaret night.
"When I was cleaning out my storage room at the end of last school year, Mr. Chalice walked in and asked, 'Why don't you have an '80s-themed cabaret since you have these props?' That is what inspired the idea," she said.
 So this was the origin of the idea that led my family to load into the car around 6:20 p.m. on Dec. 1st after having an earlier dinner than usual. 
My younger sister would be performing in the Middle School choir along with members of both the BHS choir and the Bryden Elementary choirs in the '80s and 90's-themed cabaret night.
When I walked into the high school that evening, '80s and '90s-themed decorations were scattered throughout the atrium. There were banners, photo backgrounds and strangely-appropriate Nokia phone inflatables.
Volunteer parents of choir members sold Pac-Man grams and flowers. I then entered the auditorium, which was decorated with boom boxes and a lot of white lights.
 The first song was Celebration by Kool and the Gang, sung by the Bryden Elementary choir. Their performance was polished, making it clear that they put an immense amount of effort into practicing this song. 
Throughout the next few songs, the audience clapped to the beat as the singers danced on stage. 
The performances got more and more impressive, reaching a totally tubular level of '80s and '90s awesomeness.
Zohar Wolach sang Walking on the Moon by The Police, and the beat was so catchy that the people behind me could not restrain themselves. 
"Ohhhh!" they exclaimed. 
 There were some parts in which the singing was hard to hear, but the sound quality was mostly pretty good.
One of my favorite performances was  Billy Joel's Uptown Girl, sung by Anna Stephens. Her range was commendable, particularly during the vocal riff.
There were two more songs that stood out to me, which were Cindy Lauper's Time After Time, sung by Nuriyah Bell, Catherine Mayer, Arianna Rose and Cecilia  Vendetti. They absolutely killed it.
Haight was pleased with the show.
"Overall, yes! Live performances always have unexpected surprises, but everyone from first grade through twelfth sang from their hearts and moved the audience with their songs," she said. "Many people in the audience even said that they had tears in their eyes."
"The last song, Thriller, brought all sixty MS & HS Choir members to the dance floor for the grand finale, dedicated to [eighth grader] Michael Thomas who tragically passed away [in November]." Haight said.
"Mikey was working on Thriller during choir class with his group," Haight continued. "Since that was his song for cabaret night, we decided to have the entire middle and high school choirs join together and dedicate it to him." 
This was a meaningful ending to an already incredible evening.
Leave a Comment
About the Contributor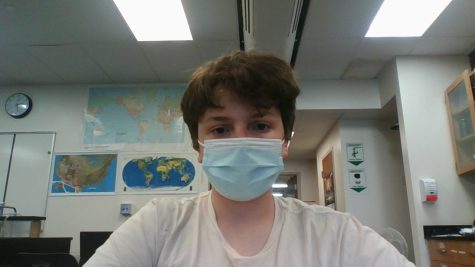 Elijah Kriwinsky, Arts & Life Editor


Elijah Kriwinsky started working for The Beachcomber in Fall 2021. He is interested in covering a range of topics. When not writing for The Beachcomber,...