Sherlock Holmes: the Classic, Quick-Witted Detective of 1892
My dear fellow," said Sherlock Holmes, as we sat on either side of the fire in his lodgings at Baker Street, "life is infinitely stranger than anything which the mind of man could invent.
I curled up on my couch, white pages stained with ink, painting an imaginative picture depicting a cozy morning with Sherlock Holmes and Dr. Watson. In this story, they were exploring the disappearance of a groom at an altar, deserting his devastated fiance. 
Several adaptations of Sherlock Holmes have been produced in recent years: from the Robert Downey Jr. series to the now second Enola Holmes movie, scheduled to release November 2022. How does a series launched more than a century ago still inspire so many adaptations?
The Adventures and Memoirs of Sherlock Holmes, by Sir Arthur Conan Doyle, follows the experiences of London's sharpest detective and his companion detective, Dr. John Watson. 
When first reading Sherlock Holmes: The Hound Of the Baskervilles in Mrs. Vitek's 8th grade Honors English class, I wasn't looking forward to another complicated classic, but within a week, I found myself whisked into the mystery, sitting on Holmes' mauve couch on Baker Street, listening to Holmes and Watson contemplate the origins of the canine beast that plagued Baskerville Hall. 
Upon finishing the book, I realized there were plenty of other stories just like it, so I picked up A Scandal In Bohemia. 
"
When Doyle got fed up with Holmes and attempted to kill him off, readers were outraged. They wrote him angry and threatening letters and canceled their subscription to the magazine that published his stories.
The chronicles of Sherlock Holmes are fairly simple to understand, with straightforward language that simultaneously provides excellent description and dialogue. What I appreciate in particular are the passages in the story where Watson demands to know the thinking behind Holmes' deductions, and Holmes spends around three paragraphs simply describing his train of thought, an unnaturally complex yet entertaining speech. 
For example, upon inspecting a hat that one of his customers left, Holmes deduces the following: 
That the man was highly intellectual is of course obvious upon the face of it, and also that he was fairly well-to-do within the last three years, although he has now fallen upon evil days. He had foresight, but has less now than formerly, pointing to a moral retrogression, which, when taken with the decline of his fortunes, seems to indicate some evil influence, probably drink, at work upon him. This may account for the obvious fact that his wife has ceased to love him.
Watson responds, as he should, with an exclamation: "My dear Holmes!" 
Holmes is known for his incredible ability to arrive at stunning conclusions from seemingly unremarkable objects. In fact, many have speculated that Holmes has some neurological difference such as Autism, which accounts for his tendency to think in pictures, his strong companionship with Watson, his struggle in the social sphere and his lack of an emotional filter. 
Despite his peculiarity, Sherlock Holmes has been adored by readers young and old for over a century, and the fact that high schoolers are still engrossed in his stunts shows that the series has truly aged well. 
Something interesting I learned about Doyle was the fact that he eventually got fed up with the stubborn and complicated character of Holmes, and attempted to kill him off in The Final Problem. Readers, however, were outraged. They wrote Doyle angry and threatening letters and canceled their subscription to the magazine that published his stories, causing the near demise of the magazine, too. A few years passed before Doyle wrote The Adventure of the Empty House, essentially reviving Holmes to see another case through. 
Aside from being greatly entertaining, Sherlock Holmes provides a good way of developing one's literary reading skills. The style of writing Doyle presents is that of the Victorian period, and it's a great tool in one's belt to become accustomed to it. Victorian English is common in many classics. However, don't get intimidated; Doyle wanted any reader to enjoy reading his stories, so the language is greatly simplified most of the time. 
In addition to his mystery novels, Doyle was an avid spiritualist, and wrote books such as The Vital Message, The History Of Spiritualism and The New Revolution, which were focused on spreading his faith of Spiritualism. He also wrote autobiographical novels, which include Beyond The City, The Stark Munro Letters, and A Duet with an Occasional Chorus. 
The literary complexity of these books may be a notch higher than his famous mystery novels, but if you want to delve deeper into Doyle's life and his education, I'd recommend you check them out. 
The Sherlock Holmes stories are truly compelling fiction, and they influenced most mystery novels to come after. Doyle paints vivid images of intense investigations for specific and complex answers to major mysteries, and the snippets of humor, conflict and emotion make it all the more appealing.
Leave a Comment
About the Contributor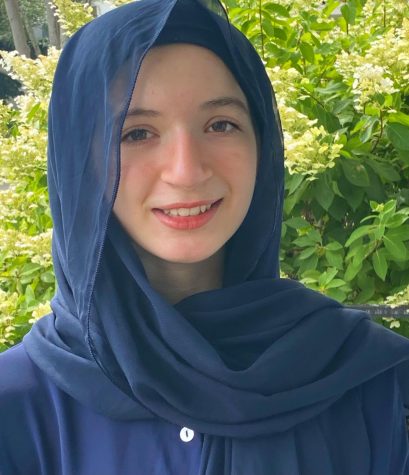 Anah Khan, Features Editor
Anah Khan (she/hers) started writing for the Beachcomber in 2021. She is interested in covering new organizations and programs in BHS and writing opinion...