Details Drive Success of Fall Production "Clue"
"Clue" is a muder mystery based on the board game and 1985 film. The plot follows the course of a dinner party, where six guests are invited and held hostage, as they eventually discover, by their own host.
 A series of murders occur throughout the night, and as the dead-body count multiplies, the guests must solve the who, what, where and why of the killings.
 In spite of the dark themes, "Clue" is an exciting and comical show full of twists and turns with dark comedy interwoven throughout the play.
The drama club production of "Clue," which played Nov 19-20, was slightly different from previous BHS productions, as it was directed in part by student director Jonah Kaminsky, who had a role alongside drama club advisers Marc Chalice and Casey DeMay. 
This is the first time in recent memory that a student has had this much responsibility directing a BHS production.
Among the greatest aspects of the play were the performances of the cast, which can be attributed in part to the student director. 
Kaminsky explained his role in the production.
"I've helped with staging, choreography, and helped actors with [delivery] and voice inflection," he said. "I worked with them on character building and team building… [Everyone has] improved [their] ability to improvise and cover for each other, and I'm so proud of them all unconditionally."
This work was evident in each cast member's performance. Every character had a clear personality, most notable performances being those by Wadsworth, Mr. Green and Professor Plum.
Freshman Leo Shi nailed the character of Wadsworth with a sassy and dramatic performance. He boldly stayed in character, even while doing something as trivial as running, or stomping off stage between scenes.
Senior Ian Ward, as Mr. Green, executed an exceptionally convincing performance, delivering his lines clearly and naturally, helping to pull the production together even more tightly.
Kaminsky, as Professor Plum, was unapologetically lascivious and gaudy, and this willingness to fully embrace his character is part of what made the production so enjoyable.
Chalice was particularly proud of junior Carli Margolis's performance as Mrs. Peacock.
"Carli has an enjoyably buoyant manic energy to her performance," he wrote in an email. "She cackles, huffs, twists, hops, leaps, shakes and giggles her way throughout the show."
"One of my favorite parts is in the final act when Peacock is accused of being the killer and instead of denying it or playing it cool, she thrusts her a gloved hand into her handbag and whips out a dagger and lets out a playground 'whooo-hooo!' and starts gleefully waving it into the sky while skipping and whooping it up," he added. "I laugh every time I see it."
"
I've helped with staging, choreography, and helped actors with [delivery] and voice inflection. I worked with them on character building and team building… [Everyone has] improved [their] ability to improvise and cover for each other, and I'm so proud of them all unconditionally.
— Student Director Jonah Kaminsky
Additionally, the careful attention to costume and presentation enhanced each character's performance.
For example, Ms. Scarlet, played by junior Maya Greller, reflected her character's name with a bold scarlet dress and a perfectly-toned daring and flashy persona.  
Senior Kabir Dhillon, who played Mr. Boddy, also did a very nice job being a dead 'boddy' throughout the play, with a blunt and straight-forward character to match his all-black attire.
In addition to the personalities of the cast, the set was carefully constructed to represent the 1950s-era. For example, the mansion's checkered floors and velvet seating set a perfect vintage vibe, and the colorful wall panels, which indicated different rooms throughout the mansion, added vibrance to the scenes.
Although the aesthetic details of the set were great, perhaps the most impressive aspect was  the set construction. For instance, the balcony added an additional elevated, isolated setting for the action to unfold, allowing viewers to focus attention away from the main stage during critical scenes.
Even on the main stage, where different rooms were merged, the lighting crew used spotlights to effectively direct the audience's attention to where it needed to be.
One of my favorite parts of the set was the refrigerator, which made possible one of the most memorable scenes in the play. After the cook was murdered, her body disappeared for a while, only to fall unexpectedly out of the refrigerator with a chef's knife in her back.
The refrigerator even produced condensation as the door was opened. It was these kinds of details that made the play really great.
As Chalice indicated before the start of the show, every detail of the set can be credited to the cast and crew members, and through these details, their creativity truly shined.
This excitement and careful attention to detail was clear in every aspect of the production: sound effects, lighting, and music were appropriate, and puns, jokes and jump scares were consistently thrilling.
For the curtain call, each main character received their applause as they stepped out of the door whose wall's color matched their outfit, providing a cohesive and sweet ending to the play.
The hard work and dedication of the cast and crew paid off, as I found myself laughing through the entire evening.
View Comments(1)
About the Contributors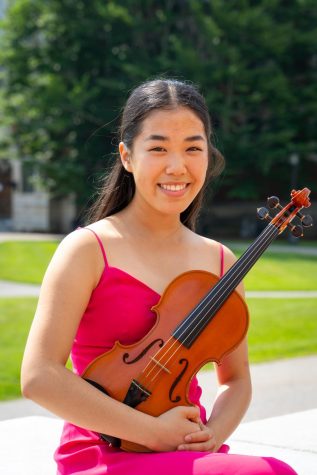 Moonhee Kim, Staff Writer
Moonhee Kim began writing for the Beachcomber in the fall of 2021. She is interested in covering arts, opinion and school sports. In addition to writing...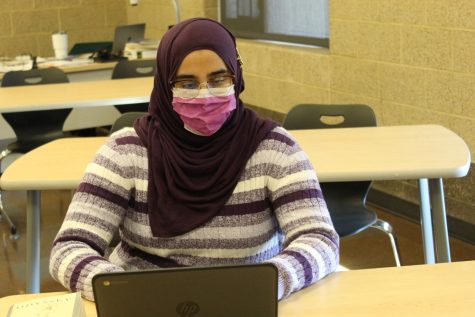 Hiba Ali, Editor-in-Chief
Hiba Z. Ali began writing for the Beachcomber in fall of 2019. She covers diversity in the school. In addition to writing for the Beachcomber, she also...