Sacha Baron Cohen Stares Down the Barrel of Fascism in Borat 2
The anticipated sequel to the 2006 cult-classic Borat was released to Amazon Prime video on Friday, Oct. 23. 
The original mockumentary film, Borat: Cultural Learnings of America for Make Benefit Glorious Nation of Kazakhstan was released fortuitously at a time when the American public was particularly receptive to Sacha Baron Cohen's brand of crass shock humor, and, while the film owes its popularity to this particular aspect, devotees appreciate Borat for its subtle ridicule of the American public. 
Yes, Cohen portrays a stereotypical, crude foreigner throughout the film, but more often than not, the American civilians Borat interacts with (all of whom are actual people, recorded unaware that Borat is really an actor) are the butt of the film's jokes. Cohen's genius comes from his ability to provoke average Americans into being just as crude, sexist, racist, and overall-terrible as the Borat character.
Set fourteen years after the release of the original, Borat Subsequent Moviefilm opens with the titular character released from his sentence at a forced-labor camp so he may fulfill a mission for his government — befriending Vice President Mike Pence, so that Kazakhstan's premier can join the likes of Vladimir Putin and Kim Jong-Un as a member of Trump's inner circle of authoritarian heads of state. This plan is amended when Borat's fifteen-year-old daughter, Tutar, accompanies him to America, and Borat sets out to "gift" her to someone high up in Trump's government.
Tutar is played by Maria Bakalova, an amazing young actress recruited from Bulgaria who manages to overshadow Cohen's decades-long character-acting chops. Together, Tutar and Borat traverse a Trump-happy American landscape, all while negotiating a relatively-sophisticated drama of familial love, responsibility and gender roles. Unlike the original film, Borat 2 has a traditional Hollywood-style character-driven narrative structure. And while the overall trajectory is somewhat trite, the editing marries the plot to Cohen's requisite hidden-camera hijinx in an inspired way.
"
'Borat Subsequent Moviefilm' opens with the titular character released from his sentence at a forced-labor camp so he may fulfill a mission for his government — befriending Vice President Mike Pence, so that Kazakhstan's premier can join the likes of Vladimir Putin and Kim Jong-Un as a member of Trump's inner circle of authoritarian heads of state.
Case in point: the trailer for the film, released about a month ago, featured a scene in which Tutar and Borat visit the "Carolina Women's Health Center". This deceptively named business is actually an evangelical-Christian operation devised to convince women in crisis to not terminate their pregnancies. Inside the "clinic", Borat explains to a pastor that, he, Tutar's father, "put the baby in her", and watches as the pastor attempts to justify his beliefs that abortion is unallowable, even in cases of incest. 
This scene is Cohen at his finest — forcing disgusting people to directly confront their toxicity and hypocrisy, and yet the scene seems completely out of place in the trailer. There is, after all, no way that Borat, a comedically flawed but ultimately loving father, would do something so horrible. The film satisfies this discrepancy by framing the conversation with the pastor as a comedic misunderstanding; Tutar swallows a tiny plastic baby in a previous scene, precipitating Cohen's request to "take the baby out of her". The rest of the scene plays out in clever double-entendre, all while brutally and satisfyingly raking the pastor across the coals.
The film reaches its comedic and sociopolitical apex around its midpoint as Borat, amid the COVID pandemic, falls in with a group of alt-right conspiracy theorists. Borat's quarantine buddies explain to him how the Clinton family eats the adrenal glands of the children they kidnap, and how America will soon be saved by a messiah called "QAnon". 
They later attend an anti-lockdown rally together, where Borat, dressed as a country singer, goads a crowd of pro-Trump "activists" to join in a song about the best way to execute various undesirables. The protestors eagerly sing along, chanting, "Journalists, what we gonna do? Chop them up like the Saudis do!" — and roar with approval when Borat proclaims that scientists should be killed in gas chambers. As Cohen uncovers, America is absolutely brimming with would-be Nazis.
While Cohen's ridicule of the alt-right movement is as brave as it is hilarious, one can argue that Cohen could have gone much further with this sort of commentary — tricking high-level closeted fascists into admitting their bigotry, dissecting the inner minuscia of the fascist mindset. This sort of deeper analysis is precisely what makes Cohen's previous project, a miniseries called Who Is America? stand out as particularly poignant (its overall lack of success can be attributed to the fact that it unfortunately streamed on Showtime). 
Similarly, the film fails to acknowledge the reality of the Black Lives Matter movement — unless you count the "All Lives Matter" shirt that an enormous "Karen" puppet wears during the "Running of the American" (an excellent progression of the "Running of the Jew" gag from the original). Yes, the Black Lives Matter movement regained its traction while the film was in production, and yet the film elegantly manages to evolve around the reality of a global pandemic —  but not the racial justice movement that is as relevant to the film as it is to the upcoming election.
This sequel, being a sequel to a decade-old stand-alone film, would inevitably never reach the same cultural milestones as did the original. And yet, Borat 2 was lucky enough to realize a fortuitous guerrilla marketing campaign — in the film's suspenseful finale, former New York mayor and personal attorney to Trump, Rudy Giuliani, is caught on-camera, reaching into his pants as he tries to seduce Tutar. Borat then bursts into the room screaming, "She's fifteen! She's too old for you!" The uproar over this career-ending peek into Giuliani's character has given the movie the advertising push it needed.
Borat 2 may not be a perfect Borat movie, but it is a perfect work of anti-Trump go-out-and-vote activism. As a result, some of Cohen's more sophisticated humor is unfortunately reigned back for this film. Likewise, to make the film more accessible to new audiences, Borat's meandering slow-burn pace is traded for a cookie-cutter "buddy comedy" structure — complete with a second-act falling-out between the buddies, and a suspenseful twist ending (which has been left unspoiled). Watch Borat Subsequent Movie Film — and if you don't, vote! Otherwise, as the film points out in its credits, you will be execute.
Leave a Comment
About the Contributor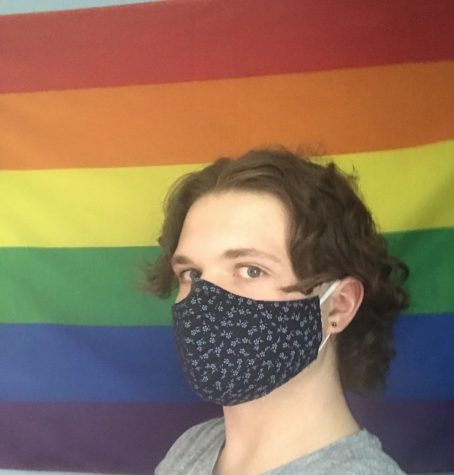 Alice Soprunova, Editor-at-Large
Alice Soprunova (she/her) began writing for the Beachcomber in 2019. She covers stories pertaining to issues of social justice inside and outside BHS....