Sherlock Holmes Comes to Beachwood
The drama department presented its fall play The Hound of the Baskervilles on Friday, Nov. 22 and Saturday, Nov. 23. The play is based on the most famous of the Sherlock Holmes novels by Sir Arthur Conan Doyle.
I watched the opening night show on Friday, and the suspenseful opening scene caught the audience's attention as mist filled the stage and a man dressed in black ran across the auditorium. 
The man is later identified as Sir Baskerville, and he is killed at the beginning of the play.  Within the first few minutes, the audience was introduced to Ms. Sherlock Holmes and Dr. Joanna Watson, played by Zeiah Lawniczak and Maya Greller. 
The two added their own unique style to the scenes as they portrayed the duo, such as when they made observations of a cane early on, and later when they questioned possible suspects. 
In one creative aspect of the play, Lawniczak and Greller as Holmes and Watson came out alone on stage after specific scenes, so the audience gained insight into their observations and suspicions. 
The other scenes followed Doyle's story and included well-known plot points, such as the observation of the ominous letter, the encounter with the hound on the moor and the final confrontation with Dr. Stapleton.
Another notable character included the play's antagonist Dr. Stapleton, played by Anna Ward, who showed impressive emotions and expression throughout the play. 
While the action of the story was generally fast-paced, some of the dialogue was difficult to hear and was less fluid in certain scenes, and the ending of scenes lingered as a result of the timing of the lighting, which seemed to be delayed in some scenes.
However, the creative props added to the well-known settings created in the novel: 221b Baker Street, Baskerville Hall, and the moor. 
The setting of the moor was also portrayed well, with large plants and mist on either side of the stage to create an eerie atmosphere to resemble the deserted landscape.
To resemble the extravagant style of Baskerville Hall, the crew set up an antique sitting area with a table and portraits on the wall. This set was used for multiple scenes, including Dr. Watson's different encounters with Mr. Barrymore (Ian Ward), Mrs. Barrymore (Ruth Brown), and Lady Henrieta Baskerville (Shivani Rajgopal).
Overall, the drama department showed good effort and did a great job of staying true to Sir Arthur Conan Doyle's renown work.
Leave a Comment
About the Contributors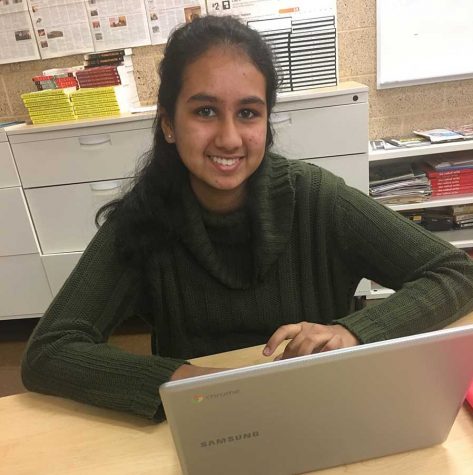 Prerna Mukherjee, Managing Editor
Prerna Mukherjee has been writing for The Beachcomber since the fall of 2016. She covers a variety of school and community events. In her free time, Prerna...
Matthew Keyerleber, Staff Photographer
Matthew Keyerleber is a staff photographer for the Beachcomber, primarily covering Bison sports since his junior year. In addition to being a photojournalist,...