White and Gold Displays Extraordinary BHS Talent
This year's White & Gold talent show, performed on April 13, was even stronger than last year's; it featured a greater variety of songs and dances performed with professionalism.
The show opened with an impressive instrumental performance of "Hold the Line" by Toto. Ben Bosler stood out on the saxophone, and Josh Hutchins played an impressive guitar solo. Supporting instruments included Zach Ritzenburg on keyboard, Jake Lawrence on bass, Ethan Jeffers on the drums and Anna Ward also on guitar.
It was a climactic start to the show.
One act that stood out to me was "Not for the Life of Me" from the musical Thoroughly Modern Millie, performed by Maya Neyman and Eric Golovan. Neyman sounded and looked the part, performing in a green trench coat over a red dress. Golovan skillfully accompanied her on piano.
The song starts quiet and intimate, but soon builds into a crescendo. Neyman pulled off the transition confidently, while Golovan showed an impressive range as the song increased in speed and volume. Overall, their performance infused the show with life, making it one of the highlights.
Another act that stood out to me was Jordin Thomas singing Alessia Cara's "Growing Pains". Thomas sang along in fluent sign language. While I only know a couple words of ASL myself, I appreciate the inclusion of those who are hard of hearing or deaf. It was a fun, fast, light and cheerful pop song that was easily enjoyable.
As usual, BHS's famous "Teacher Band" returned with alumnus Michael Bohm returning on guitar, Ben Bosler on saxophone, English teacher Todd Butler on guitar, choir teacher Darlene Haight on keyboard, social studies teacher John Perse on harmonica, Officer C.J. Piro on drums, Jake Lawrence on bass, Rachel Rosenthal and Arielle Keselman on backup vocals and Spanish teacher John Summers on lead vocals.
Their performance consisted of "Mystery Train" by the Paul Butterfield Blues Band and "Midnight Hour" by Wilson Pickett. These songs were fun and upbeat, but the third song, "Brokedown Palace" by the Grateful Dead, was much more somber.
The song was dedicated to math teacher Arthur Gugick, who was killed last month by a drunk driver. This tribute was heart-wrenching for many in the audience, as the tragedy is so recent. Additionally, Officer Piro's drum kit was emblazoned with a picture of Gugick on the bass drum head.  
Another audience favorite was Astor Piazolla's "Libertango," performed by Tal Yankevich on violin and Stephanie Yen on piano. Libertango is a dense and deliciously profound piece that inspires the imagination with glorious movie action that would go along with the music well. It would fit perfectly in a spy film.
I was impressed with both Yankevich and Yen's talent. With its fast pace and intricate melodies, it is clear that Libertango is not an easy song. But these musicians did not falter. Yankevich almost looked as if he was dancing with the speed and precision at which he played his violin, while Yen gracefully maintained constantly changing rhythms and melodies with each hand in some parts of the song.
The show also included the teacher's lounge skit, routines by the drill team and the cheerleaders, dancing from Grace Yan, Sanjana Murthy and Priyanka Shrestha and much, much more.
Once again I have found the White and Gold talent show to be an extraordinary display of BHS's most musically gifted, and I highly recommend that any reader who has not attended the show before should plan to attend next year. To fail to do so is like leaving a perfectly good, free cupcake sitting there, a waste of food…  a missed opportunity to enjoy during one's finite time on this Earth.
Leave a Comment
About the Contributor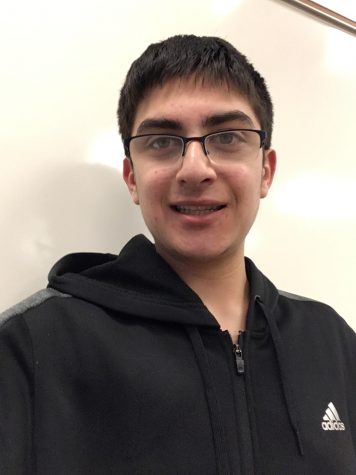 Joey Lewis, Arts & Life Editor
Joey began writing for the Beachcomber in 2017. He covers movie and game reviews. In addition to writing for the Beachcomber, he plays video games.