What To Watch On Netflix This Spooky Season
As the chilly weather draws us inside and fall sports come to a close, it's a good time for candy and some scary Netflix binging.
Movies
The Shining (R)- It's an all-time classic film with the memorable line of "Where's Johnny?" Director Stanley Kubrick adapts Stephen King's novel about  a new caretaker and his family at an isolated hotel in Colorado that some may say has spirit. The main character slowly goes mad and begins to terrorize his son and wife as a result of drinking and paranormal visions.
Truth or Dare (PG-13)- The simple game of truth or dare never hurt nobody, right? Not until a group of college friends play, and unbeknownst to them, a demon plans to use the game against them. Will they survive?
The Conjuring (R)- Based on real events, the Warrens, a pair of paranormal demonologists, are asked to help the Perron family with a paranormal presence left in their house, uncovering a chilling history. This is the first movie of a series. The Conjuring introduces the creepy doll named Annabelle, for which the sequel is named.
It Follows (R)- A cursed pass from one to another by relationship where the victim is followed by someone or something disguised as a stranger or even a friend. Once the victim is caught by "it" they die a horrible death.
Oculus  (R) – Siblings try to prove that the cause of the violent loss of their parents was a result of a haunted, antique mirror. If you look upon its reflection, evil, supernatural things appear. Will the siblings figure out how to get rid of this Oculus Mirror?
47 Meters Down (PG-13)- Two sisters get trapped submerged underwater in a cage where dangerous sharks lurk in the ocean. A fear of many becomes a reality for these two when the cage breaks off the boat, and they plummet to the ocean floor. Will they have enough oxygen to survive?
The Lazarus Effect (PG-13)- Researchers have devised a serum that can bring the dead back to life. But the serum has terrifying side effects that appear to be devised from a nightmare.
TV Shows
Stranger Things- This Netflix original takes place in 1983. As friends and family try to find their missing friend, they uncover an unusual girl with special abilities. But she is not the only strange thing happening in the town of Hawkins, Indiana.
American Horror Story- 7 seasons filled with suspense and horror. Each season revolves around a new story: Murder House, Asylum, Coven, Freak Show, Hotel, Roanoke and Cult.  Every season will keep you on the edge of your seat, and you won't want to stop watching until you finish the series.
Vampire Diaries– This supernatural drama TV show is based on the popular book. Elena Gilbert falls in love with a vampire, Stefan, who has seen years come and go, and his brother Damon encourages mischievous acts. They face other supernatural beings who intend to cause havoc in the town of Mystic Falls.
Scream (TV Show)– The iconic scream mask makes another screen appearance. A group of teenagers are followed by a serial killer that claimed to be dead. There's a mysterious connection between the main character, Emma, and the killer. The town's dark past seems to be repeating itself.
Gotham- Based on the characters from DC Comics, Batman. Jim Gordon is a new detective in the corrupt city of Gotham. After a double murder of Thomas and Martha Wayne, young orphan Bruce Wayne is left with only his butler and now guardian Alfred Pennyworth. This city has the most recognizable villains such as Penguin, Scarecrow, Poison Ivy and more. Gordon and Bruce must work together to help the city of Gotham.
Leave a Comment
About the Contributor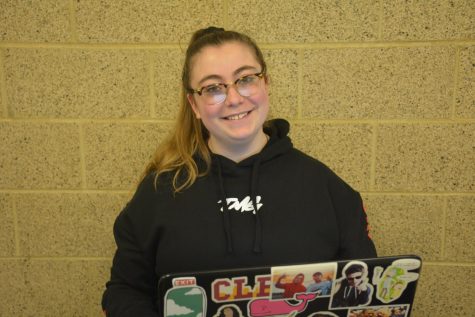 Nicole Breger, Staff Writer
Nicole Breger began writing for the Beachcomber in fall of 2018. She enjoys covering sports and community events. Nicole is also on Drill Team and loves...