Melondy Shen Crowned Queen
During halftime at the Homecoming football game on Friday night, the Homecoming Queen was crowned.
Maya Neyman, Jing-Jing Shen and Melondy Shen, the Top Three candidates, were escorted by their parents to the center of the field.
Announcer Mark Howdieshell officially proclaimed Melondy Shen as the queen.
The selection process started on Thursday, Oct. 4 when Beachwood students attended the Top Twelve assembly. The Top Twelve, selected by the Class of 2019, included Macie Berkeley, Julia Charnas, Cassidy Crosby, Jvian Ferguson, Yael Goldstein, Sydney Leikin, Madison McShepard, Maya Neyman, Jing-Jing Shen, Melondy Shen, Naomi Sternberg and Zoe Zilbert.
Each girl was escorted by a guy of their choice. They dressed up and walked down the stage of the auditorium to a song they selected while class of 2019 advisor Alex Paulchell read fun facts about the girls and their favorite high school memories.
The class of 2019 voted on Friday, Oct. 5 to narrow the race for queen from twelve to six. The top six girls were Julia Charnas, Jvian Ferguson, Madison McShepard, Maya Neyman, Jing-Jing Shen and Melondy Shen.
The whole school voted from six to three on Monday, Oct. 8. The Top Three candidates were Maya Neyman, Jing- Jing Shen and Melondy Shen.
In addition to the Top 12 girls for the senior class, teachers were asked to nominate students from the class of 2020, 2021, 2022 for Homecoming Court. After the teachers' nominations, the students from each class cast their votes. Winners for the class of 2020 are Isaac Kantarovich and Ayla Gambrell. From the class of 2021, Seth Warner and Elizabeth Metz. Ethan Luxenburg and Vidula Janbunath represeted the class of 2022.
Leave a Comment
About the Contributor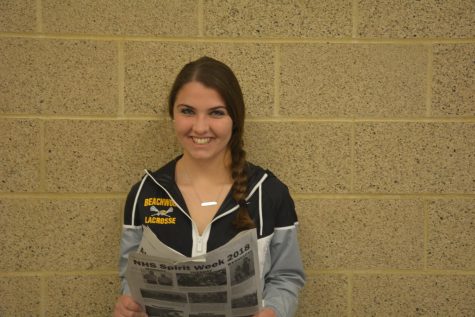 Haleigh McPhillips, Staff Writer
Haleigh McPhillips began writing for the Beachcomber in fall 2018.  She covers a variety of school and sports events. She is the captain of the soccer...