'We Happy Few' Disappoints
Game play fails to produce joy
We Happy Few by Compulsion Games is set in Wellington Wells, a fictional police state born out of an alternate history, located on an archipelago off the coast of Britain. The citizens are expected to take 'Joy', a drug that gives them the feeling of happiness.
In their cheerful denial, citizens fail to see that the world around them is full of horrors such as toxic waste, a depressed society of outcasts and their own poverty.
For most of the game, players assume the role of Arthur Hastings, former citizen and Joy addict. He's not looking to liberate or overthrow anyone.  He's just looking to get out'a town so he can reunite with his brother. This will not be easy, as anyone discovered to be off their Joy will be subject to beating for being a 'downer'.
The visuals are pleasing. The world of Wellington Wells feels like the 60's vision of the future from The Jetsons mixed with Bioshock's sinister background and Overwatch's cartoony character design. The music is joyful, juxtaposing the brutal reality of the game world. Sound effects are ordinary, but the voice acting is extraordinary. The game's cast deliver their lines in a convincing way.
"
For most of the game, players assume the role of Arthur Hastings, former citizen and Joy addict. He's not looking to liberate or overthrow anyone.  He's just looking to get out'a town so he can reunite with his brother.
Besides the pull of the mystery of the main quests, there are also many side quests with all kinds of interesting insights into Wellington Wells. Early in the game, for example, I was sneaking through an old bunker turned gang hangout when I encountered something that gave me a shock. The route I was taking was all a trap, and I was sent to fight in a gladitorial arena.
Side quests provide insight into the Wellington Wells culture. In one side quest, a citizen was protesting the inequalities between districts. When I helped him post his fliers, the people on the street decided to "Join the fun!" and beat me to death, as free speech is apparently not valued in their culture.
Unfortunately, this is where the good part ends, for We Happy Few is a game wrought with things that feel like rubbish. For one, the 'survival' mechanics don't have much of a purpose. Hunger and thirst will not kill you, but they will make you short of breath. This is cured with food, which can be found so easily that it fails to provide the player with a challenge.
The levels of We Happy Few are procedurally generated, which means they are random, aside from quest-related locations. Procedural generation causes  glitches with the environment, like buildings clipping into walls and floating benches.
Like many contemporary games, WHF offers a stealth gameplay option, but it's not very fun. Let's say you are on your nightly stroll and a constable sees you are out past curfew. He will give chase. If you run, you will undoubtedly attract the attention of more officers.
Simply turn the corner, sit on a bench, and pull out a newspaper. The malevolent bobby will look around, see you've vanished into thin air, and  forget about you. This is common in stealth games, but stale here since benches offer the only hiding place. A good stealth game has a variety of places to hide that have different pros and cons. Sure, you may hide in yellow flowers, but those are rare in WHF. And if you decide to pretend to be a citizen during the day, there are way too many gizmos that detect if you are off your Joy. One thing I like about the game's stealth systems is the ability to see the sound of footsteps in order to track enemies, as opposed to what would otherwise be a frustrating listen.
"
There are downsides to taking your Joy, and they can get you killed.
WHF's combat is okay. You can attack, block, break defense and heavy attack. All standard, but honestly the combat feels clunky and unsatisfying. It feels like you have bean bag weights strapped to every limb. On the sound design side, stabbing people with umbrellas just doesn't feel as good as it should. Not to mention that cities, which are full of potential foes, can quickly overwhelm.
So if fighting your way through Wellington Wells is unsustainable, and sneaking around is yawn-inducing, is the game even playable? Yes, and that is only if you take your Joy. Joy makes enemies and gizmos think you are a citizen, as long as you don't go around running and jumping. There are downsides to taking your Joy, and they can get you killed.
One such detriment is that every time you use Joy, it accumulates into an episode where the player character bathes in guilt at the idea he may drug himself back into cheerful denial, which is externally visible (and alarming) to the 'happy' folk that reside around you. This isn't enough to deter those who intend to take the path of least resistance. Taking your Joy just makes the game too easy. In fact, the entire game is too easy.
In one quest, I had to defeat a terrible machine. I had learned that it would be necessary to obtain a certain gadget. I simply walked out of the area to an office, where there was an unlimited supply of them. One throw and it was over.
A few more gripes with this game: The performance is terrible. I will admit that it runs on my base Xbox One, but AC Origins ran better, and with  larger worlds with more characters. Not the fairest comparison, but the frame rate dropping is still awful. WHF is glitchy, with people on the street suddenly walking in place, and the aforementioned procedural generation issues.
We Happy Few has its moments, but it is still a rugged mess in need of some TLC. I give this game 51/100.
View Comments(1)
About the Contributor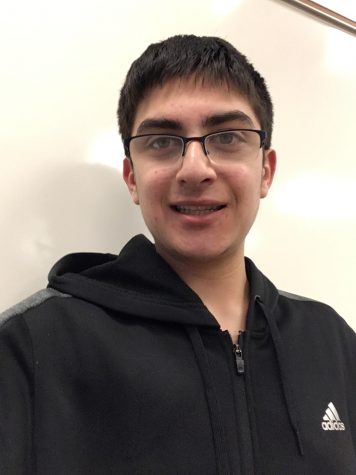 Joey Lewis, Arts & Life Editor
Joey began writing for the Beachcomber in 2017. He covers movie and game reviews. In addition to writing for the Beachcomber, he plays video games.