Circus of Sound
White & Gold Fills the Big Top
White and Gold was performed for only one night this year, on April 14.
A long-standing and beloved tradition, White & Gold displays a side of our classmates that we don't usually see, in the words of junior Gabi Covolan Costa, who was one of the directors.
The show kicked off with a grand opening, impressive in terms of scale and coordination. Simply called Cheer, this dance was performed by nine cheerleaders and featured excellent synchronized dancing and simple uniforms, which were much more dignified than the usual cheerleader accoutrement.
The performance was a captivating sequence of consistent movement with a twist at the end. Props to Coach Schachtel and the cheerleaders for setting a high bar for the show
Another one-of-a-kind performance was sophomore Priyanka Shrestha's "Martial Arts Compilation". It started with Shrestha  swinging a toy lightsaber to the Star Wars theme, but that wasn't as impressive as what she was about to do.
When she put down the plastic bat, things really ramped up when she started doing different stances, using what seemed to be two linkable blades and a staff. It is impressive how the act became exponentially better as it went on.
Junior Maya Neyman and sophomore Eric Golovan performed "Roxie" from the musical Chicago. Their singing and piano performance was very inspired.
Golovan, skilled behind the piano, also had a solo act later in the show with "Fast Car" by Tracy Chapman accompanying himself on the piano. This performance showed Golovan's true depth of skill, with well-rehearsed singing and phenomenal piano playing.
One of the most unique and surprising performances premiered right after intermission. The "Teacher Band" performed "Old Friend" by J.J. Cale and "Blue Shadows" by Freddie King. This band featured several teachers with BHS alum Michael Bohm, accompanied by several current students.
One thing that made this performance so enjoyable was the harmonica and keyboard. Not only were they a breath of fresh air for the audience at this point, they were also used as the backbone of the performance, beside the drums. As a recurring feature in every show, this performance lives up to its reputation.
In a departure from the musical acts, Langston Gaines-Smith spat rhymes in a piece called "Spoken Word", about the political climate and the uncertain times that we live in today. It was a breath of fresh air for the audience and a courageous performance as well.
The two ballet performances were particularly memorable, appearing in the first and second acts. The first ballet was called "Variation from 'Giselle'"  by Adolphe Adam, executed by sophomore Anna Ward. It featured graceful turns and elegant hops, which kept to the rhythm and was synchronized with the background song.
"
Watching students–your friends–on stage pouring their heart and soul into something is quite a sight."
The second ballet dance was "Cupid Variation from 'Don Quixote'" by Ludwig Minkus, performed by sophomore Athena Grasso. This one in particular seemed much more expressive, as the dance moves felt less cluttered and clumsy than before.  
The next act was a piano and violin performance. The song was "Danse Macabre" by Camille Saint Saëns. It was performed by sophomores Tal Yankevich and Stephanie Yen. It started out slow, but sped up into a storm of coordinated violin and piano action, followed by periods of delicate grace followed by energetic frenzy that turns into a memorable act.
I gotta say, I think this was one of my favorites. Yankevich did a great job on the violin, and Yen's elegant piano playing complimented his performance effectively. Keep in mind that this might be my bias; I'm a bit of a classical music fan.
For my final White And Gold highlight, I describe the show's final and most impressive performance, in my opinion.The show directors obviously thought to save the best for last. This act consisted of three students: juniors Talya Berenholz and Tara Gallaugher sang while Jonathan Slain played piano and sang.
Slain, however, was slayin' with his ability to juggle the roles of piano player, harmonica player, and singer at the same time. The coordinated singing, harmonica playing and piano playing were phenomenal. Since this performance was such a display of skill, it was my favorite.
All in all, I thought this talent show-off was pretty good. Still, I thought that it could still be better. Why? Because in this article, only about nine performances are discussed, out of the eighteen total performances. This got me thinking, what if the talent show awarded the best performances? What if it became a competition? If this were the case, it might make it all the more exciting, giving the audience a better experience.
If the awards were diversified to give awards for different categories of performance, like in the Oscars, then we might see more variety in performances than just musical. Some performers might showcase other talents if a reward were offered for incentive.
Would a competitive environment hurt the experience for the cast of White and Gold? Perhaps, but it is an idea worth exploring. While there were aspects of the show that could have been improved, it was certainly worth seeing.
Watching students–your friends–on stage pouring their heart and soul into something is quite a sight.

About the Writer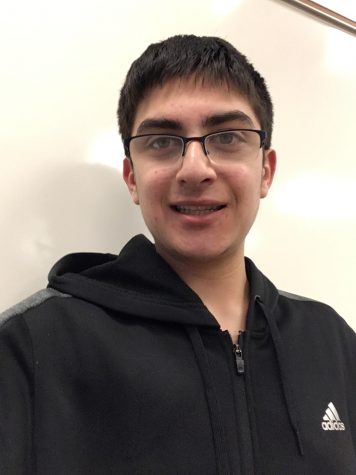 Joey Lewis, Arts & Life Editor
Joey began writing for the Beachcomber in 2017. He covers movie and game reviews. In addition to writing for the Beachcomber, he plays video games.