Student Self-Portraits Displayed at Beachwood Place
Right in the middle of Beachwood Place, a beautiful and colorful art display adorned the typically empty space on the downstairs floor. The display, which featured art from grades K-12, was open from Jan. 25 to Feb. 16.
Six panels displayed dozens of self-portraits of Beachwood student faces stacked on neat grids, each panel a different color of the rainbow, acrylic on canvas, displaying delicate lines with contrast in shade within each color's spectrum.
Sophomore Athena Grasso's detailed purple portrait is just one of the pieces featured in the exhibit. She took a trip to the mall to view the artwork on the day it was opened.
"I was asked to speak at the opening," Grasso said. "…just to talk about art in general and its significance to the community."
According to art teacher Heather Grano, an important goal was to create an exhibit that would not get lost in such a large space of the mall.
"Art teachers felt that one unified work with bright colors would capture attention and interest," Grano said.
Sophomore Gabe Stern had artwork featured as well. His portrait was displayed in variations of orange. He said he paid special attention to the details of his hair.
"
Art teachers felt that one unified work with bright colors would capture attention and interest.
— Art teacher Heather Grano
Like Grasso, Stern went to see the artwork and was impressed by the display. Stern was most impressed by some of the artwork displayed from 6-8 graders.
"The middle schoolers were really good," Stern said. "I also enjoyed how they organized it by color rather than grade or by school."
Grano hopes that students learn to value art and creativity, regardless of their profession.
"Whether they become doctors, lawyers or work in business, they can also find a way to be an artist," she said.
According to Grasso, it was difficult to create value and contrast due to the portraits being monochrome.
"It's easy to create contrast with different colors," she said. "But since we weren't given various colors, we had to blend our color with white to create value and contrast."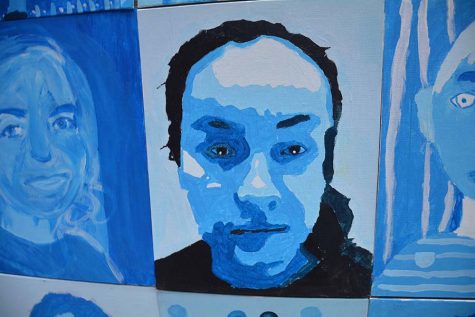 Stern thought that the project taught him more about patience and gave him a new perspective on how to make art.
"Using one consistent color throughout the whole painting was cool and new; I never thought to do that" Stern said.
Sophomore Paisley Truitt, who was also featured, had a different take. While she did not take any specific lesson away from the project, she found it entertaining and creative nonetheless.
"I sorta just play around, trial and error, and see what's nice," Truitt said.
The self-portraits were displayed at BHS in late February, and will be on display at the Beachwood library from March 4 through March 24.
Leave a Comment
About the Contributor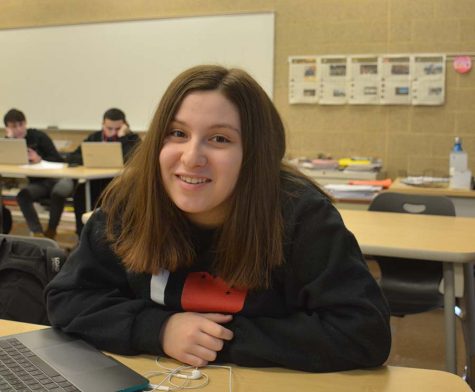 Amelia Port, Staff Writer
Amelia Port began writing for the Beachcomber in fall of 2017. She enjoys covering important events in the school. In her free time, she enjoys swimming,...