Bogomolny Brothers Play Encore at 19th Tri-C High School Rock Off
On Jan. 1st, freshman Chandler Bogomolny, along with his brother Jackson, a junior, took the stage at the 19th Annual Tri-C High School Rock Off held at the Rock and Roll Hall of Fame and Museum.
Nestled between escalators and stairways, the stage lit up with red and purple revolving lights as the three band members walked up to the raised platform, tuning their instruments. The band, Sam Porter Experience Trio, consists of Chandler; his brother, Jackson; and Sam Porter, a freshman at University School.
After tuning his electric bass and testing out the microphone, Chandler sat on the ground and stretched out, his straw hat bathed in the light.
When the host asked why he was lying down, Chandler projected confidence.
"I was born ready," he said.
After the spotlights flared shades of vibrant orange and green, the band started to play. Chandler took up the microphone to the cheers of the crowd.
"
"It isn't just any after-school hobby. It's unexplainably great when there's good sound and a connected audience. It's an immediate reward.
— Chandler Bogomolny
Halfway through their second song, the Bogomolny brothers pulled out their bongo drums and started getting the audience involved with the performance. The crowd joined in, stomping feet and snapping to the beat. Soon, the whole room was swaying to the drum and dancing.
For their last song, the trio cranked up the volume to the cheers of an enthusiastic audience and ended with a strong chord, panting for breath. They thanked the audience over vigorous cheering and left the stage with their equipment.
Last year at the 18th Annual Tri-C Rock-Off, Chandler Bogomolny and his previous band, Backstage Politics, competed at the House of Blues and placed first, winning $1,000 in cash and $250 for the Beachwood Orchestra program.
Since then, Chandler has taken part in numerous shows and competitions. His work and participation earned him the honor of being presented as the Notable Orchestral Member Award at the eighth grade graduation in June 2014.
Backstage Politics consisted of five members—Tessa Murphy (keyboard), Liz Bullock (vocals), Jackson Bogomolny (guitar), Sam Porter (drums) and the youngest, Chandler (bass).
"We [Backstage Politics] only really 'competed' once for the Tri-C High School Rock Off," said Chandler, "which we didn't really anticipate winning as those were our first shows. After that, a lot of popularity got us to a couple shows a month. Mostly at bars and festivals."
"I think we all knew going into it this year that they weren't going to let us win two times in a row, so we were much less serious about the competition aspect this year," the Bogomolny brothers agreed. "We played a set, didn't win any prizes, but we had a lot of fun. There was actually a lot of pressure about us winning this year, since we won last time, and there was a bunch of speculation [before the competition]."
Each member of the Sam Porter Experience Trio has had his own extensive musical education, and each plans on pursuing a music-related career.
Chandler started playing the cello while he was only four years old and didn't get into rock music until he was in the second grade. Over the course of his musical education, Chandler has managed to learn a variety of instruments. He specializes in drums and bass, but he also plays the upright bass, guitar, keys and occasionally vocals.
"Music is one of my very few passions," Chandler explained. "Because so much of my time is devoted to things like math, which I take very little interest in, it seems like a show every two weeks is almost not enough time spent playing music and doing things I actually enjoy."
However, the experience of playing on stage does have its benefits.
"It isn't just any after-school hobby," Chandler explained. "It's unexplainably great when there's good sound and a connected audience. It's an immediate reward."
Jackson agreed, "Having a band and playing music with other people is definitely something I want to do for the rest of my life."
Outside of his bands, Chandler likes to spend time recording solo work. Besides music-related activities, he does a fair share of video gaming and skateboarding, but the vast majority of his time is spent oriented around school or rather, "complaining about schoolwork, the bane of my existence" as he put it.
The Bogolmony brothers' old band, Backstage Politics, gave their last show on January 11th after the lead singer, Liz Bullock, decided she needed to prioritize her schoolwork over her dedication to the band.
"I actually saw a girl in a Backstage Politics shirt at this year's Rock-Off," Chandler said. "It was weird since we aren't a band anymore."
"Hopefully we'll do it again next year. It was fun and the audience is always great at the rock off," Jackson concluded.
Leave a Comment
About the Contributor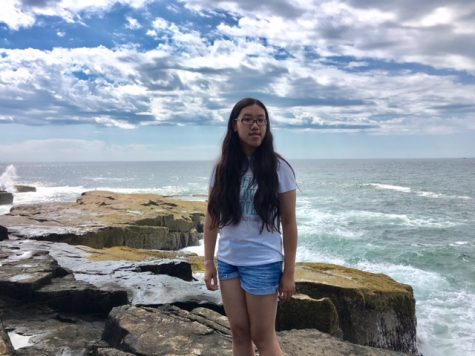 Jinle Zhu, News & Layout Editor
Jinle Zhu has been writing for The Beachcomber since her freshman year (2014). She has been the features editor and layout editor. She likes Photoshop...