Faith, Farce, and Fun: A Review of 'The Book of Mormon'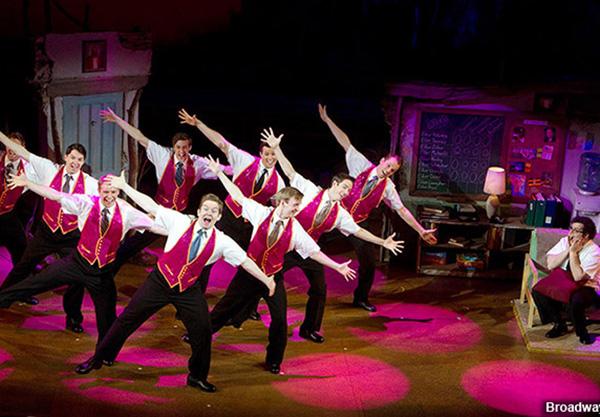 Give in to the hype. The Book of Mormon was written by the creators and stars of the hit South Park TV show, and won the Tony Award for Best Musical of 2011. And boy, does it deliver.
The Book of Mormon is an outrageously ostentatious romp of religious parody that is absolutely hilarious and entirely worth your time and money.
A naïve, indoctrinated pair of young Mormon missionaries in Salt Lake City, the sweet, bright-eyed Elder Price (a perfect Mark Evans) and overweight, socially-awkward Elder Cunningham (the kooky Christopher Jon O'Neill) are sent to Uganda to spread their faith. Expecting rewards from their "Heavenly Father," they arrive and instead are horrified by the poor, violently-governed, godless lives of the diseased residents.
When their pitch leaves them ridiculed and it's clear that the government's leader intends to circumcise every woman in town, Elder Price tries to transfer his mission to Orlando, Florida. Meanwhile, the uneducated but inspired Elder Cunningham begins to preach original material, weaving Star Wars, The Lord of the Rings and new practical solutions to the villagers' outlandish problems into the teachings of the Good Book, which amasses him a devoted following.
After Elder Price has a disturbing dream about Mormon Hell ("Spooky Mormon Hell Dream,") he decides to recommit to the mission and the excited villagers are successfully baptized, which credits the pair as the most successful missionaries in Africa. But the Mormon Mission President arrives to see the success and is instead greeted by practices offensively opposite to that of Mormonism, due to Elder Cunningham's wildly improvisational preaching. The villagers disclose that they took the preaching as a metaphor, and they later begin to triumphantly ring the doorbells of the locals to advertise their new version of Mormonism.
Believable acting, soaring singing and sensational orchestration, entertaining choreography, immersive staging and masterful pacing weave the lining of the show. You probably won't glance at your watch once despite the two-and-a-half-hour running time.
The Book of Mormon is so apt in its social commentary parodying religion's many curiosities, one may even call it an anti-religious polemic disguised as a musical production. However, anyone comfortable with the South Park TV show would expect as such. The show comically and confidently attacks the most controversial religious talking points like homosexuality and the afterlife.
Spectacularly memorable set pieces include a huge, garish, cheesy disco ball that illuminates the entire audience, and satirical caricatures of Jesus Christ and other biblical figures dressed with flamboyant LED-lighted robes and crass personas.
Supreme, riotous storytelling and a capable group of triple-threats make The Book of Mormon a thrilling, unending series of jokes that will leave a mature theater-goer happily satisfied.
The Book of Mormon is playing at the Palace Theater through July 7th.
Leave a Comment