What You Need to Know About This Year's White & Gold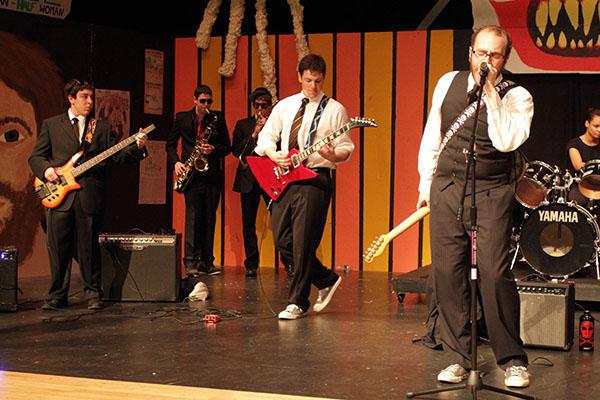 The 2013 performance of White & Gold, the annual talent show, will be presented on March 1st and 2nd. The event will be held in the high school auditorium, and tickets this year will cost $10 per person.
Tryouts
Seniors Tylar Crawford, Michael Dailey, Esme Eppell and Elana Gloger are directing this year's show. Juniors Jess Angel, Max Bleich, Eliana Mitchell and Danny Sheridan are assistant directors. These students selected this year's White & Gold cast by evaluating auditions and discussing which acts they found most appealing.
"We look for talent. We look for variety. We look for something unique," said Bleich.
According to adviser Michele Toomey, approximately 30 acts auditioned in Dec. and 17 will be performing.
Rehearsals
As the performance date draws nearer, practices occur more frequently. In February, during a two-week tech period, practice is held every day to ensure everything is ready for the final performance.
"Our rehearsals are once a week… [and] are about three to four hours long," said Jessica Tall, a performer in this year's show.
History
White & Gold was initially produced by BHS students in the early 1980's, and has remained a student-run show. But the focus of the show has changed. The variety show used to focus more on comedy, but over the years transitioned to more musically-oriented acts.
"Comedy sketches in White & Gold always included 'BHS News,' which generally lampooned things that happened at BHS," recalled science teacher Joe Burwell. "Another regular was 'Staff Lounge' a sketch that poked fun at teachers and administrators. Then there were the occasional parodies of popular culture, sitcoms, and some very clever short films produced by students."
Former White & Gold adviser Joel Freimark had a huge influence on the development of the show. In addition to serving as adviser, Freimark worked as theatrical technician and tech crew adviser. He left large shoes to be filled when he moved to New York City two years ago.
"White & Gold has always been a big deal at BHS, but it was really Joel's baby up until last year," explained Bleich. "He… really helped the directors make a show that he thought was the best. Last year was really difficult… It was a big adjustment to say the least."
Freimark explained, "When I left Beachwood two years ago, I did not hide the fact that the most difficult thing for me to leave behind- aside from my friends- was White & Gold. As a student, I directed the show twice, and I served very proudly as the adviser for five years.  I loved working with the [students]… to help them fully realize their potential, and hopefully achieve a final product that was beyond their expectations."
"White & Gold is Beachwood," Freimark continued. "[It is one of] the only [traditions] that have been there consistently over the decades. The students and staff know its importance as a time when students can show talents they may not be able to feature otherwise."
Last Year's Performances
Last year's show included performances by the drill team, cheerleaders, teacher band, teacher's lounge and other singers and dancers.
"…Beyond that, there was Kei Hitomi, who was able to beatbox unlike anything anybody had ever experienced," recalled Bleich. "Jon Sender, with Tony Sapell and Sam Goldman [played] violins in the dark with glowsticks around their bodies and their instruments. We had someone play an original song. We even had someone "perform" a speech much in the same fashion as one would in a speech competition."
"… I feel as though this year delivers just the same if not better of an experience," said Bleich.
This year's cast list is not available.