Beachwood Arts Council Hosts 23rd Annual Juried Art Show in Honor of Ileen Kelner
The Beachwood Arts Council hosted the 23rd annual Ileen Kelner Juried High School Art Show at the Beachwood Community Center from Feb. 11 to March 4.
Thirty-four Cleveland-area high schools had the opportunity to submit up to four pieces of artwork, which were showcased in the exhibit, the Council's Co-Vice President Paula Rollins explained.
The show was started primarily by Ileen Kelner, a member of the Beachwood Arts Council. Since she passed away last year, the show has been renamed in her honor.
"Her son came the day of the program," Rollins said. "He's a pianist, and he played two of her favorite songs to kick off the program. He said a few words about her because many of the art teachers have been doing this for 20 or more years and they all know her."
"She was a very special and wonderful person to all of us," she added.
Three judges decided on a first, second and third place winner as well as five honorable mentions. The judges included Sandra Noble, a lecturer in the Department of Art History and Art at Case Western Reserve University, Grafton J. Nunes, President and Chief Executive Officer of the Cleveland Institute of Art and Kevin O'Donnell, Managing Director from the Lee Hayden Gallery at Beachwood Place.
"The judges first walk around individually," Rollins said. "They individually mark down notes about each piece, then they sit and talk together and then walk through the exhibit again as a group. The entire process is anonymous though. We keep the artist's name covered up so all the judges can see is the name tag and the title of the piece. The whole process takes about an hour."
Rollins explained that there are monetary awards for the winners: $100 for first place, $75 for second, $50 for 3rd and $25 for honorable mentions. Participants were also given a coupon to get their art printed on a T-shirt.
While Beachwood did not win any prizes, four pieces by Beachwood students were showcased. The artists include senior Sarah Borow, junior Christine Li, junior Kelsey Hunsaker and sophomore Amanda Leizman.
"My piece is called (S)Miles Away," Borow explained. "It's a drawing of my friend Miles and I, so it's a play on his name. The piece is a loose emulation of Robert Longo and his expressive compositions. I wanted the drawing to feel intense, and I wanted the movement of the moment to be seen."
Leizman's piece was titled Springtime in the Studio. She explained that the painting of sunflowers in bottles is made from pastel and acrylics on canvas.
Hunsaker's Back Home depicts California and the Golden Gate bridge. Hunsaker moved from California to Beachwood just this year.
"When I was planning the painting,I was thinking about my hometown and how much I already missed it," Hunsaker said.
"Creating the piece was a learning experience," Leizman said. "This is really one of the first times I have done a painting so large, so it was different from other projects I had done before, which have mostly been on the smaller side."
"At first, staring at the huge blank canvas, I didn't exactly know what to paint," she added. "I messed up a lot and had to paint over some areas, and it took a couple months to complete. So yeah, it was definitely a learning experience."
Hunsaker, too, felt that the project was a learning process.
"I was really stressed when I heard Mrs. Grano was entering me into the show because at that time I had only finished half of the painting. Now, that the show is over, I'm really happy I pushed myself to do something out of my comfort zone."
Borow values the artistic process.
"Next year I'll be studying art in college," Borow said. "I know I'll keep making art for the rest of my life."
Hunsaker and Leizman, however, have plans to keep entering the competition next year. Leizman is currently inspired by Norman Rockwell's art, and may start a series based on his work in the future.
Christine Li could not be reached for comment, though her pencil sketch titled Shakespeare was given its own spotlight at the exhibit.
According to Rollins, the art show was designed to be open to a wide range of artwork.
"Well, the artists have to be high school students," she said. "And there aren't that many other limitations to the art except the art needs to be wired on the back for hanging. We have a professional installer who comes in and designs this place for us, but that's it."
Rollins is slated to become President of Beachwood Arts Council next year.
Although the exhibit is no longer open, Beachwood Arts Council has a number of similar events scheduled at the community center.
"We have a Beachwood K-12 art exhibit just around the corner in April," said Laura Zuckerman, who volunteers for the Beachwood Arts Council by handling public relations. "It's from April 7th to April 29th. The reception is on April 11th. High school kids are welcome to come."
"We always have events," Rollins concluded. "Anytime we have anything, we want to get the word out. Our art show isn't just for Beachwood, it's for all of Northeast Ohio."
About the Contributor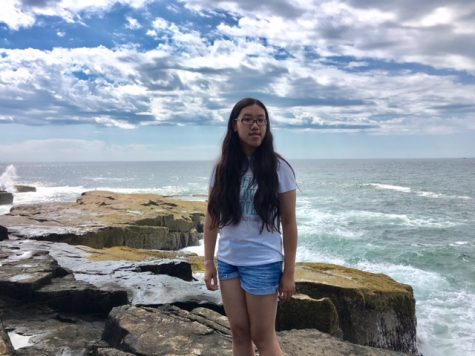 Jinle Zhu, News & Layout Editor
Jinle Zhu has been writing for The Beachcomber since her freshman year (2014). She has been the features editor and layout editor. She likes Photoshop...