Sophomore Spirit Week Video Banned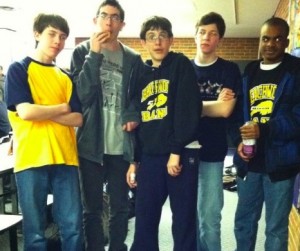 Advertisement
Hang on for a minute...we're trying to find some more stories you might like.
By Anna Swanson, Staff Writer
A handful of underclassmen at BHS are upset about the banning of their spirit week video. The video faced scrutiny from faculty members because of its poor taste. Max Yanowitz, Nick Greene, Erin Paley, Aaron Shifrin and John Senders created a video applying the concept of the infamous "Cleveland Tourism" video to BHS. According to the students, they were told that their video was problematic because of inappropriate pelvic thrusts, an inappropriate reference to a former student and stereotypical portrayals of Asians.
More importantly, according to Technology Coordinator Joel Freimark, "The video was due around 9 a.m. and was not received until 12:00 that afternoon."
Assistant Principal Paul Chase said, "The video was rather funny, other than the inappropriate content. Things like pelvic thrusts weren't the end of the world…it all could've been taken care of if there were more time to edit the video."
Video participant Max Yanowitz explained, "We're not mad, just upset that last year's senior video was still judged." Yanowitz is alluding to last year's senior video in which inappropriate sexual references were made.