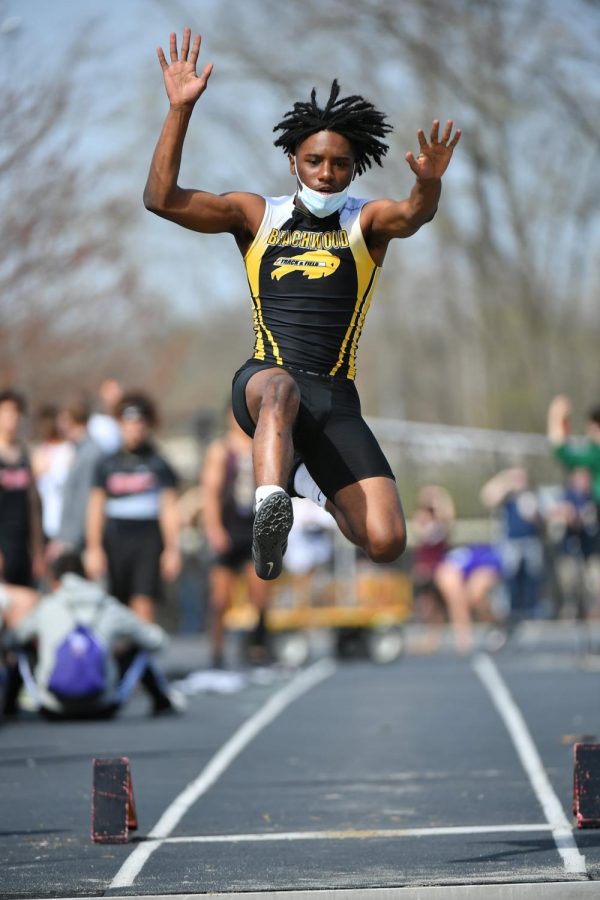 Mark Pogany / Lifetouch
This past weekend the Bison track team competed at the Division II District Meet held at Perry. The boys team won the district and the girls team was runner-up.
Since the Beachwood track team has such an impressive record, one can lose sight of how tough their competition is.
"My class has some of the best female throwers in the country," senior Elizabeth Metz told the Beachcomber after the indoor season. "Three of us who competed at states this year are top 10 in the nation in the weight throw… and from the shot put, a lot of the girls are top 25 in the nation." 
In the face of that competition Metz won shotput and discus, and also set district and school records for longest throw in both events. 
Kylie Walters also won her event in the long jump.
The boys team of Greg Perryman, Caleb Berns, Noah Saidel and Jack McPhillips won the 4×800 relay, and the girls team of Kylie Walters, Dakota Houston, Amelie Cotta and Lauren Luxenburg won the 4×200 relay.
In total, 16 Beachwood athletes will advance to regionals, most of them in multiple events. 
Next weekend the team will compete at regionals at Austintown-Fitch, and ultimately the top four in each event will advance to the state tournament in Columbus
At the Indoor state tournament in March, the boys team was state runner-up and the girls team tied for 5th place. 
The team's success can be attributed in part to attitude.
"We are very serious about practice and preparation," junior Greg Perryman said. "From proper hydration and diet to rehab after practice and before meets, our philosophy is do everything you need to do right so that there are no excuses come meet day."