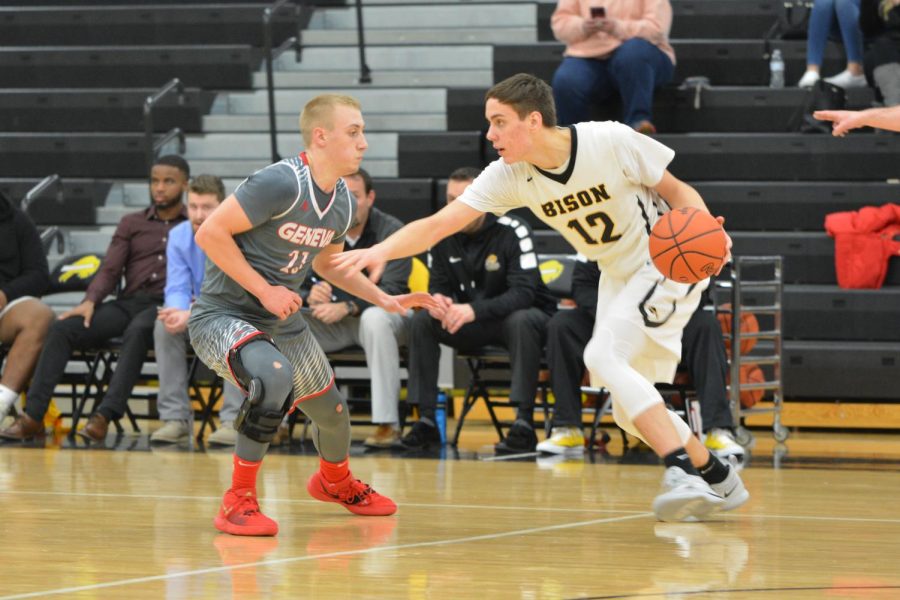 Emily May
For most fans, knowledge of the college athletics recruiting system is limited to ESPN documentaries and profiles in Sports Illustrated. 
Ambitious student athletes are left to wonder how they can make it to the next level in their sport.
The Beachcomber spoke with three people who have intimate knowledge of the process:
Senior Elizabeth Metz, a current track and field college recruit, Athletic Director Ryan Peters, who is a former division-one college wrestler as well as BHS alumni and current Cleveland State basketball player Jayson Woodrich. 
High school athletes are focused on their next steps, but Peters emphasized that most students' athletic careers end at high school graduation. However, for the few athletes who will play in college, the recruiting usually begins during sophomore and junior year. 
However, some colleges will begin reaching out to students as early as 7th or 8th grade. When it occurs this early, colleges aren't not necessarily 'recruiting' the students but making sure that the student knows a school has taken an interest in them. 
For many, the reality check comes next. It can be difficult for a student-athlete to understand the reality of college athletics. Peters explained that college recruiters and coaches are comparing high school athletes to their peers across the country.
"There are families and kids that will come through our district saying that they are a [Division One] player but in reality, they aren't," Peters said. "They are at a different skill level than we perceive." 
This can be an even more difficult realization since only Division One schools give out athletic scholarships, while Division Two and three only give out merit scholarships and financial aide packages, making it hard to get accepted into these schools based on athletic skills alone. 
On the other side of the coin, there are many high school athletes who have the skill sets to play at the college level but choose not to because they do not realize they are good enough or don't have the desire to compete at the college level. 
Peters encourages these talented high schoolers to think about the option of college athletics, but if they are not committed to it, he does not push it. He does not want to waste a college's or a student's time if their heart is not entirely in the sport.
Some athletes do have their hearts set on college sports though. Woodrich knew he had a future in Basketball but needed some more time. After graduating from Beachwood, Woodrich spent a year at Scotland Campus, a Christain athletic prep school in Pennsylvania. 
"I did not have interest out of high school, which is why I chose the prep route, which helped me gain ten Division One offers," Woodrich said.
For other students, the recruitment process starts earlier. Schools first began reaching out to Elizabeth Metz at the end of her sophomore year, when Beachwoood's track and field team won the state championship, and Metz won MVP of the Chagrin Valley Conference after winning both discus and shotput.
"It wasn't until second-semester junior year that I took the initiative to reach out," Metz said.  
This is also around the time when Peters, along with coaches, start advocating for Beachwood athletes. Peters explained the process.
"As soon as [a college coach] in [an NCAA conference like] the Big Ten starts looking at a kid, all the other Big Ten coaches start looking at that kid as well," he said.  
This behind the scenes network of schools comes into play later in the negotiation process. 
So, once schools are showing interest, how does an athlete keep their attention? Making phone calls and sending emails to the desired college and sending highlight videos, and sending in a player profile to colleges is often the first place many athletes start. Working out and practicing during the offseason is also important. The more exposure an athlete can get the better their chances are of playing college athletics. That is why in some cases teams bolster their competition schedules.
"[College] coaches want to see you are putting in the work outside of school," Metz explained, "showing them videos of your [workouts]… and of course summer training." 
Colleges need to see that the student is continually dedicated to the sport. Each time they recruit an athlete, they are taking a spot away from a regular admissions student and need to make sure they are choosing wisely. 
"They want to make sure you have the right personality and the makeup of a college athlete," Peters said. 
College coaches can not afford to bring on a player who will not meet the GPA requirement or get in trouble in school. They need reliability, consistency and respect. 
Senior year is the time to commit to a school. Coaches begin talking to a student's teachers, coaches and administrators. Later in interviews, athletes must be careful with every university they interact with. 
"If you place loyalty on one school, another school is likely to hear about it one way or another," Metz said. 
Furthermore, Division One schools communicate with one another behind the scenes. Both Peters and Metz mentioned this. As a result, athletes need to be careful about what they say during college visits, phone call interviews, and demeanor towards a school. in addition they need to be careful what they post or like on social media sites.
Then there's the difficulty of the sport itself. College sports schedules are far more intense than high school sports. Woodrich elaborated on this.
"I spend about four hours a day on basketball, then do recovery, so a good portion of my day is basketball or involves basketball", he said. "It requires a lot more thinking. Every day you have to handle yourself a certain way. It takes a lot more toughness and discipline because coaches will be on you more for the little things, so you have to pay more attention to details."
A huge priority for athletes is finding a way to balance a full load of classes (12-20 credit hours), while still focusing on their major and long-term goals. 
Taking up a sport in college is a major commitment no matter the division. While it could be a special and unique experience filled with bonding with fellow team members and winning games with huge crowds cheering, it is not an easy path to get there.