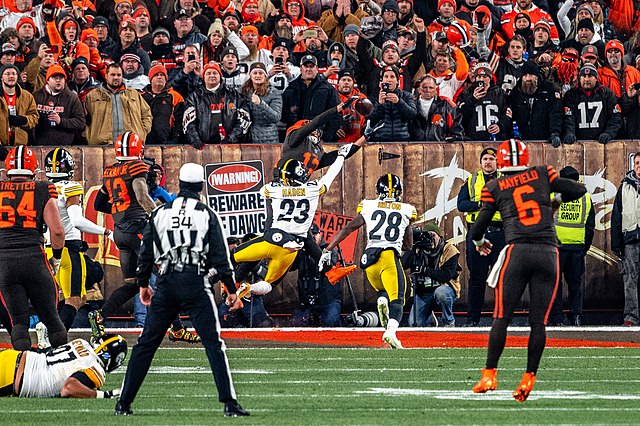 Erik Drost via Wikimedia Commons
The Cleveland Browns came to terms with now former Minnesota Vikings offensive coordinator Kevin Stefanski on Jan. 12 to be the organization's 12th head coach since the Browns came back to Cleveland in 1999. 
To put that into perspective, the Steelers have had two head coaches since 1992. 
Initially, most people were upset with the hire and were confident that Browns owner Jimmy Haslam has gotten it wrong again. 
Social studies teacher and huge Browns fan Dominic Velotta described his initial feeling when Stefanski got hired.
"I was initially upset," he said. "I really thought everybody was leaning towards Josh McDaniels. I had been wanting them to hire McDaniels." 
McDaniels will remain in his current position as offensive coordinator of the New England Patriots.
Junior Drew Dubin described his initial reaction. 
"[I was] Indifferent, but [now] I am intrigued to see how it all plays out," he said. 
Junior Andrew Baker described his reaction. 
"I wasn't very excited," he said.
After seeing more about Kevin Stefanski, Baker's thinking evolved. 
"My opinion changed after hearing all of the good things he has done," he said. 
Velotta's opinion has also evolved. 
"The more the hire settled in, the more I think they made the right hire," he said. 
The biggest question of all, however, is whether Stefanski can help Baker Mayfield grow and mature into something special. Stefanski has had his share of coaching successful quarterbacks. For example, he coached the great Brett Farve, Case Keenum, who had a career year tossing 22 touchdowns and Kirk Cousins. 
Dubin believes Stefanski has what it takes to help Baker make the mandatory jump going into next season. 
"I do believe that Stefanski has the knowledge and ability to make Mayfield a much better quarterback," he said. 
Baker also believes that Stefanski will be able to help Mayfield this year, but for a different reason. 
"I think he will help Mayfield because he is going to establish the run game, which will end up taking pressure off of Mayfield," he said. 
Velotta concluded by expressing his feelings how many others around Cleveland would on the Browns from the past several years. 
"I don't trust anything with the Browns," Velotta said. "I am done believing in them until they prove me wrong. They are going to suck next year… until they don't."