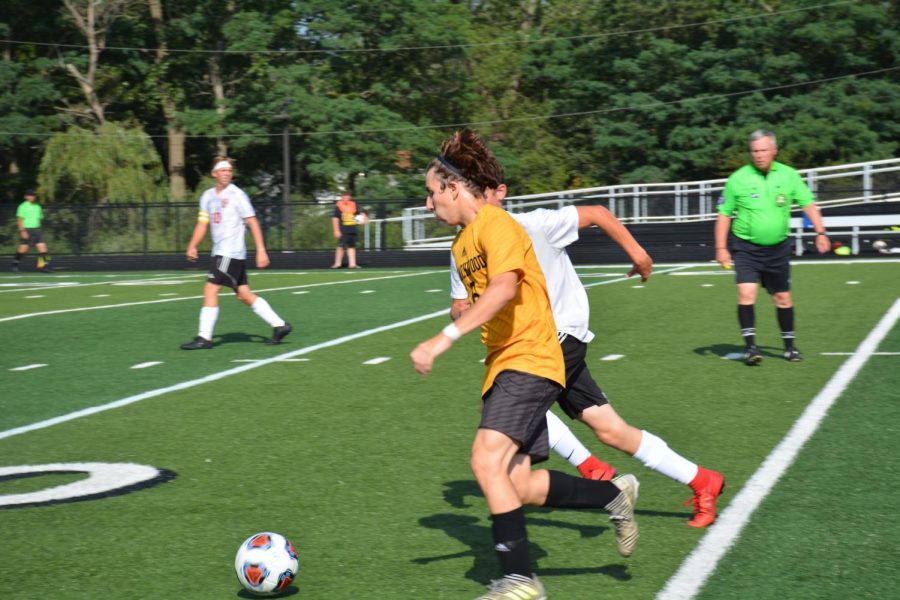 Joe Spero
Beachwood boys soccer soundly defeated the Jefferson Falcons with an 8-0 win on Friday, Aug. 16.
The Bison pounced in the first minute with a goal by captain Matthew Young. 
From the get-go, the Bison were making play after play to move the ball up the field, putting freshman striker Luke Bennett in position to score a hat trick (3 goals) in the first 23 minutes of the game.
"I just put the ball in," Bennett said. 
He described how he prepares for to be dominant on the offense.
"I run a lot, get fit, and [practice] putting [the ball] in the corner every time." 
The Bison offense in the first half was outstanding, but the defense came through in situations when it mattered most. 
Coach Andy Piczer refers to his defense as the 'four horsemen,' consisting of senior captains Connor Umpleby, Isaac Kantarovich, Tyler Stovsky and Junior Ethan Holz. 
Umpleby commented on the Bison defense. 
"We always watch film, we always make sure we are in good shape and we have the fullbacks up top and the centerbacks are back, and we always watch for our positioning throughout the game," Umpleby said. 
The four horsemen held the Falcons to only one shot on goal throughout the game. 
Sophomore goalie Jake Muencz is very vocal in calling out positions for the defense.
"I took my time and didn't rush it," Muencz said of his approach during the Falcons game.
Sophomore forward Zach Kornspan scored off a deflected missed shot from Junior forward Lucca Dallan right before the end of the first half to bring the Bison lead to 5-0 at halftime.
Nothing was happening for Jefferson at all. They were truly at a standstill.
The Jefferson Falcons have not won a soccer game for three and a half years, according to Maxpreps.com. 
In the 23rd minute of the second half, Junior Lucca Dallan easily scored on a strike from 10 yards out. 
With 15 minutes remaining, senior defender Lucas Velazquez threw in the ball, and a Jefferson player slapped it with his hand, resulting in a penalty. 
Holz, the Bison's most consistent penalty kicker, placed the ball in the bottom right corner of the net for a 7-0 lead. Less than 90 seconds later, sophomore midfielder Kabir Dhillion headed the ball into the back of the net and the Bison were cruising with an 8-0 lead.
After the final horn sounded, Captain Isaac Kantarovich commented on the shut out. 
"We had some tough challenges in the preseason, and we had to overcome some things," he said. "Overcoming adversity is our thing… We've done it all preseason, and we are ready to keep pushing." 
Assistant Coach Josh Lowe also commented on the Bison win. 
"We came out with some aggression and intensity, and we executed upon the chances that we created or that [Jefferson] gave us." 
"It's all discipline in the back and through the midfield," he added. "This was a solid start to the season. The challenges will be much harder going forward, but 1-0 is always good."
Photos by Joe Spero