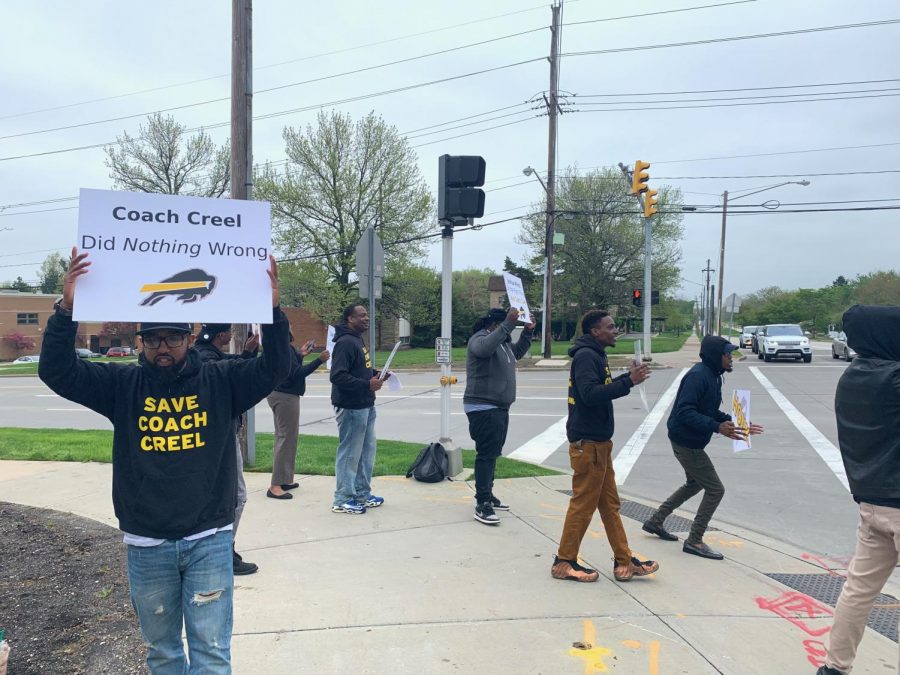 Orly Einhorn
Damion Creel has been retained as BHS football coach for the 2019-20 season.
The announcement was made official when an email was sent to football players and families after a special meeting of the Board of Education this morning.
"This became possible through discussions among the board, administration and Coach Creel establishing our shared vision for the future success of Beachwood's football program," the attached letter stated. The letter was signed by Superintendent Dr. Bob Hardis, Board President Brian Weiss and Head Football Coach Damion Creel.
The decision not to rehire Creel was announced on March 18, when district leaders sent a different message out to football players and their families.
The message described the findings of an internal investigation conducted by Hardis in response to a complaint from an anonymous source.
"Bob Hardis undertook this investigation and discovered that individuals Coach Creel kept extremely close to his football program for a long time were involved in actions demonstrating a pattern of influence over families' enrollment in Beachwood Schools," the March 18 message stated. "Extensive and detailed circumstantial evidence supports this conclusion.
The concern was that this 'pattern of influence' may have violated OHSAA bylaw 4-9, which states: "Any attempt to recruit a prospective student-athlete for athletic purposes is strictly prohibited."
Creel, a 1994 BHS graduate who was hired to lead the football program in 2015, was retained as a gym teacher even when his tenure as football coach was in question.
It was clear that the decision not to rehire him as coach was being reconsidered as of May 10, when Superintendent Dr. Bob Hardis sent an email to football players.
"The Board of Education will be entering into discussions with Mr. Creel and his attorney immediately about the prospect of Damion Creel returning as head football coach," the email stated.
Hardis' investigation was initiated in Oct. 2018, when an anonymous email from [email protected] was sent to district leadership. The School Board requested an investigation, which was completed by Hardis in the winter.
"Any time a new student transfers into Beachwood, OHSAA requires us to check residency to make sure they're living here. What we found was that there was a specific pattern that was taking place," Peters said.
"Houses were being rented out, and it seemed [the owner was renting primarily to] football players," he added.
"[The laws are in place because] they don't want undue influence for kids or to put pressure on families," Peters added. "[OHSAA] does not want these all-star teams; they want parity."
Many students and supporters of Creel claim that the Coach's dismissal was actually motivated by racial discrimination.
According to the Hardis investigation, Bennett Adelson, a former BHS classmate and football teammate of Creel's, was behind the alleged recruiting. Adelson's company Macropoint, a freight logistics company, was purchased in 2017 by Descartes Systems for $107 million. Adelson also owns Bennett Adelson Consulting and Beachwood Properties, LLC.
As of publication, neither Creel nor Adelson would agree to be interviewed. However, Adelson did provide the Beachcomber with a public complaint against the district written by Susan Stone, an attorney at Kohrman Jackson & Krantz. The complaint alleges a pattern of systemic discrimination against African American students in the district.
The complaint was emailed to School Board President Dr. Brian Weiss on April 8, 2019 and cc'd to other board members and Superintendent Dr. Bob Hardis.
Hardis also provided the Beachcomber with a redacted version of his report.
The Hardis report begins with a timeline starting in July, 2017. In the summer of 2017, four Canadian teenagers at a football camp in Columbus reportedly met Coach Creel and visited Beachwood. They wanted to come to Beachwood as foreign exchange students but were denied by Hardis. He believed they were coming mostly to play football, and he felt this violated OHSAA bylaw 4-9.
According to the complaint, on July 3, 2017, Peters received an email from a football coach at Shaw High School which alleged that a different Beachwood coach was recruiting students from Shaw, where he used to coach.
According to the Hardis report, Beachwood self-reported to the OHSAA about recruiting violations by Beachwood football coaches, including Creel, and the program was fined $500.
In addition to mandatory communication about the bylaws face to face in coaching staff meetings and in writing, Beachwood football program was put on probation through 2018-19 school year. The coaches were ineligible to participate in first two postseason contests of the 2017 tournament if Beachwood qualified.
During Aug. 2017, Creel emailed with Adelson, who then met with Hardis to discuss the foreign exchange students. Hardis maintained his original position.
On Aug. 10, Creel forwarded Adelson an email from Hardis about his pre-disciplinary hearing and the OHSAA's recruiting ruling.
On Aug. 16, Creel emailed Adelson a Beachwood football video to which Adelson responded, "Mission is on. Bring the glory days back. If you fail to prepare, you're preparing to fail."
During Aug. 2017, three students moved to Beachwood to a home owned by Adelson for a year long lease of $290 per month. A new year-long lease was provided in Dec. 2018 for the rental period of Aug. 2018 to July 2019 for $1,290 per month.
From Jan. to Aug. 2018, seven students enrolled in Beachwood and joined the football team. All students had year-long leases from homes owned by Adelson. The leases were signed by Rental Director Bob Derin, who is engaged to the daughter of School Board President Dr. Brian Weiss. The contracted rents ranged from $1,200 to $1,900 per month.
In Oct. 2018, Adelson paid for tutors for football players after emails were exchanged between him, Creel, and a football player's parent.
On Oct. 3, Hardis and the Beachwood Board of Education received an email from [email protected]. The email alleged that players were being recruited by Adelson to live in homes that he owns and that the Beachwood coach was aware of this. It questioned why Adelson was always hanging around the field and attached a photo of Adelson on the football field with his arm around a player.
Hardis responded that the accusation would be investigated.
[email protected] then emailed Hardis alleging that Adelson rides the middle school football team bus, buys the players food and clothes and pays for their fees. The email also listed seven properties owned by Adelson's company, Beachwood Properties LLC.
BMS football coach James Basha talked to Hardis and downplayed Adelson's involvement.
On Nov. 5, Adelson called Hardis asking about an email board member Josh Mintz had told him about that alleged he was recruiting. Adelson requested a meeting, saying he wanted to explain his business and that he didn't want to cause problems.
In Stone's complaint, a footnote states that "on several occasions, Adelson reached out to Hardis to make it clear that he was not involved in any recruiting of football players or unduly influencing students' decisions to move into Beachwood."
On Nov. 15, according to the Hardis report, Adelson met with Hardis and denied that he or his company had been involved in recruiting any football players. Adelson also said he believed a former football player's father was behind [email protected] because he was upset Creel had not made his son captain his senior year. Adelson said the father called him and asked Adelson to pay him in exchange for him to stop the recruiting allegations.
BMS football players told Middle School Principal Paul Chase that they knew Adelson because of his presence with the team and that he'd bought them Chipotle once after a game.
The report ends with a summary.
"Although I have not found any direct evidence of recruiting, I have found this appearance of influence over students' enrollment to be circumstantial evidence, that is problematic as evidenced by [email protected]'s allegations," the report states.
Senior Kyle Oliver, captain of the football team, thought the investigation was racially-motivated.
"I think when they see a lot of African American students who are playing football and they don't know where they're coming from, they question it more than if it were white kids coming in," Oliver said… "It was ignorant to say it was recruiting just because it was a large group of black men that the district didn't know, and they didn't like that they were coming to their school."
Oliver feels that the administration didn't give Creel the chance he deserved.
"He really cared about the players. He wasn't about winning first. He was about the players and building character and turning us into better people," Oliver said. "I think he deserves another chance to prove everybody wrong."
Oliver also spoke at a School Board meeting on May 6, along with many other current and former students and parents. He spoke about Creel and all he's given to the team while also commenting on the administration's response.
On April 8, 2019, attorney Susan Stone sent the discrimination complaint to district leaders.
Stone was representing specific families in an effort to address concerns that Beachwood has a pattern on discrimination against African American students in the district.
The letter accompanying the complaint states that it is intended to prevent future complaints before the Ohio Board of Education, U.S. Department of Education, Office for Civil Rights or a federal lawsuit in the Northern District of Ohio.
"We believe it is in the best interest of all parties involved to avoid litigation," the letter says.
"For several years, notwithstanding well-documented and pervasive racial disparities, Beachwood has engaged in a systematic effort to keep black male student-athletes from inner ring suburbs from moving to and attending its schools, culminating in the Beachwood's recent decision not to renew the contract of its high school football coach, Damion Creel, a black educator and former Beachwood student," the complaint states. "This decision also appears designed to further discourage black enrollment and dissuade black students from transferring into Beachwood."
The complaint mentions the email from [email protected], indicating its reference to the 15 players from East Cleveland. The complaint argues that the anonymous emailer wanted to keep black students out of Beachwood and cited an email from truthbeachwood that said, "look at Glenville in the news and you will see the culture Coach Creel and others are bringing to Beachwood."
The complaint also alleges that families of black students who moved to Beachwood were "interrogated" over their reasons for moving. According to the complaint, the investigators believed they were recruited and should leave Beachwood. All of the parents questioned spoke of their desire to obtain a better education for their children.
"The collateral damage in this hunt were the families who were harassed, the students who were unfairly disciplined and the coach who suffered a non-renewal of his contract and loss of his reputation," the complaint says.
In March 2019, Hardis, Peters, Creel and union representative Evan Luzar met on several occasions to determine if Creel would be rehired as coach in the following year.
"Creel expressed frustration that Beachwood did not support him in his endeavors," the complaint states. "In response, Dr. Hardis expressed concerns from special education staff that during the time of Coach Creel's tenure, too many students with IEPs were moving into Beachwood and that those students were overwhelming and overburdening staff. Dr. Hardis then connected these special education students with those families who rent from the landlord." All of these students were African American and male.
In response to these allegations Hardis made the following statement.
"These allegations are not accurate. My actions, and those of the School Board, have steadfastly been to ensure the future success of the Beachwood football program and all of its players and their families."
The complaint states "Hardis told Creel he would release the investigative report if Coach Creel refused to resign."
Creel did not resign. As a result, on March 18, 2019, Hardis emailed the parents/guardians of the football players to let them know that he would not recommend the renewal of Creel's contract. He stated his reasoning was because of the investigation conducted.
"In sum, there is overwhelming circumstantial evidence that Beachwood is violating Title VII by deciding not to renew Coach Creel's employment contract," the complaint states. "Coach Creel is perceived as the means through which low-income black students, many of whom had IEPs, are enrolling in Beachwood, and the decision not to renew his contract appears to be yet another example of systemic discrimination by Beachwood against black students, and, in particular black students with IEPs."
Title VII of the Civil Rights Act of 1964 prohibits employers from discriminating against employees on the basis of sex, race, color, national origin and religion.
A letter to the Beachwood School Board is attached to the end of the complaint. The writer's name was redacted.
"Ryan Peters is targeting black athletes by attempting to limit their ability to pursue life, liberty, and happiness while getting an education at BHS," the letter states. "Bob Hardis is allowing Peters to do so by not stopping him as well as facilitating it."
The writer cites the Shaw complaint.
It says Peters targeted three black coaches and one black player by filing a report with the OHSAA without letting any of the coaches include their own written statement which is a typical right.
The writer is also critical of the anonymous emailer [email protected].
"Not only [is this] an anonymous email, but one that is ROOTED in racial, disgusting comments as the emailer cites both East Cleveland and Glenville, both of which are 99% black communities, and makes reference to the football coach importing these 'cultures"' into Beachwood, and how protecting the reputation of the school is more important than allowing black kids to play football."
Creel and Adelson both declined to comment on the investigation.
In response to students who are hurt, Peters empathizes but still stands by the decision. "My objective every day is to make sure our student-athletes have the greatest possible experience, that our students are happy and safe, that I put people around them who will provide them the best opportunities. I feel extremely sad for what's going on. Never in a million years do I want to hurt a kid."