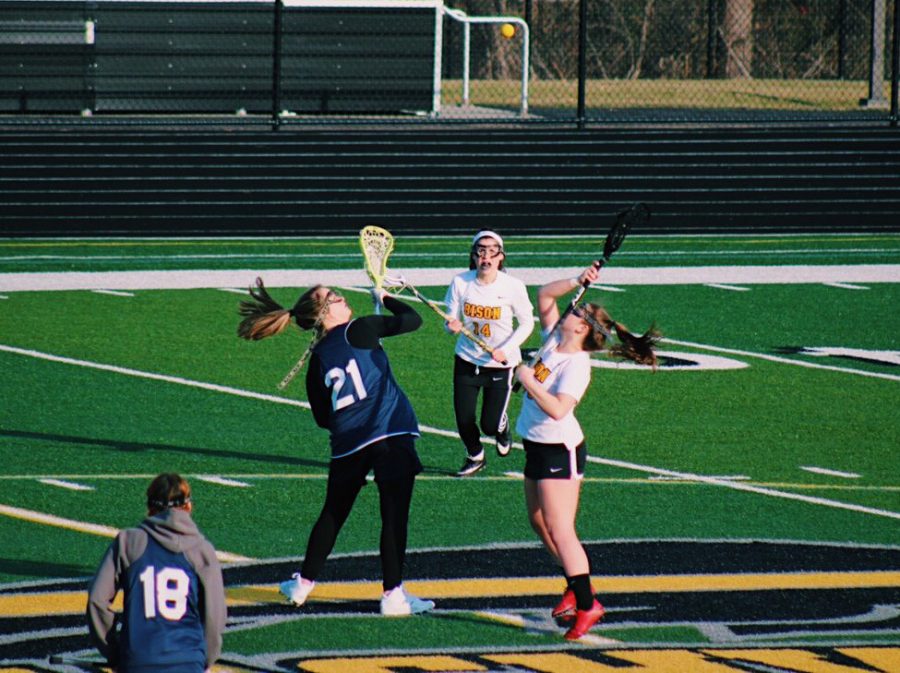 The Lady Bison lacrosse team opened their season on Tuesday, March 19 with an 8-1 win against West Geauga.
The victory was especially sweet, as it was the first game the team has won in several years.
Senior captain Haleigh McPhillips explained that the last game she remembers winning was in 2016, her freshman year.
"This year we have more of a seasoned team," McPhillips said. "Last year many girls didn't have a lot of playing experience, but now that we have more girls with experience, we are becoming more comfortable with each other and trust each other, which has really set us up for success."
Many of the players contributed to Tuesday's win. McPhillips scored three goals, Sema Altawam scored two, while Julia Marks, Sunny Wang and Kacey Hoffmann each scored one.
"We all really wanted to win and we've been working so hard, so not to win wasn't really an option," McPhillips said. "We really pulled it all together and I am so proud of us, but there are still a lot of things we need to work on."
McPhillips and co-captain Olivia Breger focus on motivation before each game.
"I'd like to think we've made a big impact," she said. "We like to pump up the girls for every game and make sure everyone works hard at practice."
"We also try to create a tight-knit family on and off the field," she added.
Midfielder Kacey Hoffman felt the big win was a great way to start the season.
"The West Geauga game has really uplifted our team for the season and is giving us confidence for our future games," she said. "It showed us what we're capable of and how well we all work together when we have focus and communication"
"We now know how great it feels to have a good, well-deserved win," she added. "I think we also see how important it is to use specific skills that we repeatedly work on in practice, and will focus on that for future games."
Some of the biggest games of the season will be April 15 against Solon and April 25 senior night against Orange, where the team will be saying goodbye to veterans Olivia Breger, Orly Einhorn, Haleigh McPhillips, Zoe Zilbert, and Shelli Zamir.
At publication, the team is 1-1 after a loss to Cardinal Mooney of Youngstown on March 21. The next game is April 2 at home against Olmsted Falls.