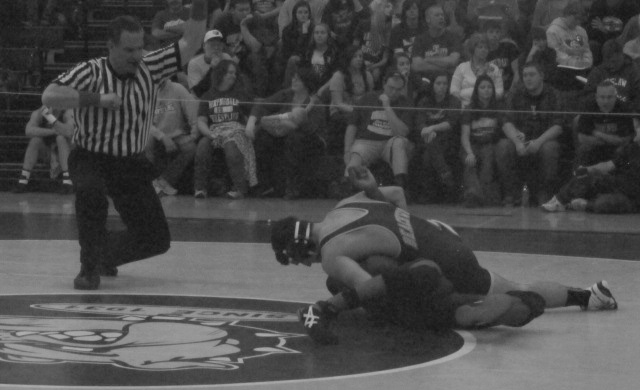 Marc Silver
Beachwood's wrestling team tied for 2nd place at the Division III District Tournament on Saturday, Feb. 22 in Garfield Heights.
Seniors Sam Gross and Ryan Harris each won their third district title, both qualifying for the fourth state tournament of their high school careers.
Harris is a defending state champion with a 43-3 record this season.
Gross won a state title his sophomore year and placed third last year. He has a 33-3 record this season.
Senior Anthony Walden finished fourth at Districts, also qualifying for states. Senior Paul Flowers, finishing fifth, will attend the state tournament as an alternate.
Wrestling is an incredibly demanding sport.
"[I] work out all summer three times a week and lift every day," said Harris, who started wrestling when he was six.
"It's essentially a 12-month sport, we always compete, go to camps and work out," Gross said.
"To wrestle you need to prepare a ton," freshman Josh Bialosky said. "You can't just show up to practice or a match and beat everyone. You need to lift and get stronger and most importantly be in shape."
"A tough match takes a lot out of you and if your conditioning isn't good, you'll never win," he said.
Some athletes get nervous before a postseason match.
"[I will be] A little bit nervous," Gross said. "It's good to be nervous, and that nervousness goes away when you get out onto the mat."
Given the tremendous demands of wrestling season, something motivates these wrestlers to push themselves to the limit.
"It gives you more self discipline, makes you have more self control over your life…  makes you think twice before you do or try something stupid," senior Anthony  Walden wrote in a text.
"[I enjoy] competing and being able to push myself and see myself get better," Gross said.
"[My favorite part is] getting my hand raised [after a win]," Harris said.
For Bialosky, one of the toughest challenges to overcome is wrestling bigger and stronger opponents.
"Last year in middle school, I was the kid that was bigger and stronger than everyone," he said. "It's been tough being on the other end of the spectrum."
Coach Dugan Bentley is proud of his team's success.
"The Beachwood wrestlers want to be good," he said. "They take advantage of opportunities that we really try to expose them to. Fortunately, they buy into that. They have a lot of success and a lot of that is from taking advantage of opportunities."