BHS Wrestlers Advance to the State Tournament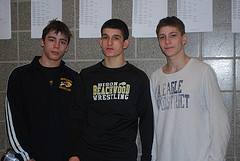 Advertisement
Hang on for a minute...we're trying to find some more stories you might like.
By Eva Muschkin, Staff Writer
On Saturday, March 5th Beachwood wrestlers Alec Jacober, Sammy Gross and Ryan Harris placed at the OHSAA Wrestling State Championships.
The BHS wrestling program has always been one of the best in the conference.  Not only are the boys talented, they are also strongly supported by their families and the community.  All of the coaches are able to focus individually on their wrestlers, resulting in better wrestling techniques.
Many Beachwood wrestlers begin the sport at six or seven years old, and a committed few continue on until high school
Head Coach Dugan Bentley said, "Being a wrestler is strictly based on the amount of time put in.  These guys are completely committed to the sport and identify themselves as wrestlers no matter what the season."
Harris, a freshman, started wrestling at the age of six, and this year he has already broken a school record, made it to districts, and placed seventh in the state in his weight class.  He trains every day after school, and this hard work has paid off.
"I've been working to get to this point for a long time, but now that I have time to improve, I will work on being more aggressive and will watch videos of myself wrestling to see what moves I should work on," said Harris.
Harris and Gross, another freshman, transitioned from the middle school to the high school this year, and the coaches were excited about their talent; however, they did not know where they would rank according to high school weight classes.  They both wrestled this season in weight classes that consisted of predominantly juniors and seniors.
Harris impressed everyone with his accomplishments this year.  With his overall season record or 47-6, he broke the Beachwood record of winning the most matches in one season, previously set by 2010 BHS graduate Alex Dronzek.
In addition, he was the second freshman to win districts as a freshman.  This year the competition was held at Garfield Heights, and from there he was excited to compete in the OHSAA State Wrestling Championships in Columbus.  There, he also wrestled in the same weight class and ended up placing 7th overall.
Gross came out of the season without as many wins as Harris, but blew the audience away when he qualified for districts, then placed 3rd in the state for his weight class.
Gross said, "As far as individual goals, I'd like to go all-American in freestyle, the Olympic form of wrestling.  Also, I'd like to go undefeated in my season next year, and win a state title."
"These three kids are exceptional, and their ultimate goal was to make it to state finals," said Bentley.  "They were pretty consistent during the regular season and did what was expected of them without crumbling under the pressure. I would definitely like to see my wrestlers become more aggressive, relentless, and tenacious on the mat because they tend to be laid-back and my own competitive drive makes me want to see them pick up the intensity as well."
Each of the wrestlers has goals for the future to push them towards their ultimate best next season. Gross will be lifting hard, attending wrestling camps, and going to national-caliber tournaments to improve.
Wrestling is an independent sport when it comes to facing your opponent, but as Jacober mentioned, "Having great teammates is one of my favorite parts about wrestling, because we became pretty close. Since they were there to support me, it made my experience a lot better."