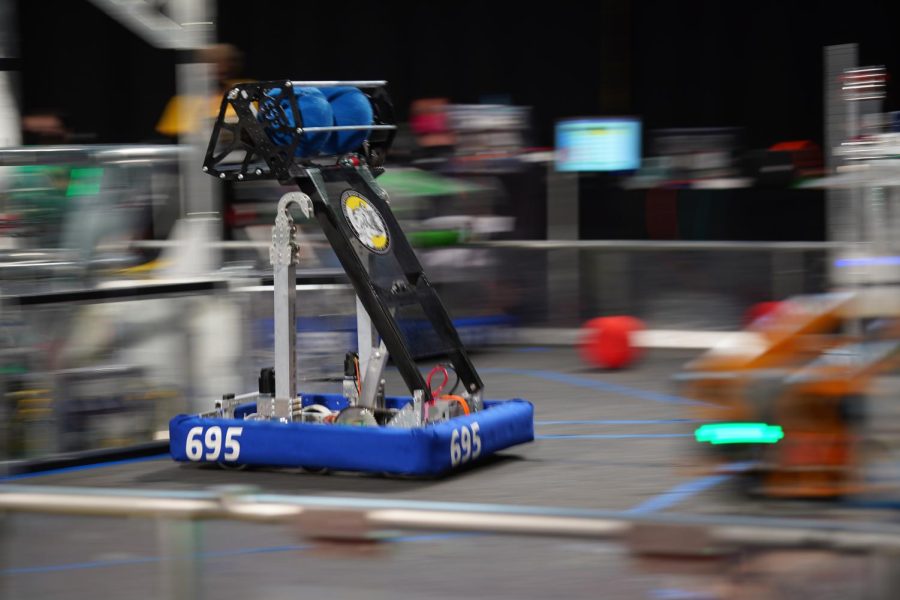 Matthew Keyerleber
Bison robotics, known as Team 695 in tournaments, consisting of students from Beachwood, Aurora and Willoughby South, attended the Great Pittsburgh Regional Robotics Competition March 16-19 and ranked 15th. 
The team's performance at Pittsburgh qualified them for the world championship in Houston April 20-23.
"The students' achievements this year are incredible," Coach John Keyerleber wrote in an email.  "Most FRC [FIRST Robotics Competition] teams consist of 20 or more members.  We currently have [a team of] only six students who were able to design and build a robot that won the regional championship in Pittsburgh, which enabled them to compete for the world championship in Houston." 
"This is a monumental accomplishment for a very small but dedicated group of students," he added.
During the off-season the team focuses on building the skills needed to create robots of various abilities. 
This period is vital to preparing for the season, which is much more intense. 
The season begins when the team is given a challenge around the start of January, and are given six weeks to build a robot tailored to the specifications of that challenge. 
This year's challenge was to create a robot capable of shooting balls into a hoop in competition against another team, similar to a basketball game. 
Junior Benjamin Lawrence has been involved in the robotics team since his freshman year, and he was excited to have their season back on after an extended break due to the COVID-19 pandemic. 
"I really enjoy the process [in which] you can go from nothing to a working robot," Lawrence said. "And from a leadership standpoint, I find it really satisfying how you have such a good group of individuals working together to get something done, it works really well. You put a lot into it and everyone put a lot into it for it all to come together in the end."
Junior Sam DeYoung recently joined, and is highly impressed by the level of collaboration between the six students on the team. 
Both students attribute a large part of their success at competitions to Keyerleber and their mentor Chris Dickey, a professional engineer who consults with projects. They expressed their gratitude for Dickey's method of helping out with problems, and how he makes sure the students take the lead. 
"One thing I really appreciate about what Chris does for us is he's the only person I've ever met that ties the most perfect knot in the world and then unties it and makes us tie it instead," Lawrence said. "It might have been the best thing [for us], and I really appreciate that."
DeYoung also commented on Dickey's guidance. 
"If you get stuck on something, he will come over and just walk you through it, and he doesn't really take it over," DeYoung said. "He'll just give you really good guidance for it." 
Students participate in the FIRST (FRC) international robotics competition, and advance to regionals and globals as they qualify. This year, Team 695 was picked for the number one alliance at the Greater Pittsburgh Regional Tournament on March 16-19, competed at Cleveland State on March 23-26 and then advanced to globals at Houston on April 20-23. 
Lawrence compared the atmosphere of competitions to sporting events. 
"There's probably close to a thousand people sitting in the stands, watching your matches," he said. "It's very much a spectacle and you need to be locked in because even though you have spent a lot of time building your robot, it can still break, so you might have a match and your robot might break, and then you have about 45 minutes to fix it before you have your next match." 
"You also need to make sure you're talking to everyone because you can learn so much at these competitions from the people there," he added. "So you need to budget your time to make sure you're meeting new people and talking to people, but also being able to handle all the things that are being thrown at you. It's a lot, but it's worth it."
Keyerleber also compared robotics to athletics in terms of the level of commitment required.
"Being on an FRC team has been compared to being on a high school varsity sports team," he said. "The success of the team is directly dependent on the amount of time and energy that students put into the effort."
Robotics team members value the way the activity gives real-life application of the things they learn in school such as coding, collaboration and engineering, which are all important to building a functional robot. 
However, that does not mean there are prerequisites of any kind for the robotics team. 
"It's not required at all," DeYoung said. "If you did take [computer science class] though, it'd probably be a decent experience for just coding and physically seeing what that code does."
Keyerleber notes that even a curiosity about STEM-based activities is a good enough reason to join the team.
"If you have an interest in competitive sports, game strategy, robotics, hardware, software or data analytics, come visit us at one of our meetings to learn what we are all about," he wrote. "No experience is necessary, as you will learn the skills that you need to help contribute to the team."
New members can use the off-season to gain the skills they need.
"[Off-season is] more about teaching them how we go about it on a day-to-day basis during build season, and how you attack problems and work through things as a team," Lawrence said. "So when competition season rolls around, we're all ready, we all know how to work together well, and we can hit the ground running."
Fans can view team 695's competition information along with recordings of their matches here.