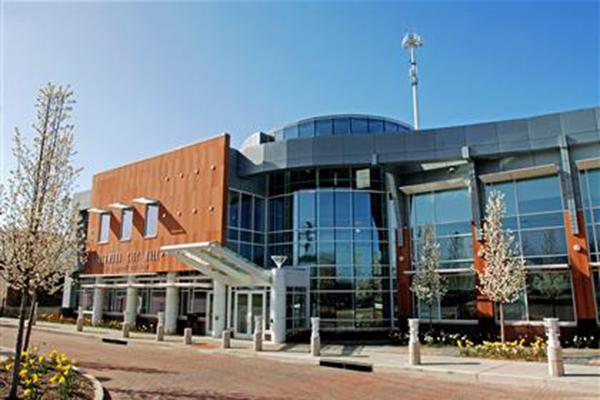 Beachcomber Archives
The Beachwood mayoral race on Nov. 2 was a close one, but City Council Member Justin Berns prevailed by a margin of 158 votes over incumbent Mayor Martin Horwitz and will be sworn in on Jan. 1, 2022. 
"Justin has always had Beachwood's best interests at heart," Council Member Alec Isaacson said. 
Isaacson has had a good working relationship with Berns for six years and feels Berns' experience qualifies him for the office.  
In recent months, city officials have held extensive meetings preparing to transition effectively from the Horwitz administration. 
Council Member Eric Synenberg, who has worked with Berns on City Council for four years, remained neutral during the mayoral election. However, he believes it is better to have a mayor in office for more than four years.
"Justin is our third mayor in six years, and that disrupts the continuity a little bit," Synenberg said. "But so far I think that he understands that continuity is important [and] is keeping the senior level staff [from] Mayor Horwitz."
"I think it's going to be a very smooth transition," Berns said. "I know how the day-to-day operations of the City of Beachwood run, [and] I'm not going to come in needing a tour or introduction to the department heads."
A BHS graduate (class of 1987) who served 12 years as a volunteer firefighter, Berns has a deep understanding of the Beachwood community. 
"As a firefighter, he learned some of the most important services that the city has to provide [such as] public safety," Isaacson said. "When he joined Council, he learned what needs to be done on the leadership side to deliver the services, and he's going to step into office with a good understanding of how the city needs to deliver its services in order to serve our residents."
Having served on City Council since 2010, Berns felt the time was right to run for mayor.
"Nobody would have known more [about the city] than Justin… from a historical standpoint and from an operational standpoint regarding some of the city's operations," Synenberg said. "He's been involved with the city for so long [and] has a deep interest in the [city's] operations." 
Mayor Horwitz could not be reached for requests for comment about mayor-elect Berns.
Berns says he has devoted himself to Beachwood for 30 years and remains committed to improving the city. 
"I have a real passion for everything about Beachwood, seeing it thrive and do better, and I think it can do better," he said. 
Berns has several ambitious ideas that he plans to implement. 
The Interchange at Chagrin Boulevard and the IR-271 in Beachwood
As of now, there are frequently large, disruptive traffic jams in the morning between 7:30 and 8:30 a.m. 
Berns feels that this traffic could be alleviated with a road-widening project.
"There's a really good chance of alleviating this [traffic problem]," he said.
The proposal would widen the Chagrin Blvd. Bridge over IR-271 and the exit ramps, redesign the layout of the connection from Bryden to Richmond Rd. with a cul-de-sac and change the outline of the connection from Chagrin Boulevard to Richmond Rd. 
The project would depend on approval of City Council and funding from the Ohio Department of Transportation (ODOT), given that this would be an expensive construction project totaling nearly $15.8 million, with $9.5 million funding that would have to be approved by ODOT.
The Richmond Road Traffic Signal Project
This is still an ongoing project. City Council has been working with Joe Ciuni of the GPD Group, an architecture and engineering firm, to redesign and improve the traffic systems on streets throughout the city with the exception of Chagrin Blvd., which uses a different type of system. The city hopes to find grant money to help maintain these new systems once they are installed.
Additionally, Berns wants to continue the road construction projects that were previously postponed and hopes to repave more streets, as only one road was repaved last year. 
Increasing Energy Efficiency
Berns says that City Council has been working on upgrading the lighting system in City Hall and other city buildings over the past couple of years in order to improve energy efficiency.
Berns added that The Illuminating Company has been replacing streetlights with LEDs as they are more efficient and improve visibility. 
"I intend [to have] the front of city hall's glass replaced next year," he said. "The window seals are broken on many of the panels [which is unnecessarily] wasting energy because heated and cooled air is getting out of the glass panels." 
Over the past couple of years, the city has also purchased a number of new hybrid vehicles with smaller engines that save energy. 
Limiting Garbage Disposal and Increasing Recycling Efforts
Berns is also concerned about the amount of trash collected from Beachwood and hopes to increase recycling once again. 
"Beachwood's numbers in recycling debris has really gone down over the years, and I hope that we can see an uptick in recycling," he said. "[Right now], nearly 100% of our brush is recycled mulch in the springtime." 
Berns believes that the school and its ecology club can partner with the community to try to educate the residents about the benefits of recycling and our growing waste buildup. He also plans to work with Public Works Director Chris Arrietta to address this issue.  
Beachwood Place
There's also a problem that Beachwood Place is a less popular shopping destination than it once was. Legacy Village, Pinecrest and the Van Aken District offer competitive shopping destinations just beyond the city's borders, and indoor malls in general have been hit hard by the pandemic. 
"Beachwood Place is a big issue and it's really important to the city of Beachwood," Berns said. "[It] provides 10% of Beachwood City Schools' operating funds, and it's really important to keep that in mind for everybody in the city that we need to support the mall." 
He hopes to change the perception of Beachwood Place and to increase mall traffic. 
Although the mall has been the site of several shootings in recent years, Berns is confident that new security measures can help detect firearms, and he intends to have discussions with mall management about how the city can help enable a stronger security presence. 
 "It's going to take a lot of work," he said. "But I'm hoping to [work with] the property owners of Beachwood Place to make this happen". 
License Plate Readers
Berns also hopes to install license plate readers to make the roads safer and help the police reduce crime. Neighboring communities have used license plate readers to scan and document license plates for several years now, and Berns would like to see them implemented in Beachwood soon. 
Berns had no comment on Police Chief Stillman's resignation on Nov. 10, just over a week after Berns was elected Mayor. However, Berns looks forward to working with Katherine Dolan, who was sworn in on Nov. 11 as  Beachwood's first female police chief. He also hopes to upgrade the police department building to improve operations as he feels that it needs to be either renovated or replaced.
Recreation
Berns would like to upgrade Beachwood's recreation facilities by adding pickleball courts east of the tennis courts that Beachwood schools use for tennis matches. However, he acknowledges the effort it would take to accomplish this project. 
"It may take some time," he said. "We need to put a plan together [and] we'll need to relocate the community gardens." 
The project would have to be approved by City Council
Increasing Economic Development 
Berns hopes to build on Beachwood's strong business community by bringing in more businesses while also maintaining the ones that are here. Due to the pandemic, a lot of businesses are seeking to relocate or even downsize. 
In the past few months, hotels have begun to close, most notably the DoubleTree Hotel in Beachwood. Berns believes that it's really important that these businesses remain in Beachwood even if they downsize, and he aims to reach out to as many businesses in Beachwood as possible to see how the city can assist them. 
"I don't know if there's anything we can do," he says, "but if there is, I want to take all measures necessary to keep them in Beachwood."
Jobs Located in Beachwood
Berns is also concerned with the prospect of jobs leaving Beachwood as people started working from home during the pandemic.
"If you drive around the city and you look at office building parking lots… they're still very empty and that's a tell-tale sign of where people are or where they aren't in this case," Berns said. 
While many have been working from home, Ohio has preserved most income tax revenue for the municipality where the offices were located.
"We have tons of people that come into the city that don't live here [but work here]… it's going to be a big issue if that law changes…the city could [also] potentially lose a lot of income tax revenue which is 80-95% of our funds," he said. 
Still, Berns notes that many employers are bringing employees back, and he is not as heavily worried as he was before.
Expensive and Limited Housing
Berns is also concerned that there is limited affordable housing in Beachwood primarily because of the low property taxes, excellent city services and outstanding school system. These factors raise the property values. 
Home values have been rising nationwide in the past year, and Beachwood is no exception, making it even harder for residents to find affordable housing in the city.
The 3800 Park East Drive project addresses this issue. It was previously a medical facility that is now being converted into apartments. The parking lot is shared with the new safety center and fire station. 
"It provides inexpensive housing for single family homes that are newly being constructed," Berns said. He hopes the project will increase more affordable housing even though new construction is extremely expensive. 
The mayor-elect notes that although he can propose a lot of ideas to improve the city, these ideas will not come into fruition without the approval of Council. Therefore, he is looking forward to working with the new City Council. 
Berns added that he sees himself as a young mayor and believes that he can bring a new burst of energy to the city. He's confident about his upcoming position given that he's worked for so long in the Beachwood government and is extremely dedicated to improving the city. 
"I'm really happy for him," said his son Caleb, a BHS junior. Caleb believes that his father will be a good fit for Beachwood because of his commitment and morale. 
"He is always looking to uplift everyone and see where [each person] fits best," Caleb said.
Berns' daughter Allie, a BHS sophomore, is incredibly excited for him because his dream came true. 
"He's always been a part of the city," she said. 
She believes that her father's experience and knowledge about Beachwood will serve him well in his efforts to develop the city.
Berns' daughter Sarah, also a BHS sophomore, is also extremely proud of her father. She feels that her dad earned his position through hard work. 
"My dad is a very hands-on person and is always involved with whatever he takes on," she said. "He always strives to only do things the right way and works very well with others." 
Council Member Isaacson supports Berns in becoming the mayor.
"I've had the chance to work with him and to spend some time with him, and I think based on that, he's going to be a good mayor, and he's going to be good for our city," he remarked.
Berns is excited to take office and hopes for the entire city to have faith in him. 
"I recognize that there's over 1,900 people that didn't vote for me in this past election," he said. "I want to do everything I can to change their mind or convince them. Actions speak louder than words, and I want to show them that I am worthy of being the mayor of the city of Beachwood."